Chris Hemsworth's Hulk Hogan Movie: 5 Things I Really Hope We See In This Film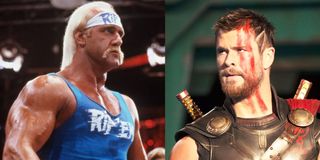 There have been quite a few wrestling movies over the years, but one thing we haven't seen is a great wrestling biopic. Sure, you could say that Darren Aronofsky's 2008 drama The Wrestler was based on a number of different the grapplers from the 1980s, but nothing like Walk The Line or Rocketman has been made about someone from the world of sports entertainment. Well, that will soon change when Chris Hemsworth trades Mjölnir and Stormbreaker for a pair of tights and wrestling boots in the upcoming Hulk Hogan movie.
The Thor actor caused quite a stir in July 2020 when he revealed that taking on the role of the Hulkster will require him to put on more size than ever before, which is ridiculous considering how ripped he was in most of his appearances in the Marvel Cinematic Universe. This news about Chris Hemsworth getting jacked to the gills has me excited for how this movie will turn out, and got me thinking about all the things I really hope we see when it finally comes out, whenever that may be. Here are five of those things.
I Definitely Want To See Hulk Hogan's Time In AWA And NJPW Before He Went To WWF
Back when the Hulk Hogan movie was first announced in early 2019, it was revealed that Todd Phillips and Scott Silver would be reuniting to tell the story of arguably the most well-known and successful wrestler of all time. Described by THR as being more of an origin story of Hulkamania and the man with the 24-inch pythons, it sounds like the upcoming biopic will focus more on the early days of the Hulkster, as opposed to the scandals that surrounded the aging wrestler later in his life.
If Todd Phillips plans to accurately tell the story of Hulk Hogan's unparalleled rise to fame, he will have to touch on where the man behind the red and yellow spandex — Terry Bollea — came from, which includes phenomenal runs in Verne Gagne's American Wrestling Association and overseas in New Japan Pro Wrestling. It's true that Hogan was in the World Wrestling Federation for a cup of coffee at the start of the 1980s, but without an appearance in Rocky III and further expansion of his move-set and personality in AWA and NJPW, the world most likely wouldn't have been introduced to the phenomenon that was Hulkamania.
I Will Be Shocked If We Don't See A Lot Of Vince McMahon
We all know that Vincent Kennedy McMahon is a madman, but he is responsible for taking his late father's regional wrestling promotion to the global sports entertainment company that we now know as WWE. In addition to ushering in a new era of the sport with the Rock 'n' Wrestling Connection that brought in high-profile music and pop stars into different storylines, McMahon was also instrumental in the creation of Hulkamania when he convinced Hulk Hogan to leave the frigid studios and wrestling halls of Minnesota.
This is why I will be shocked if Vince McMahon isn't a major player in the upcoming Hulk Hogan movie. I mean, the history and presence of the billionaire wrestling promoter is tailor-made for a biopic like this, especially when you consider everything he put on the line in order to pull off what had never been done before. We're talking about the guy who mortgaged his house just to get enough money to put on the first WrestleMania, not knowing if it was going to be a success or if he was going to be homeless after everything was said and done.
The Rise Of Hulkamania Better Be Told Through A Montage
If the Hulk Hogan movie focuses on the rise of Hulkamania in 1984, then I really, really, really hope that a lot of what leads to the first WrestleMania is told through the hallmark of any great '80s movie: the montage. Just imagine about halfway through the movie when Hogan returns to WWF and finds himself selling out arena after arena, appearing on late-night talk shows, recording an album, and just being the superstar that he was at the time all told through a montage.
Including a montage showing the rise of Hulkamania would be a good way of pushing the story forward, building Chris Hemsworth's Hulk Hogan as a superstar, and speed up things if Todd Phillips wants to expand the scope of the biopic. Plus, it would be a great way to lead into Hulk Hogan's first WWF Heavyweight Championship reign when he became the first wrestler to escape the Iron Sheik's feared camel clutch.
I Hope The Movie Includes Or At Least Leads To The Historic First WrestleMania
There's no use in making a movie about the rise of Hulkamania without either including or leading up to the first WrestleMania held in the famed Madison Square Garden in March 1985. This pivotal moment in professional wrestling and American pop culture would serve as a perfect climax for the Hulk Hogan movie, especially when you consider everyone that was involved. You had Hogan teaming up with pop culture icon Mr. T at the height of his fame squaring off against Roddy Piper and Paul Orndorff in the main event that changed everything and created legends.
Recreating the classic look of the Garden and including the dramatic and harsh spotlights that only exposed the ring in a sea of darkness would make fore an amazing sequence that could end the movie. That combined with the groundbreaking lead-up to the match that saw Hulk Hogan and Mr. T showing up on countless talk shows, news programs, and public appearances would be a great third act.
Finally, I Hope The Movie Doesn't Sugarcoat Hogan's Past Or The State Of Wrestling In The 1980s
The final thing I hope we see in the Hulk Hogan movie is an accurate portrayal of the lifestyle of professional wrestlers and the destruction of the regional territorial structure that took place in the 1980s. Drugs, steroids, being on the road for months on end, and locker room politics all had a devastating effect on some of the biggest names of the era, and I sincerely hope Todd Phillips film sheds some light on that.
Around the time Hulk Hogan was tied up in the Gawker sex tape scandal, he gave a lengthy interview with the Orlando Sentinel where the former WWF champion admitted that he was guilty of using his influence to keep younger talent away from his spot at the top so that he could make more money and continue to be the promotion's biggest attraction. Seeing this acted out by Chris Hemsworth would be great, especially after seeing him in roles like the one he had in Bad Times at the El Royale solely for the way he manipulates people to get what he wants.
Those are just a few of the things I hope we get to see in the upcoming Hulk Hogan biopic. We still don't know when the movie will come out or where we will be able to see it when it does, but with the talent involved, it's going to be worth the wait. And if you want to know why Hulk Hogan had to pay royalties to Marvel Comics for 20 years, we've got you covered here on CinemaBlend.
Philip grew up in Louisiana (not New Orleans) before moving to St. Louis after graduating from Louisiana State University-Shreveport. When he's not writing about movies or television, Philip can be found being chased by his three kids, telling his dogs to stop yelling at the mailman, or yelling about professional wrestling to his wife. If the stars properly align, he will talk about For Love Of The Game being the best baseball movie of all time.
Your Daily Blend of Entertainment News
Thank you for signing up to CinemaBlend. You will receive a verification email shortly.
There was a problem. Please refresh the page and try again.