Extraction Hits A Netflix Milestone And Chris Hemsworth Has A Message For Fans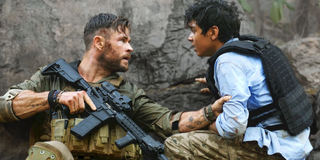 Netflix original movies tend to be hit or miss -- and there's no denying that their latest endeavor, Extraction, is a major hit. The movie has already broken records for the streaming platform and, to help celebrate a major milestone, Chris Hemsworth offered a virtual thank you to fans around the world.
Extraction premiered on Netflix on April 24. The film, directed by Sam Hargrave and produced by the Russo Brothers, had all the makings of a hit. Even though it's available exclusively on the streaming platform, the movie feels like the kind of summer Hollywood blockbuster that could pack movie theaters around the country. It's a tense, action thriller the features one of Hollywood's biggest stars kicking a considerable amount of ass. It's received mixed reviews from critics -- CinemaBlend's own Sean O'Connell gave it three and a half stars. But fans have clearly been drawn to the promise of relentless action and a sweaty Chris Hemsworth, because they've been tuning in at a historic rate.
On May 1, Netflix shared via Twitter that Extraction is poised to become the streaming platform's biggest movie premiere yet, reaching 90 million households in its first four weeks. Of course, it helps that it was released at a time when millions of us are stuck at home but, any way you cut it, Extraction is clearly a huge success.
That news seems to have made Chris Hemsworth a very happy man. Recently, he uploaded a video to his Instagram account in which he shared his excitement about Extraction's success and to thanks fans around the world for checking out the film
The actor also took a moment to offer hope to fans who still want to see more Tyler Rake:
Take a look at Chris Hemsworth's happy, heartful message below:
Okay, so that definitely lends fuel to speculation about whether or not we're going to get another installment of Extraction. Given the overwhelming response to the movie, at this point, it would pretty much be a no-brainer for Netflix. A sequel would also be great news for fans who found the movie's ending to be maddeningly ambiguous -- and Chris Hemsworth seems to be hinting that there may already be some plans for how to continue to tell Tyler Rake's story. Thus far, Netflix hasn't confirmed or denied anything, but we'll be waiting to see if they do.
Have you watched Extraction? What did you think? Let us know in the comments.
Your Daily Blend of Entertainment News