The Matrix 4: Keanu Reeves' New Haircut Is Going To Make Fans Very Happy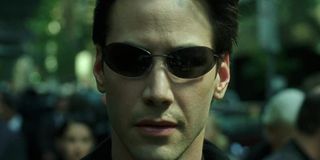 Keanu Reeves is currently busy filming The Matrix 4 in Berlin. While we've gotten used to him with long hair and a beard, ala. John Wick, it looks like those days could be over. And, The Matrix fans should get ready, because this new haircut is going to make them very happy.
Most fans will recall that Keanu Reeves kept his hair doo pretty clean when playing Neo for The Matrix. He didn't have a beard and usually had shorter hair on top. Well, according to People, he's returned to that look, but his haircut is now super short. Could this mean he's waking up in the real world for a second time?
Keanu Reeves was recently seen outside, giving his girlfriend Alexandra Grant a kiss. In a photo taken of him, he's carrying two bags and dawning a new haircut—a buzz cut, to be exact. That could only mean one thing really, he's been unplugged from the Matrix and woken up into the real world. After all, Neo rocked that short look throughout the first movie.
What's even more interesting about this new haircut is the timing. We reported earlier that Keanu Reeves was seen on set with his girlfriend. In those photos, he's clearly got the long hair and beard he's had for some time. So perhaps this Neo will eventually grow out his hair after entering the real world or the long hair and beard is what he looks like when he's in the Matrix. Either way, it's exciting to see him with a shorter haircut.
The Matrix 4 started filming back at the beginning of this year but had to shut down due to global events. At that time, they were filming in San Francisco and reportedly were setting off some big explosions. After taking a long hiatus, they hopped back into production this summer in Berlin with health and safety protocols in place.
What we know about The Matrix 4 is slim. But, while promoting Bill & Ted Face the Music, Keanu Reeves has provided updates and small details, teasing what's to come. He said it's going to be another "love story" and that it will also be "a call to wake up." Lana Wachowski, one of the original writers and directors of The Matrix trilogy is helming The Matrix 4. The original trilogy also featured Lilly Wachowski, but it doesn't look like she will be helping this time around. Wachowski also tackled the script for the sequel and Keanu Reeves had nothing but praise for it, saying:
Keanu Reeves' new haircut isn't the only thing fans can get excited about. Despite being delayed due to global events, Warner Bros. announced that they expect The Matrix 4 to be released on December 22, 2021. That might still seem far away, but it's better than 2022, which was one of its original release dates.
Your Daily Blend of Entertainment News