Bad Hair Ending Explained: What Got Tangled Up In Hulu's Horror Comedy?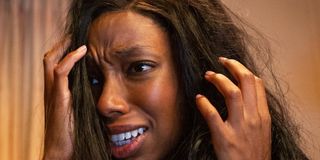 (Image credit: (Hulu))
Bad Hair is one of the most unique and truly hair-raising films of the season. The Hulu film has Dear White People creator Justin Simien delivering his first horror movie... and his vision is wild. If you've made it here, you watched the Bad Hair ending and are looking to comb out the split ends. And truth be told, the '80s set horror-comedy definitely has a lot of WTF moments that may not wrap around your head upon first viewing.
The recent release tells the story of a young woman (Elle Lorraine), who is navigating the cutthroat music television industry in 1989 at the height of MTV culture. In order to fit in at work, Anna gets a weave by Laverne Cox's Virgie and starts to become haunted by her hair. It seriously gets out of control – on killer levels. Here's your last chance to turn back, Bad Hair spoilers are ahead. Let's delve into what went down:
What Happened At The End Of Bad Hair
In the second half of Bad Hair, Anna ends up in a nasty confrontation with her landlord Mr. Tannen, that could have been a rape, but her hair defends itself and kills him (yep, that happened). Anna's weave also takes over during her steamy night with Jay Pharaoh's Julius, which turns into a bloody murder too. Shortly after his death, Anna snaps out of her trance and connects her experiences to the Moss Haired Girl from a story she had started reading prior – we'll get to that more in detail in a moment.
Since her hairdo is straight up evil, Anna attempts to go to another hair salon to get the weave taken out, but it ends up wreaking havoc there too. This leads to a final confrontation with Zora's weave (Vanessa Williams) at her office, which is in control and in full force of her boss. It's then when Bad Hair goes full horror mode and Die Hard-esque as she tries to survive all the crazy hair after her. Anna stabs Zora in the head with her heel, stopping her. But, wait did you see the gold glimmer in her eye? It never disappears during that close up shot. Anna kills her own weave when she trips the office's smoke alarm and water destroys it as she cuts it all off at the same time.
The Lore In Bad Hair Explained
Everything in Bad Hair is based on its own legend deriving from The Moss Haired Girl, a fictional folktale about a Black slave which acts as a guidebook for Anna's experiences with their supernatural weaves. We learn that they have been given "hair of witches from the before time" and according to the story, the hair needs blood to "grow strong enough to take over a person's body." Hence all that terrifying bleeding when Anna was getting her hair done. Blood is also why the weave is murderous. Once it murders people, it absorbs their blood to continue thriving and possessing Anna's body when it wants to. As explained in the text of The Moss Haired Girl, the witches take turns in the heads of their hosts.
When Anna pours water on the hair, it washes out the blood that keeps the witches' blood pumping, so to speak. Interestingly enough though, Bad Hair doesn't fix the weave problem going around town. Anna saves herself and is seen wearing a headscarf at the end of the film, but the people around her are still going for the trend. Anna is still fixated on her experience (duh, it was traumatic as hell) and reading The Moss Haired Girl once again she relocates from her apartment to living at Linda's. The tree found on the book can be seen as a logo on a truck that journeys to the moss tree itself. The tree from legend is being harvested for its hair by workers instructed by James Van Der Beek's Grant Madison. There seems to be a big operation at work here that keeps these witches alive in the spirit of others.
How The Moss-Haired Girl Legend Ends
To unpack the ending of Bad Hair, let's take an even closer look at the legend provided in the movie. In the final minutes of the Hulu movie, Anna reads the ending. It goes as follows:
That's right, James Van Der Beek's character was behind it the whole time... This reading of The Moss Haired Girl is followed up by Linda saying that she's going to go to Virgie's salon because she's annoyed by her natural hair. She says "just put someone else's hair on my head!" Bad Hair is using its folktale concept to explore the expectations on Black women to forfeit their own roots for someone else's.
The ending takes it a step further, by placing this ownership in the hands of the men who are exploiting the tree. As seen, Van Der Beek's character is there to enforce their will and literally control the masses. People like Anna are expected to be possessed by someone other than themselves in order to be successful and desirable. Bad Hair goes heavy on the commentary with its end, by showing audiences that one woman's internal acceptance with oneself does not defeat the problem at large within society on its own.
The Deeper Commentary Being Discussed In Bad Hair
Justin Simien famously opened an important discussion about the Black experience with Dear White People, which spinned off into a Netflix series later. In terms of this film, the writer/director called Bad Hair his "satirical horror love letter" to Black women and the "unparalleled power they possess to endure and persevere," per Vulture. The movie has opened the conversation about Black identity within the community. YouTuber La'Ron Readus said the following in his video dissecting the film's meaning:
Readus also touches on this point in his video, but with this commentary has also come some critique from Black women writers in particular, who believe the narrative has a blind spot in. AV Club's Shannon Miller said the following in her review of Bad Hair:
So, there you have it. Bad Hair has a lot to say and while with convoluted ideas and controversial execution, it does introduce some intriguing lore and may get one thinking about the topics at hand. Following Bad Hair, check out what movies and TV shows are coming to Hulu in November and the scary movies are coming out through to 2021.
Your Daily Blend of Entertainment News
YA genre tribute. Horror May Queen. Word webslinger. All her writing should be read in Sarah Connor's Terminator 2 voice over.