Why Ready Or Not Needs A Bloody Sequel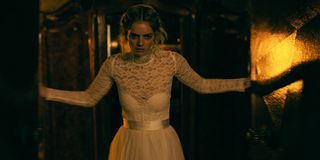 (Image credit: (Fox Searchlight))
SPOILER ALERT! Specific Ready or Not plot details are ahead! You're going to want to hide from reading this one until you've had a chance to seek the movie out.
Summer season just closed with one bloody bang! (Literally.) Ready or Not, a wickedly entertaining horror flick, surprised us in the wavering weeks between big blockbuster releases and buzzy Oscar contenders. Just check this – we gave it a five-star review! Ready or Not offers up a well-crafted dark comedy enticed by an original premise that has a completely new take on "Ugh, in-laws, am I right?" Now, we can only hope Samara Weaving's Grace isn't truly the "final girl."
Ready or Not is currently sitting in a pretty blood-soaked dress next door to the cindered Hellboy reboot in 2019's domestic box office earnings after two weeks in theaters. That shouldn't stop the release from becoming a franchise. The slasher-of-sorts was made on a low budget of $6 million. So although it debuted at sixth place with $8 million in earnings, that wasn't exactly a disaster. Word of mouth seemed to have boosted interest considering the film only saw a 17% drop in its second weekend and has since gone on to make $31.8 million, which means, after taking away marketing costs and theater payouts and later adding in streaming rights/ home video, it will likely turn a solid little profit.
In comparison to this summer's other offerings, Ready or Not certainly has one of the slowest starts, but for no good reason. The horror-comedy was heavily praised by critics and has been received well by the masses too. It earned a B+ Cinemascore and a 79% Rotten Tomatoes audience score. With these quiet wins in mind for Ready or Not, maybe Grace can slay again? But numbers and accolades aside, the movie left audiences with a lot more intriguing reasons why it shouldn't be a one-off.
Ready or Not introduced us to this entertaining concept: what if the 1% owed their fortunes to supernatural satanists? It's a kind of fun metaphor for selling your soul to the devil to reach the often unattainable wealth in the world. Grace marries into the Le Domas family, who have made their riches thanks to their board game business. Due to their dealings with the mysterious Mr. Le Bail, they must carry out the tradition of playing from the Choosing Box every time a new member of the family comes in.
Due to Ready or Not's tight hour and a half runtime, audiences get only a brief taste of the world being established. After watching the movie, you might have found yourself becoming curious about the other aspects of the peculiar universe journeyed to during the thriller. What other powerful families share the same curse and how does it manifest for them? The Le Domas family own a game company, so naturally their fate lies in playing a deadly brand of their successful empire.
Ready or Not also captivated its audience about the characters at the center of the tale. The family members are all devilishly entertaining and interesting people, and I for one would like to see more of them on the big screen. What's the deal with Daniel and Charity's (played by Adam Brody and Elyse Levesque) strange dynamic? What's so messed up about Charity's past that she'd rather murder her new sister-in-law than opt out? The film's directors Matt Bettinelli-Olpin and Tyler Gillett did (jokingly?) tell Bloody Disgusting they'd make a prequel about Fitch and Emilie's (Kristian Bruun and Melanie Scrofano) partying in Ibiza as death happens all around them.
In fact, the filmmakers have already had discussions about the aftermath of Ready or Not. Just read their words about the continuation of the film into a franchise:
Above all, we need to see Samara Weaving return in her breakout role, right? The 27-year-old actress made Ready or Not as good as it is. Watching her go through the twisted tradition from beginning to end is a twisty joy to witness. She kind of totally showed up Die Hard's Bruce Willis in a one-woman fight against her in-laws. Do we expect Grace to live out the rest of her life without another run-in with satanic cults out to get her? Not after that performance!
Grace may have asked her new husband for a divorice before he exploded into a vat of blood, but the contract is still legally binding. Perhaps she'll inherit the wealth of the Le Domas as the directors say! What exactly does this mean? Will she begrudgingly embrace the new embarrassment of riches in store for her or run away from it? Maybe she'll try to forget about the happenings of Ready or Not until she finds a new love. The choosing box may return to her possession in time for her to play another game of hide and seek.
Alternatively, she may have to make a deal with the devil herself (Mr. Le Bail?) in order to make her divorice official in a proposed sequel and stop the demons of her past marriage from haunting her. Members of a satanist cult may seek revenge on her for killing off the Le Domas family. There are just so many fun ways Grace's story could continue!
Ready or Not delivered a blend of so many genres at once. It's a dark comedy and nail-biting thriller. It's bloody low-budget horror and clever societal satire. It has room to grow these well-executed ideas into deeper, weirder corners, and considering the original was low-stakes for the studio to produce, making a second may only buff up the performance of Ready or Not.
Let's spread the bloody love for Ready or Not! Horror is seeing an exciting renaissance these days and could certainly use more original properties amidst all the remakes and spinoffs being produced.
What do you think? Do you want to see another Ready or Not movie? Sound off in the comments below!
This poll is no longer available.
Your Daily Blend of Entertainment News
YA genre tribute. Horror May Queen. Word webslinger. All her writing should be read in Sarah Connor's Terminator 2 voice over.
Your Daily Blend of Entertainment News
Thank you for signing up to CinemaBlend. You will receive a verification email shortly.
There was a problem. Please refresh the page and try again.