Clouds Ending Explained And A Closer Look At Zach Sobiech's Story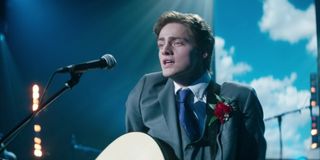 Clouds is the latest Disney+ original movie that will make you cry. It stars Fin Argus, Sabrina Carpenter, Madison Iseman, Neve Campbell, Tom Everett Scott, and Lil Rel Howery. The film is a fictional depiction of the last several months in the life of Zach Sobiech. Clouds is a movie that, despite being about a young man losing his battle with cancer, offers hope. Even the Clouds ending gives viewers and the Sobiech family a sense of peace and comfort because Zach may have passed on but his impact and spirit continue to influence and speak to people.
In this post, I am going to discuss what happened during the Clouds ending and explore more of Zach's story and legacy.
How Clouds Ends Zach Sobiech's Story
Zach's health continues to decline to the point where he can barely get out of bed. However, he decides to fight through the pain long enough to perform at his prom concert, and take his girlfriend Amy (Madison Iseman) to it. While on stage, Zach struggles to sing but the audience helps him out by singing "Clouds." This moment is a call back to earlier in the movie when Zach told Amy and Sammy (Sabrina Carpenter) that he hopes to someday hear people singing his songs. This was during the Jason Mraz concert scene.
The movie transitions to showing Zach's mother (Neve Campbell) finding his college essay and reading it. She's in the grieving process as it's clear that Zach has died. After the first credits, we see Sammy and Amy taking pictures with friends and they notice a cloud in the shape of a Z behind them--a sign from Zach. The second round of credits shows archival footage of Zach, his family, and the crew and cast with their real-life character counterparts.
Zach Sobiech's Real Story
Clouds pretty much offers an accurate account of Zach's life, as we saw some of these moments in the film play out in the documentary Meet Zach Sobiech: My Last Days. The film is based on Zach's mother, Laura Sobiech's book Fly a Little Higher: How God Answered a Mom's Small Prayer in a Big Way, so a lot of the information from the film is borrowed from Sobiech's book. If you haven't read the book or watched the short documentary, I'll summarize Zach's story.
Twin Cities Pioneer Press details Zach and his family's journey in a profile piece from December 2012. It states that Zach was diagnosed with osteosarcoma in the fall of 2009, at only 14. He discovered that he had cancer while jogging with his sister Alli in August 2009. His left hip began to hurt and his parents took him to a medical professional. He underwent two months of physical therapy because the osteosarcoma didn't show on his x-rays.
By November 2009, his body started to deteriorate more and he couldn't bend over to tie his shoes. He received magnetic resonance imaging and the tumor was found. Zach did over 20 rounds of chemotherapy and had over 10 surgeries. He also spent over 100 days in the hospital. Zach began writing songs as a way to say goodbye:
While in his home, Zach died on May 20, 2013, a few weeks after his 18th birthday.
Faith In Clouds
Clouds isn't an extremely religious movie, but religion plays a role in the movie and Zach's real life. In an interview with The Catholic Spirit, Zach's mother Laura discusses the importance of religion in his life and that she wanted it to play a role in this movie. Also in Twin Cities' article, it mentions how Zach attended church in the morning and the Lourdes trip.
The Lourdes trip is a brief moment in the movie, but it's shown as a sort-of spiritual awakening for Zach in that it makes him even more committed to his music. The family spent 10 days in Europe traveling to Rome, Lures, and Paris. Lourdes is believed to be a place with healing powers because the legend has it that the Virgin Mary appeared there in 1858.
We also see moments in Clouds where Zach turns to God as he questions why this is happening to him, and Laura also spoke about the importance of showing the Sobiech's faith in the movie but not them as perfect people or Catholics, so that others could relate to their story.
Justin Baldoni and Zach Sobiech's Relationship
Five Feet Apart was Justin Baldoni's first feature film and Clouds is his second, but in 2013 he released Meet Zach Sobiech: My Last Days for Rainn Wilson's Youtube channel, Soulpancake. It is an over 20-minutes documentary short that briefly shows Zach and his family's life. Some of the scenes from it even made the fictionalized version. However, Baldoni completely omits himself from Zach's life in Clouds, but he spent a week with the family and developed a bond with them.
In a short video made by Disney+, Baldoni mentions a promise he made to Zach.
He also mentions that anything good that has ever happened to him can be traced back to meeting Zach and making the original documentary. In an interview with MSN, Baldoni shared more about his closeness with Zach, even saying he came to think of him as a little brother, and that he became close with the family. He also said he wanted to do justice to Zach's story.
Zach Sobiech's Legacy
The week of Zach's funeral, "Clouds" reached number one on the iTunes chart, and a few days after the release of Clouds on Disney+, it reached number one again on iTunes, beating Justin Bieber's song, "Lonely." The song has over 200 million streams (as shown at the end of the movie) and the video for "Clouds" has over 15 million views.
The Clouds ending also revealed that the Zach Sobiech Osteosarcoma Fund has raised over $2 Million. Zach's children's cancer page also stated some of the things that the funding has accomplished, like a clinical trial and breakthroughs in the quest to find a cure for Osteosarcoma.
The radio station K95, who played a part in Zach getting his music contract, as revealed in the Twin Cities piece, holds a charity event every year called the Clouds Choir to raise money for the Zach Sobiech Osteosarcoma Fund.
Clouds is a powerful movie that reminds people to appreciate every moment they're given and not to be afraid to find hope in the darkest of days. Clouds is currently streaming on Disney+. Stream it here (opens in new tab).
Your Daily Blend of Entertainment News
Spent most of my life in various parts of Illinois, including attending college in Evanston. I have been a life long lover of pop culture, especially television, turned that passion into writing about all things entertainment related. When I'm not writing about pop culture, I can be found channeling Gordon Ramsay by kicking people out the kitchen.