Lil Rel Howery: 6 Cool Things You Might Not Know About The Get Out Scene-Stealer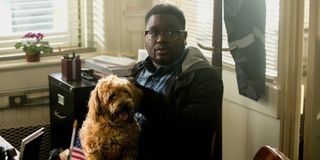 Lil Rel Howery is a multi-hyphen performer who started his career as a Chicago stand-up comedian. Now Lil Rel Howery has developed into a producer, writer, and actor. Though Howery has a diverse body of work, he's mainly known for his breakout role in Jordan Peele's Get Out, where he played an honest and reliable best friend.
Since Get Out, Howery has appeared in other high-profile movies like Bird Box, The Angry Birds Movie 2, and The Photograph. Lil Rel Howery's naturally friendly demeanor and laidback personality make him a comedian easy to root for, and the same usually applies to his characters. If you see Lil Rel Howery's name on the opening credits of a film or TV show, you know that you're going to have a few good laughs and be entertained. Lil Rel Howery is quickly becoming a guaranteed scene-stealer.
Despite the fact that Howery has been appearing on TV shows and movies since 2008, he's still an actor that many don't know much about, so let's get to know Lil Rel Howery.
He Had A Semi-Biographical TV Series
From 2019, Lil Rel Howery starred in Rel, a series based on his real-life. It also starred Sinbad, Jess Hilarious, and Jordan L.Jones. In an interview with The New York Times, Howery spoke about his friend and former co-star Jerrod Carmichael being an executive producer on Rel and how he basically had all the staff from The Carmichael Show come to work on his series.
He even said Rel is kind of like a spin-off of The Carmichael Show, but it would be less about societal issues and more about Lil Rel's family. He mentioned how the series focused on real-life situations from Howery's life, like the death of his mother, his younger brother's release from prison, and being a long-distance father. In an interview on the Vulture podcast Good One, Howery spoke about how comedy was therapeutic for him and he used things like the series to tell his story, and deal with some of his heartbreak, like losing his mother.
Rel was canceled by Fox after only one season.
Eddie Murphy Is A Big Comedic Influence
In the same Good One interview, Lil Rel Howery discussed some of the comedians that influenced him like Robin Harris and Bernie Mac, but he said Eddie Murphy's standup comedy special Delirious really inspired his desire to be a comedian and his style of comedy. Lil Rel Howery went on to share that he wished Murphy would come back to the comedy world.
Lil Rel Howery also expressed a desire to meet Murphy and said he was the only person that he really wants to meet that he hasn't met yet. Howery revealed that Murphy's children have attended tapings of Rel, but he didn't want to ask them about their father. In the same interview, he gushed about another legendary comedian: Sinbad. He said Sinbad has become like a second father to him while working with him on Rel, and how Sinbad doesn't get enough credit as a comedy legend.
Tiffany Haddish Is One Of His Best Friends
In an interview with The Breakfast Club, Howery spoke about his friendship with Tiffany Haddish. He detailed a conversation they had about ten years ago where she kind of predicted their future in the entertainment industry. He said that was something that Haddish does often in their friendship. He also shared that they've been friends for over 15 years. He spoke of being proud of her and that she's "just herself."
In an interview on The Tonight Show Starring Jimmy Fallon, Howery also spoke about their friendship and how Jess Hilarious's character Brittany is based on Haddish. He further explained:
He went on to share that it's fun having friends like that and compared them to just being like one of the guys. He also shared that he planned to keep his Rel character and the Brittany character friends because he wanted to see more platonic male-female friendships on TV.
His First Gig Was With R-Kelly
During an interview with Jimmy Kimmel Live, Lil Rel Howery talked about doing stand-in work for R-Kelly's Trapped in the Closet saga videos. He told a story of how one of R-Kelly's background dancers was also a stand-in. Howery was just casually talking to her and making her laugh, then R-Kelly saw it. The next day, she was forbidden from talking to them. He then shared that he ran into R-Kelly again at a birthday party for John Singleton.
R-Kelly sent someone over to let Howery know that he wanted to meet him. Howery then declined the meeting. He said that R-Kelly was "extra" and he didn't like it, so that's why he's never been a fan of him.
He's A Huge Fan Of Romantic Comedies
On a different interview on The Tonight Show Starring Jimmy Fallon, Lil Rel Howery shared that he's a huge fan of romantic comedies. He shared that Definitely, Maybe is his favorite romantic movie, and he happened to appear in the Free Guy movie with the star of that movie Ryan Reynolds.
He also revealed to Fallon that Fallon's film with Drew Barrymore, Fever Pitch is one of his other favorite romantic comedies. Howery said that he watches it twice a week. He called Fever Pitch "a very beautiful movie." Howery also shared that he loves Hallmark movies.
He Relates To Larry David
On the first The Tonight Show Starring Jimmy Fallon interview that I mentioned, Howery also stated that when he got older, he realized that he identifies with George Costanza (Jason Alexander) and Larry David. He said that now little things bother him, like loose boots. He further explained by saying:
He also shared that people who are fast texters bother him. He doesn't like it when people can text without looking at their phones. Howery also shared with Bad Feeling Magazine, his admiration for Larry David's Curb Your Enthusiasm.
Lil Rel Howery has been busy these last few years with an HBO comedy special called Live in Crenshaw, Free Guy still expected for a December 2020 release, currently filming Vacation Friends with John Cena, and he plans to take on hosting duties for NBC's Small Fortune.You'll be seeing a lot more of Howery in the next year and beyond.
Your Daily Blend of Entertainment News
Spent most of my life in various parts of Illinois, including attending college in Evanston. I have been a life long lover of pop culture, especially television, turned that passion into writing about all things entertainment related. When I'm not writing about pop culture, I can be found channeling Gordon Ramsay by kicking people out the kitchen.