Netflix's The Old Guard: Where You've Seen The Cast Before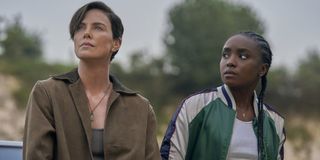 Little by little (or maybe lot by lot), Netflix is trying to work its way into the blockbuster game. They've established themselves as a premier place for acclaimed, award-winning television, and the next hurdle is figuring out how they make a splash with their movies.
When it comes to big-budget action spectacles available in the comfort of your home, The Old Guard certainly made an impression on subscribers, becoming one of the biggest blockbusters in this unconventional year (to say the least). But it's safe to say that a lot of people found the time to watch the immortality-based action-drama. And there were many people left wondering where they've seen The Old Guard cast before.
In an ensemble that includes A-listers like Charlize Theron, up-and-coming talents like KiKi Layne, and familiar faces like Harry Melling, The Old Guard is filled with famous and/or promising actors who've demonstrated their talents in various past and recent projects. Here's where you might recognize the cast of Netflix's summer blockbuster.
Charlize Theron (Andy/Andromache of Scythia)
As Andy, a.k.a. Andromache of Scythia, Charlize Theron produced and played the lead role in Netflix's The Old Guard. An Oscar-winning actress for her transformative performance in 2003's Monster, Theron has since become one of the most versatile and highest-paid A-list actresses working in Hollywood today. The award-winning actress also received Oscar nominations for North Country and last year's Bombshell, and she's known for her work in Mad Max: Fury Road, Atomic Blonde, The Italian Job, Young Adult, Prometheus, The Fate of the Furious, The Devil's Advocate, The Cider House Rules, Snow White and the Huntsman, Hancock, Tully, Long Shot, Aeon Flux, That Thing You Do!, Reindeer Games, and Mighty Joe Young, to name only a few films.
In addition to her film roles, Charlize Theron appeared in Arrested Development and HBO's TV film, The Life and Death of Peter Sellers. Next, she stars in F9.
KiKi Layne (Nile Freeman)
In the role of Nile Freeman, a former U.S. Marine who discovers her previously-unknown immortality and joins the ranks of the Crusaders, Kiki Layne received a breakthrough leading role with Netflix's The Old Guard. Prior to this performance, Layne impressed many viewers with her beautiful work in Barry Jenkins' If Beale Street Could Talk. Additionally, the actress earned acclaim and notice for her strong work in HBO's Native Son, and she starred in Captive State. She can also be seen in a 2016 episode of Chicago Med, as well as a pair of short films, Veracity and The Staggering Girl, from 2015 and 2019, respectively.
Next, Kiki Layne stars in Coming 2 America, and she has a starring role in Don't Worry Darling, Olivia Wilde's directorial follow-up to last year's Booksmart. While she's still so early into her career, Layne should hopefully have a very bright future ahead.
Matthias Schoenaerts (Booker/Sebastian Le Livre)
Playing the part of Booker, i.e. Sebastian Le Livre, a French Crusader who once fought with Napoleon and carries questionable allegiance, Matthias Schoenaerts plays the most prominent supporting role in The Old Guard. Making his film debut in 1992's Daens at age 13, which went on to be an Oscar-nominee for Best Foreign Language Film, Schoenaerts' most notable screen credits include Rust & Bone, Loft, Bullhead, The Drop, Far From The Maddening Crowd, The Danish Girl, Suite Francaise, Red Sparrow, Disorder, Black Book, A Bigger Splash, A Hidden Life, The Mustang, and The Laundromat, another Netflix exclusive.
On television, Matthias Schoenearts might be known for his work in Los zand and The Emperor of Taste. He'll soon be seen in the upcoming series, Lockdown, based on the ongoing coronavirus pandemic. Additionally, he'll reunite with Terrence Malick for The Last Planet and possibly star in Ruin.
Chiwetel Ejiofor (James Copley)
As James Copley, a former CIA agent with a special (and personal) interest in the Crusaders, Chiwetel Ejiofor plays a key role in The Old Guard. An acclaimed English actor who found success early in his career with a supporting turn in Steven Spielberg's Amistad, Ejiofor appeared in Kinky Boots, Children of Men, 2012, Serenity (2005), Four Brothers, Dirty Pretty Things, She Hates Me, Inside Man, Talk to Me, Redbelt, and American Gangster before his leading performance in Steven McQueen's Best Picture-winning 12 Years a Slave skyrocketed his career.
Following this Oscar-nominated performance, Chiwetel Ejiofor gained more leading roles in films like Z for Zachariah, Secret in Their Eyes, and Come Sunday. Additionally, Ejiofor played prominent supporting parts in The Martian, Doctor Strange, Mary Magdalene, Maleficent: Mistress of Evil, and 2019's The Lion King. He also directed and starred in Netflix's The Boy Who Harnessed the Wind.
Harry Melling (Steven Merrick)
In the role of Steven Merrick, the wealthy CEO of a pharmaceutical empire who isn't too dissimilar to Martin Shkreli, Harry Melling played the main antagonistic role in The Old Guard. As a former child actor, Melling's most well-known role was playing Dudley Dursley in the Harry Potter franchise. Once that series came to an end in 2011 with Harry Potter and the Deathly Hallows - Part 2, he branched out into other cinematic endeavors, away from Hogwarts, starting in 2016 with James Grey's The Lost City of Z.
From there, Harry Melling starred in The Ballad of Buster Scruggs, The Keeper, Waiting for the Barbarians, and, most recently, The Devil All The Time — another high-profile Netflix title. Outside of these film roles, Melling also appeared in TV shows like Merlin, His Dark Materials, 2019's War of the Worlds, and, most recently, Netflix's The Queen's Gambit.
Marwan Kenzari (Joe/Yusuf Al-Kaysani)
Playing the part of Joe, i.e. Yusuf Al-Kaysani, a Muslim warrior who participated in the Crusades, as well as Nicky's romantic partner, Marwan Kenzari provided a prominent supporting turn in The Old Guard. Outside of this Netflix role, Kenzari is best known for playing Jafar in 2019's live-action Aladdin remake. Additionally, he won a Golden Calf for Best Actor for his 2013 performance in Wolf. Some of his other prominent performances are found in The Angel, The Promise, 2017's The Mummy, 2016's Ben-Hur, 2017's Murder on the Orient Express, What Happened to Monday, Instinct, Reckless, The Last Days of Emma Blank, Loft, Rabat, Black Out, Accused, and Collide.
Meanwhile, on TV, Marwan Kenzari is known for his roles in Flikken Maastricht and Black Widow. Next, the actor stars in The East, which premiered at the Netherlands Film Festival in September prior to his Netherlands release later this month.
Luca Marinelli (Nicky/Nicolò di Genova)
Playing the part of Nicky, i.e. Nicolò di Genova, an Italian Crusader who forms a loving bond with Joe through their shared immortality, Luca Marinelli provides one-half of The Old Guard's romantic center. While not as well-known in America outside of this performance, Marinelli has forged a strong career in Italian cinema, notably through his performances in Every Blessed Day, Don't Be Bad, They Call Me Jeeg, The Great Beauty, 2011's The Last Man on Earth, Rainbow: A Private Affair, and the title role in Martin Eden, which recently received its stateside release.
Additionally, Luca Marinelli played a primary role in FX's mini-series, Trust, from 2018. Next, the actor plays the title role in Diabolik, which is expected to come out on December 31st in Italy.
Veronica Ngo (Quynh)
As Quynh, an immortal ally from Andy's past, Veronica Ngo is at the center of inarguably the darkest segment in The Old Guard. A singer and model in addition to being an actress, Ngo's other film and television credits include Bright, Star Wars: The Last Jedi, Crouching Tiger, Hidden Dragon: Sword of Destiny, Once Upon a Time in Vietnam, Two in One, Clash, Rogue, The Rebel, Saigon Love Story, Bitcoin Heist, The Tailor, Going Home for Tet, Furie, and House in the Alley. Additionally, Ngo can be seen in two other noteworthy Netflix productions, Bright and Da 5 Bloods, the latter of which also came out this past summer.
In addition to these acting credits, Veronica Ngo directed and starred in 2015's The Lost Dragon and 2016's Tam Cam: The Untold Story, the latter of which she also co-produced. She also produced Clash, The Tailor, and Song lang.
Anamaria Marinca (Dr. Meta Kozak)
In the role of scientist Dr. Meta Kozak, Anamaria Marinca plays a supporting character in The Old Guard. The Romanian actress is best known for her award-winning performance in the acclaimed drama, 4 Months, 3 Weeks, and 2 Days, for which she won several awards, including the National Society of Film Critics Award for Best Actress. Additionally, Marinca also gained acclaim for her work in Channel 4's two-part TV film, Sex Traffic. The performer can also be seen in films like The Countess, 2017's Ghost in the Shell, Europa Report, The Girl with All the Gifts, Five Minutes in Heaven, Storm, Youth Without Youth, and Boogie, i.e. Summer Holiday.
In addition to her various film credits, Anamaria Marinca can also be seen in numerous shows, including Doctor Who, Wallander, Mars, River, The Politician's Husband, The Missing, The Last Enemy, Hotel Babylon, Holby City, and Tin Star.
Joey Ansah (Keane)
As Keane, a rogue C.I.A. agent who's hunting down the Old Guard team of mercenaries, Joey Ansah plays an action-intensive role in The Old Guard. A martial artist in addition to being an actor, Ansah's most prominent role was in The Bourne Ultimatum, though he can also be seen in Batman Begins, Mission: Impossible - Fallout, How to Talk to Girls at Parties, Knock Out, Attack the Block, Snow White and the Huntsman, UFO, The Numbers Station, Green Street 3: Never Back Down, Love Struck, The Kid Who Would Be King, and Left for Dead. He's also in Netflix's The Stranger.
In addition to these acting parts and stunt roles, Joey Ansah co-wrote, co-directed, and stars in the 2010 short fan film, Street Fighter: Legacy. He also stars in and co-created the 2014 web series, Street Fighter: Assassin's Fist, where he reprises his role as Akuma.
Micheal Ward (Lykon)
In the role of Lykon, a companion fondly remembered by Andy, Michael Ward doesn't get a ton of time to shine in The Old Guard, but the actor makes the most of it anyhow. Prior to his work as an actor, Ward was a model. While his acting credits are slim at-the-moment, Ward can also be seen in Blue Story and Brotherhood, as well as shows like The A-List and Top Boy. He also has a couple of music video appearances to his name, including Tom Walker's "Blessings" music video and Dave's "Black" music video. Additionally, Ward acted in this year's short film, Good Thanks, You? and the upcoming short film, Looking Back.
Michael Ward's other upcoming roles include Lovers Rock, one part of Steve McQueen's upcoming feature-length Amazon Prime anthology series, Small Axe, and the romantic drama, Beauty, which is written by Lena Waithe (Queen & Slim).
Natacha Karam (Dizzy)
Playing the part of Dizzy, a Marine who shares some screen time with KiKi Layne's character early in the film, Natacha Karam plays a brief but shocking character in The Old Guard. Outside of this performance, Karam is also known for her role in NBC's short-lived military series, The Brave. She can now be seen in Fox's procedural drama, 9-1-1: Lone Star. Additionally, Karam appears in The Hurricane Heist and she guest-starred in episodes of Homeland and Casualty.
Olivia Ross (Celeste)
In the role of Celeste, a woman who helps Andy in her time of need, Olivia Ross plays a brief-but-dramatic role in The Old Guard. Most notably, Ross starred in Knightfall and 2016's War & Peace mini-series. She also starred in Trauma last year, and she appears in Killing Eve, Personal Shopper, Non-Fiction, and White Lie. Additionally, Ross guest-starred in NBC's Rosemary's Baby mini-series 2014.
Who's your favorite Old Guard character or cast member? Please be sure to let us know in the comments!
Your Daily Blend of Entertainment News
Will is an entertainment writer based in Pittsburgh, PA. His writing can also be found in The Playlist, Cut Print Film, We Got This Covered, The Young Folks, Slate and other outlets. He also co-hosts the weekly film/TV podcast Cinemaholics with Jon Negroni and he likes to think he's a professional Garfield enthusiast.