The Old Guard: 6 Major Questions We Have After The Netflix Movie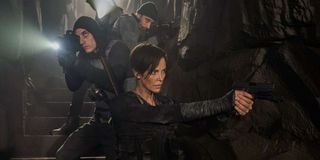 Earlier this month, Netflix found another hit on its hands with The Old Guard, the action-superhero blockbuster starring Charlize Theron, Kiki Layne, Matthias Schoenaerts, and Chiwetel Ejiofor. It became one of Netflix's top-watched new movies upon its debut, and that might not change anytime soon. The reviews have largely been positive, with many viewers curious to see a sequel to director Gina Prince-Bythewood's potential new franchise. Based on the graphic novel of the same name by screenwriter Greg Rucka, The Old Guard leaves the door open for a follow-up, and it also leaves a few burning questions — intentionally or perhaps otherwise — over the course of its runtime. Here are some questions we have after watching Netflix's The Old Guard.
How Did Quynh Escape Her Underwater Damnation?
In the movie's most haunting sequence, we discover in a flashback that Andy (Charlize Theron) once had a great immortal love with Quynh (Veronica Ngo) that dated back hundreds of years. It was built on weathering a series of witch trials, which they don't truly fear based on their immortality. But then, the unexpected happens: their relationship ends when a group of priests traps Quynh in an iron maiden and throws her into the bottom of the sea.
Because she cannot truly die, she's forced to relieve the agony of death over and over for seemingly hundreds of years. It's a dark moment, though it's built on the hope — however withering — that Andy can find her and restore their long-lost relationship. But at the end of the movie, we see that Quynh has, indeed, escaped her underwater metal chamber.
The most obvious question is, how the hell did she escape? It's not like the tide just washed her back to shore. Something happened, and she finally regained her freedom, but the circumstances through which this happened are currently left vague. The answer is known and we'll hopefully discover it when it comes time to make a follow-up (and we'll discuss this potential sequel more in-depth later). But for now, viewers are left in suspense with this reveal.
How Does Quynh Know Booker And What Does She Want With Him?
Likewise, viewers are left with another burning question: how exactly does Quynh know Booker (Matthias Schoenaerts), notably since Booker didn't meet up with Andy until after her tragic backstory with the once-doomed love interest? It's a question that, similar to the first one, this movie isn't yet willing to answer. We'll have to wait until The Old Guard 2 to find out why she connected with Booker — notably only a few relatively short months after he was ousted from the immortal group. Is Quynh looking to reconnect with Andy? Are her efforts driven by love or revenge? Both? Neither? We'll find out whenever — or maybe if ever — The Old Guard 2 arrives on Netflix. But it seems like there's an answer, and we'll discover it in due time.
Is There A Specific Reason Why Andy Lost Her Immortality?
As you can imagine, an action movie centered around immortal characters provides some dramatic limitations. If they can't die, the stakes are fairly minor. Therefore, in an effort to pump up the suspense, it's noted that these immortal beings can, in fact, lose their immortality over time — though they don't know when their clock will stop ticking. Late into the movie, it's revealed that Andy isn't immortal anymore, though the leader continues to fight, accepting that if she dies, she dies — to paraphrase Ivan Drago. Beyond the potential creative reasons, though, is there a reason why her immortality is lost? Is it setting up something we can expect in the sequel? Will Andy die in the next installment to make way for Nile (Kiki Layne) being the central protagonist of the third, likely final movie? We'll see.
Is There Any Chance Andy Can Regain Her Immortality?
On the opposite side of the coin, is there a chance that Andy regains her immortality? It's not clear (as we noted before) what exactly causes one's immortality to slip, but is there a possibility that just as quickly as it's gone, it can return? Does it have to deal with one's will to live? We know one can only lose immortality after centuries spent living and subsequently reliving. If you lose your sense of morality, do you ultimately lose your existence in the process? Whether Andy lives or dies, her character's future is left uncertain, which paves an interesting path forward with the sequels set to come.
Is Nile Really Not Going To Make Contact With Her Family?
Throughout the course of the movie, Nile (Kiki Layne) learns to reconcile with what it means to be immortal and to live for centuries while everyone she'll ever know and love (besides the Old Guard) dies well before her time. It's a heady proposition — and one that'll take her many, many years to grasp in its totality. Before The Old Guard reaches its climax, Nile notes that she wants to spend time with her family and the people she loves before they pass on. Nile wants to make peace with the life she knows before she continues to live a life with seemingly no clear end in sight. Alas, towards the film's finale, Nile fakes her death and is reported as KIA, just like her father. But will Nile really not make contact with her family ever again?
Just because she's reported dead doesn't mean that she'll never get a chance to connect with them and make peace with their eventual departures. But we won't find out if Nile decides to reconnect with her family again, and her presumed death means she doesn't need to tie up this loose end unless she wanted the emotional closure of saying goodbye — which, it's made evident, is something she wants to do — if she can make it work, given her circumstances. But the time for that hasn't yet arrived. Though, if or when we get Old Guard 2 or 3, maybe that chance will come to pass?
When Can We Expect To See The Old Guard 2?
It's pretty apparent that The Old Guard isn't meant to be a standalone feature. The cliffhanger ending and the heavy build-up throughout the movie gives it a distinctly "TV pilot" feel, suggesting that we'll follow The Old Guard for another adventure or two sometime later down the road. But when can we expect this sequel?
In the midst of a global pandemic, it's hard to know when most movies will gear into production. But there's also the fact that director Gina Prince-Bythewood has already signed on to helm another movie, The Woman King, starring Viola Davis. If she's expected to direct the sequel, this other movie might push it back even farther back. It's possible that Netflix will hire another director to take the reigns, but many reviews championed Prince-Bythewood's directorial touch, that might not be in their best interest.
There's also Charlize Theron's busy schedule to consider. She's a big get for the comic book adaptation, and her A-list status finds her attached to a wide number of new and exciting titles. It might take a while before we catch up with these immortal personalities. But thankfully, time's on their side. While she didn't get into specifics, Gina Prince-Bythewood did tell us a little bit about the potential sequel plans in our recent interview. As she noted:
Do you have any lingering questions after watching The Old Guard on Netflix (opens in new tab)? Are you excited to see a sequel? Let us know what they are in the comment section.
Will is an entertainment writer based in Pittsburgh, PA. His writing can also be found in The Playlist, Cut Print Film, We Got This Covered, The Young Folks, Slate and other outlets. He also co-hosts the weekly film/TV podcast Cinemaholics with Jon Negroni and he likes to think he's a professional Garfield enthusiast.
Your Daily Blend of Entertainment News
Thank you for signing up to CinemaBlend. You will receive a verification email shortly.
There was a problem. Please refresh the page and try again.