Why Josh Hartnett Took A Break From Acting In Hollywood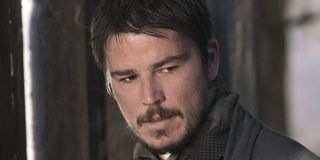 Back in the late '90s and early 2000s, the young, up-and-coming Josh Hartnett skyrocketed to Hollywood fame almost overnight. Next to the likes of Leonardo DiCaprio, Matt Damon, and Ben Affleck, he was one of the hottest stars around. And then he disappeared for a while. Now he's given a little bit of insight into why he decided to take a break from acting in Hollywood.
At the height of his fame, Josh Hartnett was the kind of actor you figured would be around for a while and would be making huge blockbusters for years to come. But that's not how it all went don. He changed course from his Hollywood career, taking a hard turn in another direction then what the studios had planned for him, and he never looked back. He recently told The Guardian why:
This makes sense. In his earliest days, Josh Hartnett hit the ground running with films like The Faculty and The Virgin Suicides. But it wasn't until Pearl Harbor that he reached a new level of fame that put him on an entirely different trajectory.
Suddenly, Josh Hartnett was being approached for possible lead roles in Batman and Superman. He'd had one conversation with Christopher Nolan about Batman Begins and decided to do another project instead. He also admitted that his sudden fame had been overwhelming and he didn't know who he could trust. So he hunkered down in Minnesota to be with friends and family instead.
The Superman role was a little different. He had been given a straight-up offer to play Superman, but walked away from that as well when his idea of what that character would be was in stark contrast to the studio's. It was at that point that he planned his escape route, and the powers that be were reportedly not very happy.
After appearing in the lead role for the horror film 30 Days of Night, Josh Hartnett was seen too often in big roles, disappearing from the public eye. He only did smaller film projects from that point on. That is, of course, until recently.
He started coming back on the scene with TV shows like Penny Dreadful, Drunk History, and Paradise Lost. In the film world, he's teamed up with James Franco in the movie The Long Home and will work with Guy Ritchie on his upcoming film Wrath of Man with Jason Statham. Only time will tell if we see a Josh Hartnett renaissance, but if that does happen, something tells me it won't be like what happened his first time around.
Your Daily Blend of Entertainment News