Matrix 4 Star Recalls Getting To Watch Keanu Reeves Deliver Lines As Neo For The First Time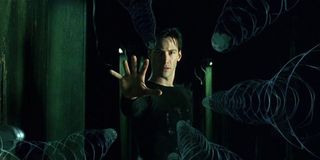 The hype for the upcoming fourth installment of The Matrix series is real. Fans have waited for years to get a chance to revisit Lilly and Lana Wachowski's iconic world -- and that includes some of the actors who've snagged roles in The Matrix 4. Jessica Henwick, who will co-star with Keanu Reeves in an as-yet undisclosed role, got a first-hand look at the actor reprising his role as Neo. And she admits that seeing him recite lines in character was an unforgettable moment.
Jessica Henwick is no stranger to huge franchises. She's had roles in Star Wars and Game of Thrones, after all. However, after snagging a role in the highly-anticipated Matrix 4, she revealed to NME that the experience of seeing Keanu Reeves as Neo was especially surreal:
The Matrix 4 newcomers' enthusiasm is completely understandable. The last film in the original Matrix trilogy, The Matrix Revolutions, hit theaters in 2003, so it's been nearly two decades since we last got our fill of Neo, Trinity and the rest of the franchise's unforgettable characters. The fact that Jessica Henwick was one of the first people who got to see Keanu back in action must have been a huge thrill.
Of course, we still have very little idea what to expect when we all get to see what the Matrix 4 team has put together. While we've gotten updates about the cast and crew -- including who is and is not returning -- and we've seen some glimpses of the film in production, they're keeping things locked down pretty well as far as what the film's plot will entail.
We do know that Jessica Henwick and Yahya Abdul-Mateen II aren't the only new additions to the Matrix family. Neil Patrick Harris, Hamilton's Jonathan Groff, Sense8's Toby Onwumere and a slew of other actors will be on screen in The Matrix 4, though we don't have many details as to who they'll be playing or how they'll fit into the series.
We also know that Jessica Henwick's enthusiasm over all things Keanu Reeves does not end with the Matrix series. The actress has been vocal about joining the John Wick series in a spin-off. If that were the case, she'd have the unique honor of witnessing Keanu Reeves bring two of his iconic characters to life.
While we still have a ways to go before we'll get to see how it all comes together, Warner Bros. has actually moved The Matrix 4's release date up, bucking the trend of premiere delays that has plagued Hollywood since COVID-19. The movie is now scheduled to hit theaters on December 22, 2021.
Your Daily Blend of Entertainment News