The Sweet Way Robert Pattinson Surprised A Young Batman Fan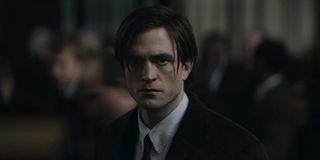 Batman has long had his own group of young fans devoted to his heroic deeds. Now that Robert Pattinson is putting on the cape and cowl, he's inherited that fanbase and it looks like he's already living up to his heroic character. When a young autistic boy drew a picture of Batman and sent it to the studio, Robert Pattinson responded to the young Batman fan in a sweet way.
Recently an 11-year-old autistic boy, who is a huge DC fan, became recognized for visiting The Batman set every day. His mother later took to social media to ask Radio City News to get his picture to the set. And according to NME, it worked. Robert Pattinson later sent a gift to the family full of Batman-related items, like a Batmobile. It also included a note that read, "Sorry I missed you. Your drawing was great! I'll see you next time I'm in Liverpool."
That's super cool. Obviously Robert Pattinson didn't have to do any of that, but showed he's a real class act by taking the initiative and sending that out. He probably just made that boy a Batman fan for life.
Being an actor that also gets to play a superhero has been known as quite a privilege over the years. Namely because so many young people look up to them. Fortunately, there have been many impressive actors who have stepped up to the plate. Whether it's Paul Rudd and Benedict Cumberbatch visiting a fan on his birthday or Chris Evans sending a heart-warming message to a boy that saved his sister from a dog attack, these actors have used their platform for good.
Batman, of course, is one of the most popular characters in the DC universe and has a huge influence on little kids. It wasn't long ago that a young fan names Miles, also known as Batkid, saw his wish granted when he asked the Make-A-Wish Foundation to let him fight crime in San Francisco as Batman. Not only that, but he got his own Nolan-esque Batman trailer as well. For any kid this stuff is a dream come true.
Meanwhile, Robert Pattinson is still filming The Batman with director Matt Reeves at the helm. Sadly, this year filming has been rocky due to current events. Though production was shut down for a time, they restarted filming in September and then abruptly had to halt filming again because Robert Pattinson reportedly contracted COVID-19. Though, not much can keep Batman down for long; there have been reports of possible filming happening in Chicago.
Hopefully, Robert Pattinson and Matt Reeves can button up production soon. After watching the first trailer for the movie, I'm sure every Batman fan is eager to see more.
Your Daily Blend of Entertainment News
Thank you for signing up to CinemaBlend. You will receive a verification email shortly.
There was a problem. Please refresh the page and try again.