Michael Bay Has Found His Next Bayhem Movie, And Jake Gyllenhaal Might Be Involved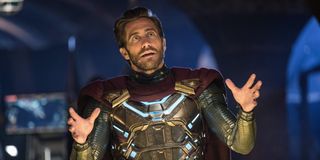 Now that Michael Bay has said "goodbye" to the Transformers franchise, he's set his sights on other projects where he can unleash maximum Bayhem. He most recently finished Netflix's 6 Underground with Ryan Reynolds. Now he has a new project lined up that could harken back to his '90s action movie days, and Jake Gyllenhaal is reportedly being eyed for the lead role.
Michael Bay had supposedly been looking over his options before landing on the script titled Ambulance. He reportedly loved it and made it a top priority, according to Deadline. Bay plans to shoot the picture at the beginning of January. While there's no distribution deal closed just yet, Universal Pictures is finalizing a deal to snag the movie.
There's little we know about Ambulance at this time. It was written by Chris Fedak, known for his work on Chuck, DC's Legends of Tomorrow and Prodigal Son, and the project is supposedly similar to the old '90s action films like Speed and Bad Boys. In other words, right up Michael Bay's alley. The Ambulance script supposedly had long struggled to nail down a director up to this point.
This, of course, isn't the only project Michael Bay has on his plate. Earlier this year, it was announced that Michael Bay would produce a pandemic thriller movie called Songbird, written by Adam Mason and Simon Boyes. The film was one of the first to get permission to shoot during the pandemic.
Believe it or not, this isn't just any pandemic movie, but specifically about COVID. It'll be set in the near future, when COVID has mutated into a worse version called COVID-23, with a 110 million death toll and American citizens put into quarantine camps. If you think that's too soon, you're totally not alone.
Michael Bay has also been long trying to bring the Bayhem to an adaptation of Robopocalypse, a novel written by Daniel H. Wilson. Robopocalypse has been in development for a while. At one point, Stephen Spielberg was attached to direct, but he dropped out when he could no longer make time for the movie. With Ambulance now a top priority, it's hard to say if Robopocalypse has been temporarily set aside or completely abandoned.
There's also the question of whether or not Jake Gyllenhaal could hop on to the project so soon. The Hollywood star seems to have his work cut out for him with a number of projects on his slate, including an HBO TV series with Dune director Denis Villeneuve, and a new Netflix thriller called The Guilty.
Regardless, Michael Bay sounds amped up for this project and will likely find a way to make it happen one way or the other. After all, few things stop him from realizing his explosive vision.
Your Daily Blend of Entertainment News