5 Reasons Why A Rick And Morty Movie Should Happen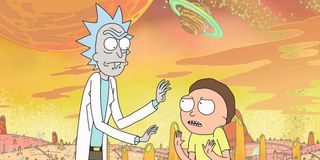 CinemaBlend participates in affiliate programs with various companies. We may earn a commission when you click on or make purchases via links.
When you go through a year where major franchises are largely on the sidelines because theaters are closed, and you're stuck watching mostly television, crazy ideas can pop up. Then again, it's not so crazy to suggest one of America's most popular animated series gets its own movie, even though Rick and Morty is in the midst of a very successful run on Adult Swim.
Things are fine with Rick and Morty, but they could be better. Personally, I'm in the camp that the crew should be hard at work on a movie sooner than later, and I have a few reasons that I'm sure will bring some others to my camp. Here are some of my thoughts on the matter, inspired by a year mostly in my house, watching too much Rick and Morty and reminiscing on some of the wilder events of its past.
Rick And Morty Can Always Push The Envelope A Bit Further
Adult Swim is a pretty gracious and safe space for Rick and Morty to really let its freak flag fly, but that flag can always fly a bit higher. You give a Rick and Morty movie an R rating, and I just don't know what an unchained Dan Harmon and Justin Roiland would come up with. It'd probably be some scarring scene centered around an incredibly obscure act or term that would afterward forever be locked into pop culture, but I'm just guessing here.
Now realistically, I think a Rick and Morty movie would hover around a PG-13 rating, which would still be a bit more territory than cable television can take it. I'm sure whatever way the one f-bomb is used would be one of the more creative ways it's been done in Hollywood. Truthfully though, I'm not sure a PG-13 rating would bring anything that much more extreme than what we already see on television, so I'm obviously gunning for a movie that's more "R" rated.
More Time For Rick And Morty Means More Mayhem
Rick and Morty is the typical 30-minute (22 minutes without commercials) adult-animated comedy, but it's able to tell quite a bit of story in that short amount of time. Now give a Rick and Morty adventure that takes around an hour and a half to tell, and they can do a lot more in that time. You could do an epic saga within a 90-minute runtime and introduce a whole bunch of kooky characters in the process.
More time allows, I'm assuming, for a more convoluted storyline, which is usually the best part about Rick and Morty. Obviously there would be a fine line to walk, and it would be quite the challenge to stretch out the zaniness of the show over a movie with a runtime that's under half the runtime of a whole season, but again, look at what the show has done so far. Just because it'd be a challenge doesn't mean it's not worth doing!
Rick And Morty Will Eventually Have To Address Its Lore
In its early seasons, Rick and Morty made some story decisions that were really cool, but more befitting of a series that was more serialized. Once Adult Swim handed the series a massive renewal order, the idea of serializing a show with an out-there premise became much more daunting, and the show openly joked that it would try to shift to being more episodic going forward.
Unfortunately, Rick and Morty's fans haven't given up hope that the series would one day revisit all the storylines of its past, such as the evil Morty or who the original Rick and Morty are. These are all mysteries that would take more than one episode to fully flesh out and finish up, which makes them perfect fodder for movies. I think back to my biggest gripe with The Simpsons Movie, which is how disconnected it was from the show, yet not all that different, and how one would fix that. Rick and Morty has the perfect in with one of these big storylines they can no longer cover in regular episodes, so why not make a movie to finally put some of these lingering questions to bed?
We're Approaching The Peak Of Rick And Morty Fame
I guess I can't say for sure when a show's peak period is until that period has passed, but it does feel like Rick and Morty is reaching its peak. The characters are appearing in mainstream commercials, and people protested at a McDonald's over the return of a sauce that was mentioned offhand by Rick Sanchez. If that's not a sign of a show that's reached an obscene level of relevance in pop culture, I'm not sure what is.
We missed the boat on seeing Beavis And Butthead in theaters at its peak, and the same goes with The Simpsons. I would love for Rick and Morty to head to theaters at its peak if only to see how awesome an experience it would be. Would people cosplay for the feature? Would a theater chain offer specially shaped popcorn tubs that look like Meeseeks boxes? That's the type of stuff I only see happening at a show's peak, not 6-10 years past its prime. I'd want a Rick and Morty movie event to be a spectacle, and I think that only happens if a movie comes during the show's peak period.
A Rick And Morty Movie Can Be Done On A Smaller Scale With HBO Max
It's too early to say what role streaming will have in the world of future cinema, but 2020 has definitely taught us the line between theatrical and streaming movies has blurred. As popular as Rick and Morty is, I do question if it's big enough for Hollywood executives and decision-makers to give the green light for a multi-theater release. This is where HBO Max comes in, as it can easily transmit a feature to a large subscriber-base at a lower risk.
And really, if HBO Max is good enough for Wonder Woman 1984, then it's hard to argue any movie that debuts on there can't be just as prestigious. 2020 has proven there's no shame in the streaming game, and maybe even an avenue for Hollywood to move forward with projects that don't necessarily have to be box office hits to be valuable additions to the streaming library. The climate is perfect for this movie not just now, but I'm assuming in the near and distant future.
We can all cross our fingers for a Rick and Morty movie and, in the meantime, continue to binge the series to our hearts delight on HBO Max (which you can subscribe to now (opens in new tab)). Stick with CinemaBlend in the meantime for all the latest happenings in the franchise, and in movies and television news as well.
Your Daily Blend of Entertainment News
Mick likes good television, but also reality television. He grew up on Star Wars, DC, Marvel, and pro wrestling and loves to discuss and dissect most of it. He's been writing online for over a decade and never dreamed he'd be in the position he is today.