Why Wonder Woman 1984 Releasing To Theaters and HBO Max Is A Great Move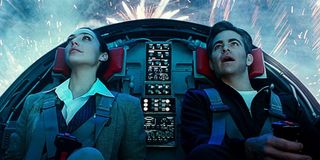 This year, studios and filmmakers have had to make hard choices, sending many of their theatrical releases direct to streaming. Universal Studios sent Trolls World Tour to VOD, Disney sent Mulan to Disney+ with an extra fee, and now, in a monumental decision, Warner Bros. has decided to send Wonder Woman 1984 to streaming and a limited theatrical release on Christmas Day.
It can't be stated enough how big a deal this is and I have no doubt this will divide fans. But, despite being a tough call, I think Warner Bros. ultimately made the right one. In fact, I think it's a great move. Here's why.
Wonder Woman 1984 Has Been Delayed Long Enough
Wonder Woman 1984 was initially scheduled to be released in November 2019 before it eventually got pushed to June 5, 2020. Then it was delayed again. And again. And again. Then, it was possibly in limbo of being delayed further to Summer 2021. At that point, it just didn't make sense to me why they would keep delaying the movie.
Wonder Woman 1984 has been delayed long enough. At some point, you have to realize that you've put off the inevitable for far too long and should make tough decisions. Director Patty Jenkins said as much on social media when she confirmed Wonder Woman 1984 would be heading to HBO Max and theatrical:
So, for Warner Bros. to finally make the hard call to put Wonder Woman 1984 on HBO Max and in limited theaters is a perfect way to give the fans what they've long been waiting for.
Making It A Streaming And Theatrical Release Benefits Everyone
Warner Bros. decision to release Wonder Woman 1984 on HBO Max and in limited theaters on the same day could benefit everyone in a few ways. First, it'll please the hardcore DC fans that want to see it in the theater, those that can at least see it in their area anyway. And, on the flip side, it'll please all the stay-at-homers that were never going to go see it in the theater in the first place.
It's no secret that theaters are hurting right now. So, it goes without saying that putting Wonder Woman 1984 in a limited theatrical release will help those theaters that feature it, giving them a boost in a time when they desperately need it.
Lastly, this could prove to be a useful test for Warner Bros. in how well a limited theatrical release performs next to the HBO Max release. If it performs better than expected, it could give them confidence that a hybrid model might work well moving forward for the time being.
Superhero Fans Needed Something Good To Happen In 2020
2020 has been a bad year for superhero fans. Not one MCU movie was released and the only DC movie we got was Birds of Prey. Sure, we got some superhero movies in Netflix's The Old Guard and Project Power, but if we're honest, what we really wanted was Wonder Woman 1984 and Black Widow.
Black Widow is already slated for a 2021 release, meaning Wonder Woman 1984 was the final holdout in a long string of superhero movie delays. For a second there, it looked like it, too, would follow in line with everyone else and move to 2021. Fortunately, Warner Bros. decided to release it in 2020, albeit a hair's breadth away from the new year.
We desperately needed this before 2020 ended. And not just DC fans, but everyone. It's sappy, but we needed a hero to lift us up in the eleventh hour. The year has been so hard that being able to get the chance to watch Wonder Woman 1984 on Christmas will be a ray of hope in the darkness.
There Was No Guarantee Theaters Would Go Back To Normal By Summer
As I already said, Warner Bros. was reportedly weighing the option to push Wonder Woman 1984 back to Summer 2021. At face value, that seemed reasonable and all the delays Wonder Woman 1984 suffered after also seemed reasonable. Back in the summer, many were hopeful theaters would be back to normal by now, too. Of course, we all know that didn't happen.
With that said, there was no guarantee the theater experience would snap back to normal by Summer 2021. Theaters might not have even been serviceable by then. It's likely going to be a while before theaters can find their footing again.
If they kept delaying things to summer and the theaters weren't where they needed to be, what would happen next? Move Wonder Woman 1984 to Summer 2022? In my mind, that's too big of a risk. So it makes much more sense to just drop it now and give the fans what they want.
Competition Next Summer Is Going To Be Intense
Take a gander at the MCU movie schedule for 2021 and your jaw will drop. Starting in May there will be a Marvel onslaught on the movie calendar, starting with Black Widow, next to Shang-Chi and the Legend of the Ten Rings, followed by The Eternals, and capping it all off with the now untitled Spider-Man: Far From Home sequel in December. The competition will be intense in 2021 and beyond.
Now, Wonder Woman 1984 can compete, there's no question. After all, Wonder Woman shattered the box office when it released years ago. The highly anticipated sequel could fight against a Marvel movie, but should it? I don't think so. If there's no competition, you get the spotlight, rather than nudging and fighting your way out of another movie's shadow. By releasing on Christmas this year, Wonder Woman 1984 has a great chance of making waves and becoming a streambuster.
Warner Bros. Will Win HBO Max Holdouts
Right now there's a streaming war going on. Netflix, Disney+, HBO Max, Apple TV+, and so on, are all vying for your subscription dollars, your attention, and your loyalty. Love it or hate it, streaming is the future.
Netflix, of course, is the streaming giant many are competing against. Disney has already made clear they're pivoting their strategy to streaming. Warner Bros. seems equally up to the task, moving more into the game with Zack Snyder's Justice League and more HBO Max Originals.
I'll admit I've been a HBO Max holdout, not wanting to put more money on another streaming service. Now that they announced they're putting Wonder Woman 1984 on HBO Max, it undoubtedly convinces me to sign up for the service.
I bet there are quite a few DC fans, like me, that are in the same boat and will sign up to HBO Max to see the movie. With so many new sign-ups, I have a feeling that could make Warner Bros. streaming service rather competitive.
There's no doubt releasing Wonder Woman 1984 on HBO Max was a huge decision. It's the first time a superhero tentpole will make its way to streaming. That's nothing to bat an eye at. However, I'm hopeful, in the long run, this will only be an exception rather than the rule. Yet, in this current unprecedented health crisis, with so many delays and a fanbase hungry to see a superhero movie, I think Warner Bros. made the right decision. But what do you think? Let us know in the comments!
Your Daily Blend of Entertainment News
Thank you for signing up to CinemaBlend. You will receive a verification email shortly.
There was a problem. Please refresh the page and try again.