AMC Theatres Has A New Plan To Stay In Business As It Starts To Reopen Locations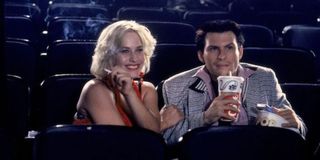 The saga of the movie theaters continues. It's no secret that theaters have been hurting due to global events, with many multiplexes reopening at the beginning of September and then quickly closing again, leading to Wonder Woman 1984 and No Time to Die being delayed until the end of this year and next year, respectively. But, AMC Theatres is staying vigilant in the storm and has a plan to stay in business.
AMC Theatres has been hit hard financially due to the coronavirus pandemic. Reportedly, the chain has lost upwards of $2.4 billion because of the shutdown. However, recently, it's developed a plan to sell its stock to reap some quick cash. According to THR, AMC Theatres plans to sell 20 million class A shares at $2.39 each. That would give the chain $47.7 million.
To stay afloat, AMC Theatres been utilizing other tools in their financial toolkit. Back in July, the chain restructured its debt with bondholders, resulting in $200 million in cash. It also sold nine theater chains in the Baltic region, resulting in a $77 million payday.
AMC has also been finding other ways to get creative with bringing people into its theaters. It was announced in late October that AMC would rent out its theaters for family, friends and large events, only for $99 (via The Verge).
When movie theaters opened back up in late summer, there was hope that big-ticket movies like Tenet would help encourage people to come back to the theaters and revitalize ticket sales. However, it seems like the Tenet experiment wasn't the home run they hoped it would be. Theaters have been closing down again, but it doesn't look like AMC Theatres will be following suit.
One of the reasons AMC Theatres believes it can stay open is the major deal it struck with Universal Pictures this summer. According to the deal, Universal will be allowed to put theatrical releases on VOD 17 days after they hit theaters. However, AMC Theatres will share in the revenue from those releases on VOD, incentivizing them to stay open.
Plus, despite the overall slowdown, some people are still heading back to theaters to see movies. Liam Neeson's latest movie, Honest Thief, made a humble $3.7 million when it released on the weekend of October 16. Robert De Niro's The War With Grandpa also made $2.5 million. While those numbers are low in comparison to a normal box office, they're at least signs that attendance is happening, albeit a small amount.
It's difficult to say what the future will be like with AMC Theatres and theaters in general. There's been concern that once things go back to normal, prices may rise and mid-budget movies might not get as much attention. Whatever arises, be sure to check back with CinemaBlend for the latest.
Your Daily Blend of Entertainment News
Thank you for signing up to CinemaBlend. You will receive a verification email shortly.
There was a problem. Please refresh the page and try again.