Tangled On Disney+: 5 Reasons It's A Perfect Watch Party Movie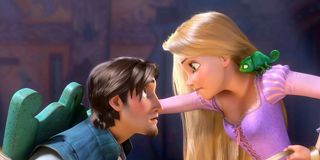 While movies in the theater are largely a solitary experience, we all still enjoy going to the movies with friends, but in an era where that's simply not possible, the virtual watch party has sprung up to give people the communal movie experience in a new way. We can't sit together on the couch and watch our favorite movies together, and so instead, we all sit on our own couches, and watch the movie at the same time as others, using social media to connect and share the experience. CinemaBlend has had our own fun hosting watch parties for everything from Class Action Park to Alita: Battle Angel, and now we're preparing for our next big watch party event, with Disney's Tangled.
But why should you get involved in a virtual watch party, and why is Tangled the right movie for such a party? There are so many reasons you should join us for the fun. If you somehow require convincing, here are just a few reasons why you should plan to hang out with CinemaBlend this week, along with all the details you'll need.
It's Tangled's 10th Anniversary
November 24, 2020 will mark the 10th anniversary of Disney's Tangled and that means now is as good a time as any to look back on the popular princess movie. Tangled was Disney's first fully computer-animated Princess movie and that makes it a milestone movie worthy of taking another look at. And it has to be said, that as a CGI Princess movie, Tangled has been largely overshadowed by Frozen. Tangled was a popular and successful movie in its day, but not nearly to the degree that Frozen was. Perhaps that's justified, perhaps not, but the only way to really know for sure is to watch Tangled again and give it a look with fresh eyes.
You Can Sing Along (Whether You Can Sing Or Not)
While music has always been a big part of nearly all animated Disney films, it was with the birth of the Disney Renaissance, and the legendary Howard Ashman that the structure of the Broadway musical really became part of the Disney musical. and like the best Broadway musicals, sometimes you just can't help yourself and you need to sing along. If you were in a packed theater you'd probably feel a bit self conscious about that, whether or not your singing voice is any good. However, when you watch Tangled as part of a virtual watch party, you can sing as loud as you like and you won't be brothering anybody. Not that we would judge.
Experience Disney's Most Truly Evil Villain
There are a lot of reasons why Tangled is a really great movie, but one of the ones that gets criminally overlooked is that it may have the most evil villain in Disney history. More twisted than Maleficent. More conniving than Ursula. Mother Gothel really doesn't get the respect she deserves. She doesn't have magic of her own, but that's what makes her so purely evil. Her powers are negging and gaslighting. Rapunzel is the victim of a degree of emotional abuse that most other Disney heroines can't really compare with. As bright and happy as Tangled can be, it's also incredibly dark.
Watch Rapunzel While We Wait For Raya
The weekend of Thanksgiving has been locked in for a major animated Disney movie to be released in theaters for years. This is the place where we were first introduced to not only Rapunzel, but also Anna and Elsa and Moana. And this was originally supposed to be the debut of a brand new Disney heroine too. Raya and the Last Dragon was originally supposed to release this weekend. Of course, that didn't happen, so while we're waiting, we can at least use the opportunity to remember Disney past while we wait for the future.
The Smolder
I mean... is there really anything else that needs to be said? One of the great things about Tangled unlike many other Disney Princess films is that has a great swashbuckling rogue hero that fights right alongside the Princess. That's not to say a princess needs a man, they certainly don't, but it does add an element to Tangled that we don't often see from Disney, and in this case it adds a lot of fun comedy. Also, Tangled has more frying pan based action than any other Disney movie that I can think of, and you can't beat that.
How To Do A Watch Party On Disney+
So hopefully, I've explained why you should join the CinemaBlend crew for a Tangled watch party. However, if you've never done one, the whole thing may seem very strange. It's actually very simple. All you need is access to Disney+ (or a copy of the Blu-ray) and access to Twitter, through whatever methods work best for you. At the appointed time, you simply press play on Tangled, so that everybody is watching the same part of the movie at the same time, then you follow the hashtag on Twitter, and use it yourself, to join the conversation.
Join CinemaBlend's Tangled Watch Party On November 24 at 6PM PT/9PM ET
To join us at CinemaBlend the Tangled 10th anniversary watch party will take place on November 24 at 9PM ET. Simply be ready to hit play on your movie at that moment, and then follow along using the hashtag #TangledWatchParty. Expect to have some fun, and perhaps a few surprises from the crew at CinemaBlend as all remember what we love most about this modern Disney classic. Share your own stories. Tell us why you love this Disney classic. The more people that get involved, the more fun it is for everybody else involved.
And there will be more CinemaBlend watch parties after this one, so whether or not Tangled is your jam, keep checking back with us to see what we have planned next. December expects to be a very big month, what with a major DC comics movie planned, and so you can probably just pencil in that watch party right now.
Content Producer/Theme Park Beat
CinemaBlend's resident theme park junkie and amateur Disney historian. Armchair Imagineer. Epcot Stan. Future Club 33 Member.