It's A Wonderful Life: 12 Behind-The-Scenes Facts About The Classic Christmas Movie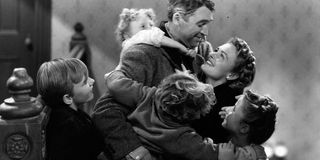 If there's one Christmas movie that you're guaranteed to watch during every consecutive winter holiday season, it's Frank Capra's It's A Wonderful Life. The holiday favorite is considered one merely one of the best movies of its genre but one of the best movies of all-time, featuring an outstanding lead performance from Oscar-nominated James Stewart and one of the most compassionate and memorable explorations of the reason for the season. It's a tender and beautiful look at the undervalued joys of humanity and the power of the human spirit. There's a reason why it's one of the most rewatched Christmas movies in film history, and the behind-the-scenes stories about the making of this fine film and its very turbulent road to success only make it easier to appreciate this timeless tale.
Here are just a few behind-the-scenes facts about 1946's all-time Christmas classic, It's A Wonderful Life.
It's A Wonderful Life Initially Bombed At The Box Office
Given its reputation as being, you know, the biggest and best Christmas movie of all-time, you might think that 1946's It's A Wonderful Life would've made a killing at the box office. Alas, that wasn't the case. Far from it, in fact. When Frank Capra's melancholy Christmas movie first came out, it garnered mixed reviews from critics and didn't make much of an impression with audiences. It underperformed rather significantly. Actually, it flat-out bombed at the box office, failing to recoup the $6.3 million it would need to break even.
For years after its release, It's A Wonderful Life was considered something of a disappointment by both audiences and the people who made it — even though it went on to receive five Oscar nominations, including Best Picture, Best Director, and Best Actor. It was only when the movie became a syndication mainstay that it finally earned its reputation as a Christmas masterpiece. But we'll discuss that more a bit later.
It's A Wonderful Life Is Based On A Short Story For A Christmas Card
Based on the short story "The Greatest Gift" written by Philip Van Doren, It's A Wonderful Life had a curious method of reaching the silver screen. Inspired by a dream he had, the writer initially sought out publishers for his 21-page tale. But when he was turned down, he opted to turn his story into a Christmas card that was sent to 200 friends and family. Evidently, this worked out well, as one of these cards reached producer David Hempstead of RKO Pictures, who sought the rights to the story and eventually helped turn it into the movie we know and love today. It's a fascinating turn of events.
The Script Was Initially Considered Too 'Racy'
While the movie deals with dark themes related to indecency, suicidal idealization, and financial instability, It's A Wonderful Life is a broadly accessible movie, one that has become a staple of holiday watches for a reason. While it's a mature film, it's one that teaches the foundations of an honest living, and it's a story that can resonate with audiences both young and old. And yet, when the script came to pass back in the mid-1940s, it was considered a bit controversial as it was deemed too "racy."
According to a letter unearthed by The Academy of Motion Pictures Arts and Sciences, as it was reported by The Huffington Post, some of the language used in the original screenplay was considered inappropriate, including a few phrases that said the Lord's name in vain. The screenplay was retooled with these notes in mind, though the standards of what was considered taboo in this era were certainly different than what we consider inappropriate now.
Robert J. Anderson, Who Played Young George Bailey, Was Actually Slapped, Resulting In His Ear Bleeding
More often than not, when you see violence portrayed in a film, it's all make-believe. Hopefully, nobody gets hurt and any danger is reserved solely for the characters portrayed in the film. But when it comes to the scene in It's A Wonderful Life where Mr. Gower (H.B. Warner) and a young George Bailey (Robert J. Anderson) wherein the child gets smacked, it was unfortunately not a fake incident. As Anderson admitted late in life in an interview, he was actually slapped, and it was so intense that his ear started to bleed. Therefore, his tears during that moment were sadly real. Warner was so sad about it that he hugged the boy after filming was over.
Here's what Anderson told the L.A. Times:
Donna Reed Actually Threw The Rock Through The Window On The First Try
During the scene where Mary Hatch (Donna Reed) and George Bailey (James Stewart) walk past an abandoned house and start throwing stones, there was a marksman hired by Frank Capra to knock a window out on cue in case the actress wasn't able to reach the glass. But that help wasn't needed, as Reed was able to knock the window out on her first try, resulting in the take we see in the final film. She played baseball in high school, which likely aided in her throwing hand.
Bedford Falls Was Once One of The Longest Sets Ever Made For A Movie
One of the keys to the ever-continuing success of It's a Wonderful Life is making Bedford Falls feel not merely like a giant set but an actual smalltown, filled to the brim with good-natured, hard-working people hoping to make a difference and help out their fellow man in his time of need. Practically like a snowglobe come to life, Bedford Falls inhabits an idealistic cinematic view of a seasonal setting, one that fits snugly with the immersive-but-humble feelings found in Frank Capra's beloved Christmas classic. While it feels appropriately homey and quaint in the movie, the truth is that this set was the result of a lot of hard work from the production crew. At the time, in fact, it was considered one of the longest sets ever made for a movie. Certainly, as we see the town quite often throughout the movie, it's safe to assume that they got their money's worth from this process.
The Snow Was Made Of Cornflakes
Throughout the course of film history, there have been many creative (and occasionally unethical) means of making snow in movie history. Whether it involves styrofoam in Superman, potato flakes in Home Alone, recycled paper, CG trickery, as deployed by a number of recent films, or asbestos, as seen in The Wizard of Oz, production crews have found many creative means of making the snowfall in their cinematic winter wonderlands. When it comes to It's A Wonderful Life, though, the trick was created using cornflakes that were spray-painted white. Ultimately, the illusion worked out well.
The Bank Kiss Was Impulsive And Not In The Script
Oftentimes, the best movie moments happen at the moment. A spontaneous decision happens, something that wasn't written or planned, and it's sealed on film and made an everlasting part of cinema history. That's the magic of the movies, and there are millions of examples to be found. One such example is in It's a Wonderful Life.
During the scene where the bank threatens to shut down Building & Loan on George and Mary's wedding day, one character makes a modest loan of $17.50. An overjoyed George Bailey impulsively kisses her, and apparently, this decision wasn't made prior to shooting. Or, at least, Ellen Corby, the actress playing this loan-seeking bank resident, didn't know that was the plan. Therefore, the characters' surprised reactions was the real deal. Nothing phony about it.
Jimmy Stewart Was Actually Crying During His Prayer Scene
When it comes to George Bailey's tears during his meaningful prayer sequence, that wasn't just committed acting on James Stewart's part. As he later admitted, the actor was actually consumed with sadness when he said his meaningful prayer, and he found himself genuinely crying, consumed by the meaning of what he was saying. Here's how Stewart recounted the moment, as reported by The Independent.
The Set Was Sometimes 90 Degrees, Which Is Why Jimmy Stewart Sweats During George Bailey's Suicide Attempt
While Bedford Falls is presented as a winter wonderland — of sorts — throughout It's A Wonderful Life's narrative, the truth is that the set for this Christmas favorite was a balmy affair. Filmed during the summertime, production for this Christmas movie was actually super warm. In fact, at times, the set would be nearly 90 degrees, which is why you can sometimes see characters sweating amid the snow. That was certainly the case for one pivotal scene, though it actually worked in its favor.
During George Bailey's suicide attempt, you made notice beads of sweat dripping down Jimmy Stewart's worried face. The reason is that the set was nearly 100 degrees and the actor was wearing a snug coat, which made it very hot. Certainly, Stewart's sweaty face as he stares down the water, trying to decide whether or not to end his life was actually pretty fitting — even as snow falls beside his sweat.
The Movie Became A Christmas Classic Due To A Copyright Lapse
It's funny how things work out sometimes. One would be hard-pressed to deem Frank Capra's seasonal classic as anything other than that: a classic. Yet, if it weren't for a lapse in the movie's copyright, we might not remember the movie as fondly as we do today. Apparently, a clerical error prevented the copyright owner of the film to renew it in 1974, resulting in the movie becoming public domain and playing on loop throughout the holiday season.
As Wonderful Life became a regular favorite during Christmas television habits, more people became accustomed to the tale of George Bailey and his desire to do good on the most joyful time of the year. As its television presence grew, so too did its audience. It swiftly grew in fandom from there, becoming not only a holiday favorite but one of the most revered movies of all-time. Perhaps it's fitting that It's A Wonderful Life won't learn its value until late in its own lifetime.
Frank Capra Considered It's A Wonderful Life To Be His Favorite Film Of His Own Filmography
An esteemed filmmaker behind some of the most celebrated movies of the 1930s and 1940s, Frank Capra certainly left a great legacy behind, notably as the director behind It Happened One Night, Mr. Smith Goes to Washington, You Can't Take It With You, Mr. Deeds Comes To Town, and more. But Capra later claimed that It's A Wonderful Life was ultimately his favorite film of his. While this flop didn't earn the most loving reception upon release, and eventually found its success almost by accident, he believes his finest hour was in this adored Christmas classic.
Certainly, in the years to follow, Wonderful Life would be beloved by many. But considering the tough road to success that this movie found over time, it warms to heart to know that Frank Capra came around and cherished his own (eventually) beloved film. He would also screen it for his own family every Christmas season, a seasonal tradition that continues with viewers everywhere.
In addition to these notable behind-the-scenes facts, it's also worth noting that the FBI considered the movie to be "communist propaganda," its Christmas movie status sorta came about accidentally, Uncle Billy's drunken fall was the result of a crew member's mishap and improvisation, and Jimmy Stewart went to Congress to denounce the colorization of B&W films, including his claims that the color version of this movie made him "feel sick."
Is It's A Wonderful Life a holiday tradition in your household? Let us know in the comment section below!
Your Daily Blend of Entertainment News
Will is an entertainment writer based in Pittsburgh, PA. His writing can also be found in The Playlist, Cut Print Film, We Got This Covered, The Young Folks, Slate and other outlets. He also co-hosts the weekly film/TV podcast Cinemaholics with Jon Negroni and he likes to think he's a professional Garfield enthusiast.