Mank: 10 Historical Figures From David Fincher's Netflix Movie Explained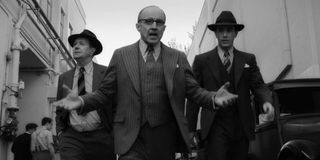 I imagine that many of those who had anticipated the December 4th premiere of Mank were especially excited to see the long-awaited return of David Fincher to feature-length filmmaking. I would also hope that most of the film's biggest champions had seen Citizen Kane or at least had some knowledge of its place in cinematic history. I would not be surprised, however, if the title role of Herman Mankiewicz, portrayed by Gary Oldman, is someone many had never heard of before.
In fact, I would understand if most featured characters in the Netflix original biopic were strangers to anyone without a distinct familiarity for Hollywood's Golden Age. Mank (a passion project for director David Fincher written by his late father, Jack, in the '90s) takes a dazzlingly witty, aesthetically meta, and shockingly relevant look at the dog-eat-dog, behind-the-scenes world of said era through the eyes of its central character - himself a prolific figure for the time despite never becoming a household name. A few household names do make appearances - such as Charlie Chaplin, Bette Davis, and Clark Gable - but you might not have even realized it was them during their brief moments on screen.
That is because the film is more interested in paying tribute to Hollywood's unsung heroes, partially through the indictment of those deemed "villains" in the story who used their power in the industry to sway public opinion. To better understand that conflict and the individuals who represent either side in Mank, we take a look at 10 of its most notable real-life individuals, what they are known for, and how they influenced the film, starting with the man who most heavily inspired it all.
Herman Mankiewicz (Gary Oldman)
Even if you had not previously heard of Herman J. Mankiewicz, you might recognize a few of the 90-plus screenwriting credits from the the former journalist, who, in 1953, succumbed to his other claim to fame (alcoholism) at 55. He was actually left uncredited for some contributions (i.e., The Wizard of Oz), which Mank suggests was almost the case with his Academy Award-winning script for 1941's Citizen Kane before demanding credit with Orson Welles (whom we will cover soon). Despite a long history of back-and-forth allegations to the creators' feud, in truth, RKO Pictures always required credit to be given to Mank, whom we can safely believe Welles chose to collaborate with due to his familiarity with the man who inspired the story.
William Randolph Hearst (Charles Dance)
Seeing Tywin Lannister actor Charles Dance in Mank may give some Games of Thrones fans a more antagonistic perception of William Randolph Hearst, which is probably no accident. The powerful media tycoon and politician was controversial for his capitalizing on sensationalist journalism and backing conservative propaganda that heavily influenced the character of Charles Foster Kane, taken from Herman Mankiewicz's observations as a trusted member of his inner circle. That trust was ultimately diminished by Citizen Kane, which Hearst famously tried to prevent from release upon hearing of its unflattering, albeit fictionalized, portrait of him, as well as his mistress.
Marion Davies (Amanda Seyfried)
Gary Oldman's Herman Mankiewicz confides to his friend, actress Marion Davies (Amanda Seyfried), that Charles Foster Kane's mistress Susan in his screenplay was never meant to represent her. Truthfully, Mank was never as close to the wide-eyed silent movie star as the film suggests, but her relationship with the married, much-older William Randolph Hearst was no secret to anybody and would only become a worse blemish to her reputation after the release of Citizen Kane. Mank actually offers a more favorable depiction of Davies than Kirsten Dunst's scandalous portrayal in the 2001 film The Cat's Meow - inspired by a rumors of a murder indirectly caused by Davies' simultaneous affair with Charlie Chaplin, which actually is true.
Joseph Mankiewicz (Tom Pelphrey)
Herman Mankiewicz is warned about the brutal consequences of Citizen Kane's fact-based allusions by his brother, Joseph Mankiewicz, played by Ozark star Tom Pelphrey in Mank. Unlike his older sibling, Joe had much success in Hollywood as a screenwriter and director and is the only filmmaker to earn back-to-back Oscars as both, first in 1950 for A Letter to Three Wives and for All About Eve the following year. The legacy of the Guys and Dolls and Cleopatra helmer would live on through his children - including son Tom Mankiewicz, known for doctoring 1978's Superman: The Movie and writing a few James Bond films starring Roger Moore.
Louis B. Mayer (Arliss Howard)
If there is one figure who most potently represents Mank's critical views of Old Hollywood (and even modern-day politics), it would have to be Arliss Howard's portrayal of Louis B. Mayer. The Russian-born producer was just as famous for his contributions to the industry (co-founding Metro-Goldwyn-Mayer and helping create the Academy of Motion Picture Arts and Sciences in the 1920s) as he was for he was for his political motivations, having served as chairman of California's GOP. While Mank makes no secret of Mayer's strong social agendas and knack for manipulation, it does not focus on his prolific history of sexual abuse, of which Judy Garland was known victim of.
Irving Thalberg (Ferdinand Kingsley)
Also helpful in the creation of MGM was then 26-year-old Irving Thalberg, played by Ferdinand Kingsley (Sir Ben Kingsley's son) in Mank - which, admittedly, makes greater concern of his involvement in creating fabricated political propaganda with Louis B. Mayer than his highly influential impressions on the filmmaking industry at such a young age. Before he died in 1936 at the age of 37 due to a congenital heart, Thalberg oversaw nearly 100 films, co-authored the Hays Code, and made stars out of many screen legends, such as Lon Chaney and Joan Crawford. He would even become the subject of his own fictionalized biography in F. Scott Fitzgerald's 1939 novel The Last Tycoon.
Upton Sinclair (Bill Nye)
Irving Thalberg's fake attacks ads were aimed at stealing California's 1934 gubernatorial election from Democratic candidate Upton Sinclair - a major presence throughout Mank despite only a brief moment onscreen as played by Bill Nye (yes, "The Science Guy"). Before becoming a politician, the Sinclair was a pioneer muck-raking journalist noted political activist who advocated, and even successfully achieved, social change through his fact-based novels. Most notably, his 1906 shocking meatpacking industry exposé The Jungle led to the Pure Food and Drug Act and 1927's Oil! would become the basis for Paul Thomas Anderson's There Will Be Blood in 2007.
John Houseman (Sam Troughton)
English actor and The Ritual star Sam Troughton plays the Romanian, but English-raised, John Houseman (born Jacques Haussman) in Mank, which focuses on his time looking after the ailing Herman Mankiewicz (predominantly to keep tabs on his drinking) at the request of Orson Welles. It does not mention, however, his many producing credits, his uncredited contributions to writing Citizen Kane, or his successful acting career later in life, which eventually earned him a 1974 Best Supporting Actor Oscar for The Paper Chase. Perhaps his most notable achievement would be helping establish Juilliard's program, where he would mentor the likes of Robin Williams and Christopher Reeve.
David O. Selznick (Toby Leonard Moore)
John Houseman was also a collaborator of David O. Selznick, another highly commendable figure from Hollywood's Golden Age depicted in Mank, as portrayed by Australian actor Toby Leonard Moore of Netflix's Daredevil series fame. The producer oversaw many famous productions whilst jumping between positions at multiple studios, such as RKO, Paramount, and two-times MGM while it was headed by his father-in-law, Louis B. Mayer. Decidedly his greatest accomplishments came after developing his own Selznick International Pictures, which produced two Best Picture Oscar winners in a row: 1939's extremely profitable Gone with the Wind and Rebecca, which launched Alfred Hitchcock's Hollywood career in 1940.
Orson Welles (Tom Burke)
While Herman Mankiewicz is the film's central focus, the biggest star of Mank would have to be Orson Welles - played by The Souvenir star, and undeniable dead ringer for the filmmaker, Tom Burke. The uniquely talented and highly influential Hollywood legend initially rose to fame in his early-to-mid-20s for his innovative work in theatre and radio, particularly his infamously convincing 1938 radio play inspired by H.G. Wells' novel The War of the Worlds. While the accuracy of his contribution to writing Citizen Kane (outside of producing, directing, and starring as the title character) is still up for debate, he still deserves his long-standing acclaim, even decades after his 1985 death, for undoubtedly being the driving force of what would become one of the most acclaimed films of all time.
What do you think? Was Orson Welles the reason you were interested in streaming Mank on Netflix in the first place, or did you find yourself more fascinated by Gary Oldman's titular role, Amanda Seyfried as Marion Davies, and others by the end? Let us know who your favorite character was in the comments and be sure to check back for additional information and updates on David Fincher's Golden Age tribute, as well as even more inside looks into the historical influences of your favorite movies and TV shows, here on CinemaBlend.
Your Daily Blend of Entertainment News
Jason has been writing since he was able to pick up a washable marker, with which he wrote his debut illustrated children's story, later transitioning to a short-lived comic book series and (very) amateur filmmaking before finally settling on pursuing a career in writing about movies in lieu of making them. Look for his name in just about any article related to Batman.
Your Daily Blend of Entertainment News
Thank you for signing up to CinemaBlend. You will receive a verification email shortly.
There was a problem. Please refresh the page and try again.