5 Pixar Reimaginings That Should Happen After Lightyear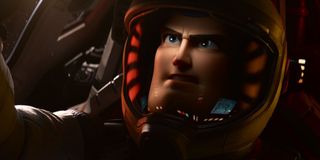 At last week's big Disney Investor Day presentation, one of the most surprising announcements was that Disney/Pixar is about to embark on its first reimagining of a computer animated classic. Thanks to Lightyear, Pixar's legendary spaceman Buzz Lightyear will now be examined through a more realistic lens of reality, and he'll even be voiced by Captain America himself, Chris Evans. It's certainly an unexpected new frontier for Disney films, but it also presents us with a new opportunity to dream up some reimaginings of Pixar classics that should definitely happen.
Taking this approach into account, I'd like to think the following five concepts would fit right in with the new line of thought that Lightyear exemplifies. If we can tell the story of the "real" Buzz Lightyear and his galactic missions, then the following movies could be the next step in the evolution of retelling classics from the Disney/Pixar canon. And why not start off with a little bit of literal madness, as our first entry takes the story of Up and examines a very different angle on the events we thought we knew about.
Muntz: Descent Into Madness
Throughout Carl Frederiksen's journey in Up, we see the cranky senior citizen learn to look at life a little differently, thanks to striking up some unexpected friendships. But there's a story about madness, obsession and unhinged anger that's waiting to be told with Muntz: Descent Into Madness. Focusing on the years that explorer Charles Muntz spent on Paradise Falls trying to capture the elusive bird Kevin, this darker spinoff would show us how Muntz became an explorer and eventually how he turned into a spiteful figure bent on capturing his most elusive prey. Up's already being revisited through the spinoff series Dug Days, and a Charles Muntz prequel would be aptly timed, as the origins of Dug's special collar are bound to come up again.
Auguste et Renata
A whirlwind romance that would change the culinary world in our modern age, the origins of young Alfredo Linguini from Ratatouille are explored in the musical romance Auguste et Renata. Showing Auguste Gusteau and Renata Linguini's young and foolish romance, this is basically the Pixar equivalent of Jacques Demy's The Umbrellas of Cherbourg, as we see the pair fall in love and tragically separate before the birth of Alfredo. We've already seen fans give Brad Bird's award-winning comedy the musical treatment, so now feels like the time to tell a story of bittersweet beauty with songs of love and longing, told by the still departed spirit/Remy's image of Chef Gusteau after learning of his son's existence.
Buy-N-Large
In the corners of the post-apocalyptic universe that Wall-E created, viewers were given clues that filled in the image of a world gone horribly wrong. With the shadowy corporate entity known as Buy-n-Large taking over the world and spoiling its natural beauty, the total story of how our species became a spacefaring race of couch potatoes was never totally told. Which leaves us with a film that would examine just what happened in the years between BnL taking power, and just how humanity prepared for its mass exodus from this blue marble. With the eventual outcome already known, and a good ecological fable always being a useful enterprise in our mindful world, Buy-n-Large's tragedy would be a cautionary tale to keep the message of Wall-E firmly in the conversation.
I, Syndrome
Syndrome, a.k.a. Buddy Pine, is another example of the darker side to Pixar's stories of whimsy and wonder. Not exactly a gritty reboot or retelling of the events of The Incredibles, I, Syndrome would be focused on Buddy's uphill battle through his younger years. Struggling through being an outsider with a very intelligent mindset, this side story could show Mr. Pine's attempts to fit in and change the world, with the slow creeping dread of his villainous turn hanging over every frame. Leading up to his purge of the Supers in the world of The Incredibles series, I, Syndrome would play like a Star Wars prequel, only with much more planning and deeper ties to The Omen.
Ducky And Bunny In Plush Rush: Miami
Our final reimagining of Pixar history comes from the Toy Story universe, much like the forthcoming Lightyear project. Only in this concept, we take a trip into the minds of Ducky and Bunny from Toy Story 4 and hitch a ride in the buddy cop comedy that sees Keegan-Michael Key and Jordan Peele's stuffed funsters really amp up their delusions of grandeur. Ducky and Bunny in Plush Rush: Miami takes the already overblown action these carnival prizes are already known for, and turn them into a mashup between the cold open toy box sessions of Toy Story past, and the Bad Boys saga; with all of our favorite toys playing various roles in this heightened action-comedy reality.
Disney/Pixar reimaginings are not exactly taking off just yet, with Lightyear still standing as a test pilot in this brand new world of storytelling. Ultimately, it'll be that film's success that makes or breaks the need for other stories that take a character we thought we knew and turn them into a new and exciting party to follow. But if that day should come, there are at least five stories that can be fast-tracked into development at a moment's notice.
Lightyear blasts off into test piloting glory on June 17, 2022; which admittedly isn't past infinity or beyond, but it's still a ways off. But if you're looking to find something a little closer to home on the calendar, there's an entire 2021 release schedule for you to take a look at. Though there's definitely some excitement left on the 2020 release schedule, so if you're in need of more immediate thrills, you still have some options to look forward to throughout the next couple of weeks. And as always, keep it locked here on CinemaBlend for all the latest and greatest movie news stories, including what Pixar has coming down the creative pipeline.
CinemaBlend's James Bond (expert). Also versed in Large Scale Aggressors, time travel, and Guillermo del Toro. He fights for The User.
Your Daily Blend of Entertainment News
Thank you for signing up to CinemaBlend. You will receive a verification email shortly.
There was a problem. Please refresh the page and try again.