10 Best Under-The-Radar 2020 Movies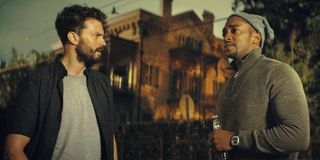 (Image credit: (Well go USA))
CinemaBlend participates in affiliate programs with various companies. We may earn a commission when you click on or make purchases via links.
Although it may have felt like this year was devoid of a lot of movies we were initially excited to see at the start of 2020, hundreds of movies still came out one way or another. The best under-the-radar movies of 2020 is a strange list to compile this year in particular, because most new releases feel like they slipped past us and refreshed each week as we spent more time on streaming platforms and digital renting services. Because the movie cycle felt rushed and low on attention span, chances are you missed some bigger releases than this. Maybe you're just now checking out some of the most talked-about movies of the year, like Tenet or Mulan.
Wherever you are on your yearly queue, chances are you missed out on some of these gems. These are some of the greatest movies that came out this year that few have heard of, and props if you have. This is the ultimate cinephile challenge, really. How many of these have you seen? This list was compiled based on a combination of CinemaBlend's staff favorites underseen by the rest of us, and my own notations and viewing of films that just didn't seem to venture out of the niche despite their high quality.
Shirley
On the television end, many of us binged The Haunting of Bly Manor over the Halloween season and perhaps returned for seconds for Mike Flanagan's The Haunting of Hill House after feeling thirsty for more, and a slightly happier ending. Early this year, Neon came out with an offbeat biopic about Hill House and one of the most respected horror authors of all time, Shirley Jackson. Shirley came out around the same time Elisabeth Moss was starring in The Invisible Man, but while this movie received high praise, especially for another inspired Moss' performance, it's been swept under the rug already. Shirley is available on Hulu (opens in new tab).
Babyteeth
Eliza Scanlan is quietly becoming one young actress to really watch, between playing the heartbreaking roles of Beth in Little Women and the sister to Tom Holland in The Devil All The Time after previously breaking out in Sharp Objects. The 21-year-old also dazzled this year in Babyteeth, a coming-of-age film about a terminally ill teenager who falls in love with a small-time drug dealer. This one's a real tear-jerker that cuts into you so nicely that you want to show it off, so here I am telling you to see it. Babyteeth is available on Hulu (opens in new tab).
Spontaneous
The romantic comedy comes with a popular formula that is often slapped onto new Netflix and Hallmark originals on a weekly basis. But every once in a while, the genre gets to bend shape and get weird. You probably saw Palm Springs over the summer, a movie that broke some major records with its viewership, but did you see Spontaneous? This rom-com starring Katherine Langford and Charlie Plummer is about a high school that begins to see its students literally exploding. It's a fun premise and made for a surprisingly fun YA movie with some deep existential themes too. Spontaneous is available to rent or buy.
Uncorked
Netflix has so many new releases each week, so it can be tough to find all the good ones hidden in between it all. Back in March, a stunning directorial debut came from Girlfriends, Insecure and Brooklyn Nine-Nine guest writer Prentice Penny with Uncorked. The tender and feel-good film is about a young man who decides to go against the grain and become a master sommelier instead of continuing in the family BBQ business. This one's lighthearted and perfect for your own uncorked night, yet it's been left on the shelf for many throughout the year. Uncorked is available on Netflix. (opens in new tab)
The Lodge
Any fans of Hereditary in the house? Or how about some twisted, slow-burn horror? Then The Lodge might be the movie for you. Here's another one that came out early in the year, but was perhaps overshadowed by The Invisible Man's huge success at the time. The movie comes from the team behind Goodnight Mommy and is a peculiar Christmas movie about a pair of children who have to stay with their soon-to-be stepmother in a snowed-in lodge following a tragedy. This is one that's better for discussion after you've seen it, but I'll say this: it's one of the best horror movies of the year. The Lodge is available on Hulu (opens in new tab).
Blow The Man Down
Another icy 2020 film that ventures more into the mystery or noir camp is Amazon's Blow the Man Down. It's a New England-set movie centering on two sisters who start uncovering the criminal underbelly of their hometown after the death of their mother. The movie has a clever script that's sprinkled with humorous moments, along with the movie weaving in cinematic indie qualities and creating suspense for its viewers. Blow The Man Down is available on Amazon Prime (opens in new tab).
Synchronic
Now here's a movie with some huge stars that somehow went completely under the radar this year. Synchronic stars The Falcon and the Winter Soldier's Anthony Mackie and Fifty Shade of Grey's Jamie Dornan in a science fiction horror film about two paramedics whose lives get turned upside down when a new designer drug causes a series of terrifying deaths. Here's another one we'll keep close to the vest until you've seen it, but I will say this critically-acclaimed indie does something new and interesting with the concept of time travel. Synchronic is currently playing in select theaters and you can pre-order its home release now.
Miss Juneteenth
Over the summer, on the 155th anniversary of Juneteenth, a holiday celebrating the emancipation of those who had been enslaved in the United States, a heartwarming mother-daughter tale was told in the form of Miss Juneteenth. The movie follows a teen who is entered into a beauty pageant called "Miss Juneteenth" by her mother in hopes that the experience, which she took part in as a young woman, will sway her rebellious ways and keep her from making some of her mistakes. This is an affecting drama that feels deeply personal and warm to those who watch. Miss Juneteenth is available to rent or buy.
The Forty-Year-Old Version
Another Netflix title you may have breezed right past, despite it being one of the most highly-praised movies of the year, is The Forty-Year-Old Version. The movie introduces Rahda Blank, a writer on Spike Lee's She's Gotta Have It, who tells her story with a completely realized vision through being the writer, producer, director and star of the movie. The Netflix film is about a playwright and teacher at a crossroads in her career, who decides to record a rap album in between compromising her vision for her work in order for it to go on Broadway. This movie is truly epically intimate, universal and relevant, and an incredible showcase of a great talent. The Forty-Year-Old Version is available on Netflix (opens in new tab).
Kajillionaire
One more under-the-radar movie we've chosen to highlight (though this list certainly could have been a lot longer) is Miranda July's Kajillionaire. First off, the movie stars Westworld's brilliant Evan Rachel Wood, Jane the Virgin's Gina Rodriguez and the always amazing Richard Jenkins. It's about a woman named Old Dolio Dyne, who is codependent on her con artist parents, who often use her as an accomplice. Except this time, they decide to invite an outsider to join them on a major heist instead of Old Dolio. Sure, it's a bizarre one, but absolutely a highlight of the year if you've been paying attention. Kajillionaire is available to buy.
Alright, so how many of these movies have you seen, and how excited are you to check out these great under-the-radar 2020 movies? Vote in the poll below and prime yourself for the year to come with CinemaBlend's 2021 release schedule.
This poll is no longer available.
Up next: Kajillionaire Interviews with Evan Rachel Wood, Gina Rodriguez and Miranda July
Your Daily Blend of Entertainment News
YA genre tribute. Horror May Queen. Word webslinger. All her writing should be read in Sarah Connor's Terminator 2 voice over.
Your Daily Blend of Entertainment News
Thank you for signing up to CinemaBlend. You will receive a verification email shortly.
There was a problem. Please refresh the page and try again.