5 Reasons Why Jingle All the Way Is A Top-Tier Christmas Movie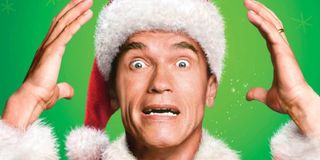 Unlike debatable Christmas movies like Die Hard and Lethal Weapon, 1996's Jingle All the Way -- about a dad (Arnold Schwarzenegger) just trying to get his son a hard-sought toy for the holiday -- is undoubtedly a Christmas movie. Not only that, but by my estimation, it is a top-tier Christmas movie, sitting comfortably (by an open fire) with other semi-modern Christmas movies like National Lampoon's Christmas Vacation, A Christmas Story, and Elf.
And while yes, I understand that a lot of people just ignore Jingle All the Way as mid-90s garbage, I actually have five -- count 'em -- five reasons why I tend to pop in my VHS tape (don't judge me!) of Jingle All the Way year after year. Because hey, if you're going to tell me that you watch Batman Returns every Christmas season, or Home Alone, then let me have my Arnold Schwarzenegger Christmas movie, dammit.
It Is A Legitimate Arnold Schwarzenegger Movie Centered Around Christmas
I often wonder what is the most underrated Arnold Schwarzenegger movie—Eraser, Last Action Hero, or Jingle All the Way? My good friend, Steve, says, "Last Action Hero, obviously," and I usually tend to agree with him. But when it's Christmas time, I always find myself leaning more toward Jingle All the Way, since it's sneakily Arnold's most fun movie ever.
Yeah, I know, Twins or Kindergarten Cop are the funnier films, but Jingle All the Way is just so much more enjoyable. You have great Arnold one-liners ("I'm not a pervert! I was just looking for a Turboman doll!"). You have Phil Hartman joking about making Arnold's character a cuckold ("Who told you you could eat my cookies?") And then, you have an Arnold fight scene against Santa, who is actually WWE superstar, The Big Show. I mean, yes, the movie is really silly and sometimes cheesy, but aren't Christmas movies supposed to be cheesy? I thought Christmas movies were meant to be for the whole family. I mean, I like Bad Santa and all, but I can't watch Bad Santa with my kids. But I can (and have) watched Jingle All the Way with my kids. Phil Hartman making orgasm noises and all.
It Actually Gets Into The REAL Spirit Of Christmas. Commercialism!
You want to know my all-time favorite Christmas "movie"? It's actually only 26 minutes long, and it's Mickey's Christmas Carol. Every single time I watch it, I cry at the end when Scrooge McDuck holds all the children in his arms and that, "Merry, Merry Christmas" song plays, and then it goes to that sepia tone. I mean, I'm crying right now and I just watched a 39 second clip of it. But that story's all about learning to appreciate people, and all the stuff that Christmas stories should be about. But everybody knows what Christmas is really about. Getting presents! And bratty kids! And that's what Jingle All the Way is all about.
Sure, there is of course the message of the importance of family. But at the heart of the movie, it's about fighting over a toy that every child wants. It's about stomping on other parents and stiff-arming them in the face if it means that you'll be able to bring your snotty-little kid some toy that he or she will forget about as soon as the wrapping paper hits the floor. And I applaud this movie for being a Christmas movie that's willing to show the true spirit of Christmas. It's like A Christmas Story, but from the parent's perspective, and as a parent, I can respect that. Props.
The Setting Puts You In The Christmas Spirit
Here's the thing about Die Hard (here I go again). While I do love Die Hard (Hans Gruber is one of my all-time favorite baddies), it doesn't really put me in the Christmas spirit. Yes, I know it's centered around a Christmas party, and yes, Ho, ho, ho, John McClane now has a machine gun, but it still doesn't feel like Christmas to me. I don't know. Maybe it's because it takes place in Los Angeles and there really isn't any snow. But for whatever reason, Die Hard is always a kick ass action movie for me first, and a Christmas movie maybe eighth or ninth down the list.
But Jingle All The Way feels like a Christmas movie, because it is one. There's snow everywhere, reindeer, and even Santy Clause (a whole bunch of Santy Clauses, actually). Look, if I watch Jingle All The Way in July, it will put me in the Christmas spirit. If I watch Die Hard in December, it will make me think about what a kickass action movie it is, but I won't think about Christmas. Like, not at all.
The Action Is Actually Very Entertaining
Being an Arnold Schwarzenegger movie, you knew there had to be some action in there somewhere, and Jingle All The Way delivers. Arnold actually gets tossed around a bit in this one, and the scenes where he's with Sinbad (I'll get to him soon), and they're both fighting over Turboman are really exciting because you like both of their characters and you want to see them both succeed.
And then, you have the film's crowning achievement where Arnold is actually flying around as Turboman, and it's all done with (lovingly) terrible '90s CG. Again, it's really cheesy, but in the best kind of way.
Sinbad Makes For A Great Comic Foil
Finally, you have Mr. Shazam himself, the comedian Sinbad, as a comic foil to Arnold Schwarzenegger's character. What's great about him is that you would never suspect him to play a villainous role, but he takes to it with gusto, even pretending to have a bomb in a Christmas package—that actually happens to be a bomb! "It's a sick world we're living in. Sick!"
But Arnold is also hilarious, so to have them constantly butting heads and shoving each other, just makes for an even more enjoyable Christmas movie. Sinbad even dresses as a supervillain at the end of the film, so you know you're in for a good time.
Honestly, there are plenty of bottom-tier, or even mid-tier Christmas movies that people love (ahem, Love Actually), but Jingle All The Way is TOP-TIER. But what do you think? Are you a Jingle All The Way lover, too, or do you also think it's kind of meh like most people do? Sound off in the polls or in the comments section down below.
This poll is no longer available.
Rich is a Jersey boy, through and through. He graduated from Rutgers University (Go, R.U.!), and thinks the Garden State is the best state in the country. That said, he'll take Chicago Deep Dish pizza over a New York slice any day of the week. Don't hate. When he's not watching his two kids, he's usually working on a novel, watching vintage movies, or reading some obscure book.
Your Daily Blend of Entertainment News
Thank you for signing up to CinemaBlend. You will receive a verification email shortly.
There was a problem. Please refresh the page and try again.