For The Last Time, Shazam 2 Would Be The First Time Sinbad's Been In A Shazam Movie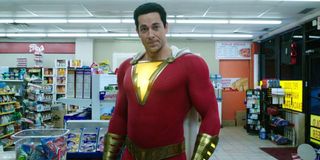 The Internet's been dealing with a collective Mandela effect for some time. In fact, there are people out there who really believe there's a Shazam movie that exists starring Sinbad. Thus, after seeing Sinbad crash the Shazam! 2 panel at DC Fandome, it would be easy to connect a possible upcoming appearance in the DC and Warner Bros. flick to Sinbad's Shazam movie. Only, the original nineties Shazam with Sinbad never actually existed.
What has happened and has been happening for years is that people have confused a fake movie called Shazam that starred Sinbad with a real movie that came out in 1996 called Kazaam which starred Shaquille O'Neal. Paul M. Glaser directed this movie. It has a real poster, Rotten Tomatoes scores, the works.
Shazam starring Sinbad, on the other hand, doesn't exist. This hasn't stopped confusion from reigning supreme. In fact, Sinbad himself fed into that back in 2017 with an April Fool's joke that really got people talking. He actually created a College Humor video detailing his "role" in "Shazam." Now, there's even footage online that to the untrained eye seems to be from a nineties movie about a genie starring Sinbad. Whomp whomp.
At one point, this whole is the Sinbad Shazam movie real or not real even got the best of DC's Shazam! lead Zachary Levi. During an interview with EW, the whole fake Shazam versus Kazaam narrative was brought up to the Shazam 2019 actor and he noted,
Franchise director David F. Sandberg at the time tried to clarify the video versus the real movie thing, but the whole story goes to show you that a lot of people are still confused by the whole Shazam/ Kazaam thing. Suffice to say, if Sinbad were to really make a cameo, it would not be the second time he's been in a Shazam movie. It would be the first.
Though Variety was unclear on the topic, Comic Book says that Sinbad will not actually be appearing in Shazam 2, which we now know will be subtitled Fury of the Gods. This is despite Sinbad saying he would "rectify the situation" by popping into the movie during a panel that was a part of DC FanDome. However, that hasn't stopped the actor from having a little more fun with this ongoing joke.
Honestly, at this point, the movie hasn't even started filming so who knows what could happen? And even if it was simply an elaborate joke, people in the know about the topic seemed to really enjoy it.
Meanwhile I do think adding Sinbad to Shazam!: Fury of the Gods wouldn't be any more confusing than the whole deal where Shazam used to actually be Captain Marvel until there was a trademark issues with Marvel's Captain Marvel to contend with. This whole franchise can get a little silly, but I like it.
This poll is no longer available.
Your Daily Blend of Entertainment News
Reality TV fan with a pinch of Disney fairy dust thrown in. Theme park junkie. If you've created a rom-com I've probably watched it.
Your Daily Blend of Entertainment News
Thank you for signing up to CinemaBlend. You will receive a verification email shortly.
There was a problem. Please refresh the page and try again.