After Wonder Woman 1984, Will Patty Jenkins Jump Into Rogue Squadron Or A Threequel With Gal Gadot?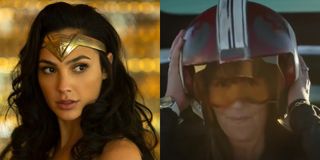 Patty Jenkins has become one of the most sought-after filmmakers in all of Hollywood, and for good reason. Years ago, she directed Charlize Theron to an Oscar in the critically acclaimed 2003 film, Monster and, more recently, Jenkins has become a presence in the world of blockbuster filmmaking through her work on the Wonder Woman franchise. As a result, she's primed to take on a third film in the series, and we've also learned that she'll be entering the Star Wars universe through Rogue Squadron. But with two big projects on the horizon, which one will end up being Jenkins' next project?
When Patty Jenkins was first confirmed to be taking on Rogue Squadron, fans likely wondered if it would be her next big project. Now, per The New York Times, it would seem that Jenkins will indeed be completing Rogue Squadron before returning to the DC Universe for her third Wonder Woman movie.
Not much is known about Rogue Squadron at this point, but it would seem that development is moving right along. Patty Jenkins recently confirmed that she and her team are "very far" into the process and that they're essentially finishing up the story treatment at this point. She also clarified that the film will be an original story, though it will be influenced by some of the classic Star Wars novels and video games.
And although story details are scarce, that hasn't stopped fans from thinking about the things they would like to see in the upcoming Star Wars film. This even includes a role for Jenkins' Wonder Woman collaborator, Chris Pine.
Wonder Woman 3, on the other hand, appears to have a somewhat longer road to the big screen. Jenkins confirmed that she and DC scribe Geoff Johns did come up with a story for a third film a while ago. However, given how much things have changed in our world, she feels somewhat differently about that story and thinks it could change as time goes on.
Rogue Squadron and Wonder Woman 3 aren't the only projects Patty Jenkins has coming up, either. The director is currently set to reunite with Gal Gadot for a new Cleopatra film. In addition, Jenkins is also working on a Wonder Woman spinoff centered on the Amazons. Though she previously stated that production on that project had yet to begin, she did say that it would potentially fill in story blanks between Wonder Woman 1984 and the potential third film.
It's great to see Patty Jenkins is keeping busy and has a number of high-profile projects on the docket. Fans will certainly be waiting to see what happens with Wonder Woman 3, but the idea of Jenkins getting to put her own stamp on the Star Wars franchise with Rogue Squadron is incredibly exciting.
Rogue Squadron is currently set to hit theaters sometime in 2023.
Covering superheroes, sci-fi, comedy, and almost anything else in film and TV. I eat more pizza than the Teenage Mutant Ninja Turtles.
Your Daily Blend of Entertainment News
Thank you for signing up to CinemaBlend. You will receive a verification email shortly.
There was a problem. Please refresh the page and try again.