Two More Wedding Crashers Stars Want In On Wedding Crashers 2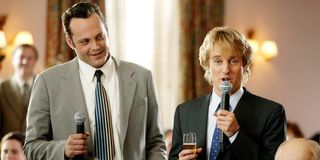 Potential sequels are forces of nature that can live on for years, especially if the audience really wants one. Throughout the 15 years since the debut of Wedding Crashers, the concept of a follow-up to the adventures of characters played by Vince Vaughn, Owen Wilson, and the rest of the team from that first entry has been a persistent topic of consideration. The year 2020 has proven this more than ever, with several updates surrounding a Wedding Crashers 2 coming from not only director David Dobkin, but also through key cast members like Vince Vaughn and Isla Fisher. Now, in the latest turn of events, Jane Seymour and Christopher Walken apparently want in on a sequel as well!
Out of all the ways to find out this latest update on Wedding Crashers 2, I happened to get this information during a The War with Grandpa conversation I had with Ms. Seymour. With both Jane Seymour and Christopher Walken reunited for director Tim Hill's chaotic new family comedy, it felt like the time was ripe to ask about the possibility of coming back for a Wedding Crashers sequel after the two were such a keen part of the original ensemble cast. That notion didn't sound too far off, as Jane Seymour had this to say about the possibility:
How in the world could you not ask Jane Seymour to be in Wedding Crashers 2? In her role of the Cleary family matriarch, Seymour was able to make a huge mark on audiences as the raunchy Kathleen. Propositioning Owen Wilson in one of the film's most memorable scenes, it's a role that The War with Grandpa actor admitted she was hesitant to accept, but enjoyed playing in the long run. Even in a world where Jane Seymour can somehow be mistaken for an employee in an electronics store, she readily admits there's bound to be people of a certain age who will ask her if she is indeed "Kitty Cat," all thanks to one famous scene.
Part of the reason Jane Seymour sounds like she's ready for Wedding Crashers 2 is the fact that she had so much fun playing Kathleen Cleary. But it also looks like she's ready to reunite with Christopher Walken again, as the experience in both their on-screen marriage and their work on The War with Grandpa reminded Seymour of just how much she enjoys Walken's style of performance. It all lead to another universal truth that Jane Seymour shared with me while reminiscing about one of her favorite co-stars, as she also revealed the universal bedrock to any good Christopher Walken role:
Both Walken and Seymour show their respective charms quite well in The War with Grandpa, as accomplices to Robert De Niro's Ed in his family friendly fight against his grandson Peter (Oakes Feigley). Much as she's described what makes a Christopher Walken role so fun to watch, that's exactly the same sort of energy that makes a Jane Seymour performance enjoyable too. Mixing her own mindful personality with a firecracker attitude -- and a very dry wit -- Seymour is a vital link in the chain that strengthens The War with Grandpa's comedy machine. With that in mind, it should not only be required that Jane Seymour and Christopher Walken be brought back for Wedding Crashers 2, it does seem to be one of the ingredients that would make the entire enterprise worth it in the end.
We're still a ways off from confirming whether or not Wedding Crashers 2 will indeed happen, but stranger and other longer-awaited legacyquels have happened. What is certain is that Jane Seymour, and the rest of The War with Grandpa cast make for a lovable, entertaining comedy that you and your family can enjoy for the holidays. And it couldn't be easier to get in on the fun, as the movie is now available (opens in new tab) on Digital HD, as well as Blu-ray and DVD.
CinemaBlend's James Bond (expert). Also versed in Large Scale Aggressors, time travel, and Guillermo del Toro. He fights for The User.
Your Daily Blend of Entertainment News
Thank you for signing up to CinemaBlend. You will receive a verification email shortly.
There was a problem. Please refresh the page and try again.