The Top 10 Netflix Movies Of 2020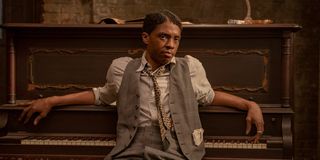 While totally unexpected, Netflix had an important role to play in 2020. When the COVID-19 pandemic first hit and theaters began to close, the streaming giant was thrust into the spotlight as the most accessible source for new feature films around the world. Some titles were released as planned, and some titles were acquired from other studios, but either way no company consistently produced as many original movies throughout the year. And while the full catalog most certainly didn't exclusively provide winners, there were some phenomenal premieres on the service, and now that we've reached the back half of December we're taking a moment to celebrate those releases.
There wasn't a month that went by in 2020 that didn't see Netflix release at least one legitimately entertaining or fascinating new feature, but we've whittled a list down to 10 titles to focus on. There are examples from a wide variety of genres and mediums, and multiple made by some of the best directors in the business. These are titles that should never get buried in the streaming service's massive catalog – and we'll start by highlighting what is, full stop, one of the best films of the year…
Mank
It takes a lot of guts for a film to purposefully stand in the shadow of what is arguably the greatest movie ever made, but that's exactly what David Fincher did in the making of Mank, and the result is glorious. It's sold as the story behind the making of Citizen Kane, but what it is ultimately is an examination of not only the fascinating man that was Herman Mankiewicz (portrayed brilliantly by Gary Oldman), but also a brilliant snapshot of Hollywood and politics of the 1930s. It's as smart as it is funny as it is enlightening, and black-and-white visual feast.
I'm Thinking Of Ending Things
If you're looking to experience cinematic existential angst, you really can't do much better than the work of Charlie Kaufman, and Netflix has allowed him to do what he does best with I'm Thinking Of Ending Things. The story begins simply enough, following a girlfriend (Jesse Buckley) and boyfriend (Jessie Plemons) as they travel for a dinner at the boyfriend's parent's house, but how things spin out from there is brilliant in its strangeness and utterly mesmerizing. It's a work that demands dissection, but one of the great things about the streaming service is that as soon as the movie ends you can immediately go back and analyze it scene-by-scene.
The Social Dilemma
Do you ever feel like you're addicted to your phone? Well, there's a good reason for that, and Jeff Orlowski's documentary The Social Dilemma delves into that reason with frightening clarity. Utilizing a well-done dramatic narrative featuring Skyler Gisondo and Vincent Kartheiser to further illustrate its points, the movie exposes the disturbing inner workings of your favorite social media apps via interviews with a number of people who helped bring them to life. It's a wakeup call that very well may cause you to start creating some distance between yourself and your mobile devices.
Da 5 Bloods
Netflix has attempted in recent years to paint itself as a haven for the best filmmakers in the world to make projects they are passionate about, the roster including names like Martin Scorsese, Alfonso Cuaron, and Bong Joon-ho, and this year saw Spike Lee join that awesome collective with the epic Da 5 Bloods. The film sports drama and adventure in equal measure, following a squad of Black former US Army soldiers (Delroy Lindo, Clarke Peters, Norm Lewis, Isiah Whitlock Jr.) as they return to Vietnam in search of a hidden treasure, and what emerges from journey is a powerful reconciliation of the present and events of the past.
The Trial Of The Chicago 7
Aaron Sorkin most definitely knows how to handle true story adaptations (The Social Network, Moneyball) and courtroom dramas (A Few Good Men), and the writer/director puts those talents to great use for The Trial Of The Chicago 7. It was a film that was headed to theaters before the pandemic, sold to Netflix in July, but still packs a punch even shown at home – telling the story of a group of anti-war protestors who find themselves on trial facing charges from the federal government in the fallout of the riots at the 1968 Democratic National Convention. The all-star cast, including Sacha Baron Cohen, Eddie Redmayne, Mark Rylance, Joseph Gordon-Levitt, Michael Keaton, and Yahya Abdul-Mateen II, doesn't have a single weak link, as everyone in the ensemble delivers excellent performances.
His House
We went without the high profile scares of Halloween Kills and The Conjuring: The Devil Made Me Do It this fall, as both movies were delayed until 2021, but Netflix came through in a big way for Halloween by dropping Remi Weekes' His House on the service at the end of October. Following a couple of Sudanese refugees who try to make a home for themselves in London, the movie weaves a terrifying tale as the husband and wife not only struggle to adapt to their new world, but also find themselves haunted by the past. It provided us with some of the most unnerving sequences of 2020, which is why it also made our list of the year's best horror films
.
Ma Rainey's Black Bottom
George C. Wolfe's Ma Rainey's Black Bottom will forever be remembered for featuring the final performance by Chadwick Boseman – a talent who passed away far too young this year – but even standing apart from that sad fact it's an astonishing work. It doesn't stretch far from the August Wilson play on which its based, but material packs a spectacular punch, and both Boseman and Viola Davis deliver two of the best performances of their remarkable careers, trading off protagonist and antagonist roles throughout the narrative, and leaving you pressed hard in the back of your chair as the end credits roll.
The Lovebirds
Michael Showalter's The Lovebirds was originally going to be an early-in-the-year big screen comedy, set to be released theatrically in late March – but then it wound up being one of the first movies delayed by COVID-19. Thankfully, Netflix scooped it up from Paramount, and while it was released about two months after originally intended, it delivered huge laughs at a crucial time. Kumail Nanjiani and Issa Rae are both stellar in the film and make for a hilarious bickering couple on the run from the law after being framed for murder. Even though it didn't play in theaters, it still further establishes its stars as talented big screen leads, and we can't wait to see them heading more features in the near future.
Enola Holmes
It's easy to dismiss Harry Bradbeer's Enola Holmes on paper, as it seems like another attempt by Hollywood to take advantage of Sherlock Holmes' public domain status by telling a familiar story from the perspective of a spunky teen girl. What that perspective overlooks, however, is that spunky teen girl being played by Stranger Things star Millie Bobby Brown, who delivers the best performance of her young career. The central mystery is more compelling for younger viewers, but there's still no denying its wonderful energy, and it still manages to be thrilling. It has tons of franchise potential, so expect to see more chapters on Netflix in the coming years.
Uncorked
Prentice Penny's Uncorked has the structure of a standard coming-of-age story, following a young man (Mamoudou Athie) as he belies the wishes of his father (Courtney B. Vance) to take over the family barbecue business in favor of pursuing a dream to become a master sommelier. And while it's actually very successful in that simple fact, building strong characters and emotional relationships, it also goes beyond the familiar by diving into particular culinary worlds not greatly explored in cinema. And if you can swing it, it's definitely best enjoyed with a smoked brisket paired with a nice red – otherwise you might just be left with cravings during and after.
Is your favorite Netflix movie of the year on our list? Do you think there's a film that we've overlooked? Hit the comments section with all of your thoughts, feelings, and opinions, and be on the lookout for more of CinemaBlend's End of Year features as we get closer and closer to 2021.
Your Daily Blend of Entertainment News
Assistant Managing Editor
NJ native who calls LA home and lives in a Dreamatorium. A decade-plus CinemaBlend veteran who is endlessly enthusiastic about the career he's dreamt of since seventh grade.
Your Daily Blend of Entertainment News
Thank you for signing up to CinemaBlend. You will receive a verification email shortly.
There was a problem. Please refresh the page and try again.