The 10 Best Horror Movies Of 2020, Ranked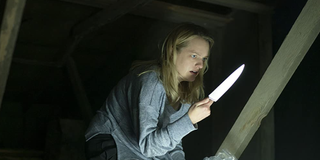 2020 has been a wild year for a variety of reasons. This unprecedented time had a major effect on the film world, as sets and theaters were shut down amid global health concerns. And while some highly anticipated horror movies like Halloween Kills were shut down as a result, the year still brought plenty of quality movies for fans of the genre. As such, I've compiled a list of my 10 favorite horror movies of the year, ranked.
Despite many theaters suffering during this time, streaming services stepped up and helped release a ton of notable horror movies this year. This ranked list is merely my opinion and how I responded to each entry. Some are truly terrifying, while others lean into camp and humor, so there's really no concrete ruling here-- except my own taste. So without further ado, here are the 10 best horror movies of 2020.
10. Welcome To The Blumhouse
I mentioned there being no real rules here, and this entry is perhaps the biggest example. Namely, because I'm grouping together all four of Amazon's Welcome to the Blumhouse movies. The streaming service partnered with the legendary horror studio to release four short movies back in October just in time for the Halloween season. These projects were all decidedly different, and featured a distinct cast and set of rules. The films were titled Black Box, The Lie, Nocturne, and Evil Eye.
While each of the four entires to Welcome to the Blumhouse had something great to offer, I particularly enjoyed Black Box and Evil Eye. One found horror in science fiction, and the other was on the magical side. Black Box is arguably the scariest of the four entires, so if you're looking for a good scare that might be the ultimate winer. But with each entry with a different director behind the camera, they all have a unique visual language.
9. Antebellum
This one was a doozy, and a movie that had a ton of hype ahead of its release. Directed by Gerard Bush and Christopher Renz, Antebellum stars Janelle Monáe as Veronica Henley/Eden. The movie follows as the modern-day protagonists finds herself in a Louisiana plantation during Confederate times, and it's a deeply unsettling experience, especially throughout its first act. There are some wild twist and turns that occur within the movie's runtime, as the myriad questions audiences have are slowly answered.
Antebellum definitely has some truly horrifying moments. But those scary sequences are borderline unwatchable, as witnessing racial violence is a grueling theatrical experience that speaks to issues in both the past and present. Luckily, the directors pump the breaks just when the audiences need it, and the third act is a thrilling experience that shows just how talented Janelle Monáe is. And the end twist is one that makes the whole runtime worth it.
8. The Rental
The Rental was a sleeper horror hit this year, as it topped both the VOD and box office at the time of its release back in July. Directed by actor Dave Franco, the movie tells a capsulated story about a group of friends who get an Airbnb where it soon becomes clear that they're being watched. The characters' interpersonal issues are exacerbated by drugs and creepy happenings in the house, with chaos quickly ensuing.
The Rental succeeds because it's such a controlled story, featuring a small but mighty cast. Leading the group are Legion's Dan Stevens and acclaimed actress Alison Brie, who is actually married to Dave Franco in real life. Franco deserves a ton of credit, as he directed, wrote and produced the horror flick. We'll just have to wait and see if the actor-turned-director returns to the genre or gets behind the camera or a different project.
7. Run
While some of the entires on this list might have been missed by the moviegoing public, Aneesh Chaganty's Run is definitely not one of them. The horror flick has only been streaming on Hulu since late November, but it quickly became the service's most popular original movie. The flick stars American Horror Story legend Sarah Paulson as Diane Sherman, the overbearing mother of a disabled young woman named Chloe (Kiera Allen).
The mystery of Chloe's condition and her mother's obsessive ways slowly come to light throughout the course of the thriller. Sarah Paulson once again proved herself as a scream queen throughout the film's runtime, and its PG-13 rating allows a wider audiences without too much gore. And with a third act and killer ending, it's no wonder Run became so popular this year. The chilling conclusion also possibly leaves open the possibility of a sequel, so we'll have to see if Hulu moves forward and green lights a follow-up.
6. Bad Hair
Another Hulu horror hit of 2020 was Justin Simien's Bad Hair. The Dear White People filmmaker went from Netflix to Hulu for a satirical comedy/horror flick set in 1989. The story revolves around Anna (Elle Lorraine), who is able to climb the ranks of her job once getting a sew-in weave that gives her confidence and garners positive attention from those around her. There's just one downside: the hair itself becomes violent and murderous.
Justin Simien assembled an amazing cast to bring this very specific story to life. The names include Jay Pharoah, Vanessa Williams, Lena Waithe, Usher, Kelly Rowling, and Laverne Cox. The movie leans on elements of camp, and Simien helps to immerse audiences in the storytelling thanks to a grainy late '80s filter effect. And with so much outstanding Black talent behind and in front of the camera, it is definitely not one to miss.
5. The Babysitter: Killer Queen
Over the past few years, Netflix has begun releasing original film content at a dizzying pace. Given this success, a few properties have risen up as bonafide franchises. This year's The Babysitter: Killer Queen was a direct follow-up to the original movie that hit Netflix back in 2017, and delivered on everything that made the predecessor a hit. That includes plenty of comedic beats, over-the-top violence and some bold directorial choices.
Set two years after he survived an attack from a satanic cult, The Babysitter: Killer Queen catches up on Cole (Judah Lewis) as he struggles through high school. But when the killer cult mysterious resurrects and once again tries to kill him, he's forced to fight back and face his biggest fear. The movie delivers what fans will be expecting, while also deepening the narrative around the franchise. What's more, it features the same strong cast as the original, with the addition of some A+ newcomers.
4. His House
The horror genre may be a niche one, but it has the ability to address complex, real-life issues while also scaring the pants off of us. A few entries in this list do just that, including Remi Weekes's His House. The acclaimed horror movie debuted on Netflix back in October, as another killer choice for Halloween. The movie is about a pair of South Sudanese refugees who are given asylum in the U.K. But it soon becomes clear that something may be in their new home, as they are haunted by terrifying visions.
The movie's visuals are truly chilling, but it succeeds best by offering a pair of complex protagonists played by Wunmi Mosaku and Sope Dirisu. Both give emotional performances as their backstory is played out on the screen, with The Crown alum Matt Smith helping to round out the small, but mighty cast. His House is able to tell a story about the refugee experience, which helps buoy the movie with emotionality and very real stakes, and the results are one hell of a ride.
3. The Hunt
This one is perhaps the most controversial entry in this list. The Hunt made national headlines months before its release due to rumors about test screenings and the movie's messaging. And before anyone had seen the theatrical cut, the Blumhouse horror blockbuster was judged by the court of public opinion. When it eventually arrived in both theaters and direct to homes, the truth was finally revealed.
The film follows a group of people who suddenly wake up to find themselves in the middle of a very high stakes game of survival. The group is hunted down by mysterious forces, and we learn that the story went viral online years ago. The movie's violence is brutal and random, which help to keep audiences on their toes. There's also plenty of comedic moments, particularly thanks to Hillary Swank's character. Actress Betty Gilpin is a scream queen for the record books, and The Hunt quickly became one of my favorite horror movies of the year.
2. The Invisible Man
Another Blumhouse entry to the list, Leigh Whannell's The Invisible Man was one of the first major hits of 2020. And for many, it was the last movie they saw in theaters before social distancing began. While a variety of other movies have arrived since, The Invisible Man has remained at the top of my horror list for nearly a year.
With The Handmaid's Tale actress Elisabeth Moss once again proving her ability to look truly terrified, the movie is a tense, sensory experience. Moss' performance gives every scene emotional weight, with filmmaking will have you paranoid and checking every corner of each room just as the movie's protagonist. And with a supporting cast that includes Storm Reid, Aldis Hodge, The Haunting of Hill House's Oliver Jackson-Cohen, The Invisible Man is also full of great performances.
1. The Lodge
This might be a top pick that will get me into trouble, but I found The Lodge to be a truly unsettling movie experience. And with stakes that continue to raise before reaching a gruesome crescendo, I haven't stopped thinking about Veronika Franz and Severin Fiala's dark tale. After debuting at Sundance in 2019, The Lodge was eventually released in February. It was a dark and gruesome cautionary tale about cruelty and mental health.
The Lodge centers around a stepmother to-be Laura (Riley Keough) to be who is left with her fiancee's two children when being snowed in to a remote cottage for Christmas. Her childhood trauma involving a cult soon comes to play, and she begins losing her mental faculties as a result of a variety of bizarre incidents. The movie is thoroughly creepy from start to finish, and the third act is the thing of nightmares. It all ends with a conclusion that you won't forget, in what was the most chilling horror rending of the entire year for me.
Obviously there were some choices that didn't make the cut for this list, and I suppose I can throw in a few horror honorable mentions. Another solid entry was the zoom horror flick Host, which was effective for obvious reasons. Judy Greer also starred in a twist comedy horror movie Good Boy that might have gone under moviegoers' collective radar. Plus, The Craft: Legacy arrived in time for Halloween and has the potential to kickstart a new franchise. Regardless, be sure to check out our 2021 release list to plan your horror movies for next year.
This poll is no longer available.
Corey was born and raised in New Jersey. Double majored in theater and literature during undergrad. After working in administrative theater for a year in New York, he started as the Weekend Editor at CinemaBend. He's since been able to work himself up to reviews, phoners, and press junkets-- and is now able to appear on camera with some of his famous actors... just not as he would have predicted as a kid.
Your Daily Blend of Entertainment News
Thank you for signing up to CinemaBlend. You will receive a verification email shortly.
There was a problem. Please refresh the page and try again.