Bob Newhart's Hilarious Idea For Who Should Play Him In A Biopic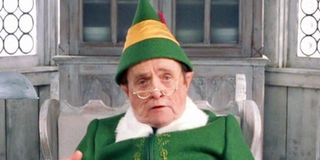 Bob Newhart is a living legend, both comedic and otherwise He has been a regular face in Hollywood since the 60's. That's right, I said the 60's. That is three whole decades. Bob Newhart has been in show business 10+ years longer than the rubik's cube and the cell phone have been in existence. Newhart's career pre-dated and outlived the floppy disk. Show a kid an Atari and get nothing but confusion, but show them a picture of Newhart and they'll scream, "Papa Elf!"
Bob Newhart, proven comedic genius, is well in range for a movie to be made in his honor. Not only would it make for an interesting film, but it would be bound to contain some comedy gold. In fact, when The Hollywood Reporter asked Bob Newhart who he'd like to see play himself in said movie, he had an amazingly hilarious response:
Dwayne "The Rock" Johnson, are you kidding me? That might just be crazy enough to work. It wouldn't be the first time The Rock had a crazy role reversal, and we know he can pull off Newhart's signature deadpan comedy style.
If anyone still living in Hollywood deserves a biopic, it's Bob Newhart, and if he wants The Rock, well we should give him The Rock! He is one of the longest working actors that is still in a major mainstream television series. His deadpan approach to comedy is timeless, and is possibly what has helped him stay relevant all these years. That, plus the connections he has made and maintained through his career and an impressive bill of health.
If you have kept up with interviews he has given and statements he has made over the years about his personal life and projects he has been a part of, it's easy to see that Bob Newhart has a very childlike wonder. If a project peaks his interest or if he finds something to be funny, he wants to be a part of it. He knows a good idea when he sees it, which is why I do declare The Rock playing him in a biopic a GOOD idea.
Not only would I pay to see this ten times over, but I'm actually going to have to insist. That is, if it fits into Dwayne Johnson's insane schedule. Seeing as though Johnson has all but taken over the movie release schedule pre-COVID and once the ball starts rolling on releases again, it only seems fitting that he adds one more to his resume.
Keep checking back with Cinemablend for upcoming movie releases, and here's to hoping we may see a Bob Newhart biopic starring the versatile Dwayne Johnson grace our screens too. Fingers Crossed.
Constantly thinking about books, coffee, and the existential dread I feel from Bo Burnham's Inside. While writing I'm also raising a chaotic toddler, who may or may not have picked up personality traits from watching one too many episodes of Trailer Park Boys.
Your Daily Blend of Entertainment News
Thank you for signing up to CinemaBlend. You will receive a verification email shortly.
There was a problem. Please refresh the page and try again.