A Plea To Put Paul Giamatti's Rhino In MCU's Spider-Man 3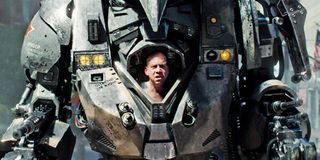 I'm not a begging man. I try to value whatever I get in life, even (or especially) the little things. While 2014's The Amazing Spider-Man 2 was an epic boondoggle blockbuster with few-to-zero redeeming values, director Marc Webb's unspectacular Spider-Man flop did have a few good things that I appreciated, including Andrew Garfield and Emma Stone's returning chemistry, Dan Mindel's sharp cinematography, and, most especially, an immensely inspired villainous turn from acclaimed actor Paul Giamatti as The Rhino.
The latter was among the movie's biggest and best surprises, particularly as it was so entertaining to see the esteemed performer cut loose and have fun hamming it up in this numskull adversary role. But while we were promised the character's silver screen return in The Amazing Spider-Man 3, that proposed sequel never came to pass, thus robbing us the chance to see Paul Giamatti really go wild as this animalistic antagonist.
But with MCU's Spider-Man 3 (allegedly) set to feature Spider-Man 2's Doc Ock and The Amazing Spider-Man 2's Electro, among other rumored reprisals, producer Kevin Feige should seriously consider putting this goofy bad guy in this much-anticipated Spider-Man sequel. Here are a few humble reasons why I plea for Paul Giamatti's The Rhino to finally return in Marvel's third attempt to make Spider-Man 3.
With Seemingly Every Other Spider-Man Villain Returning, Why Not Paul Giamatti's Rhino?
In early October, we learned the shocking news that Jamie Foxx would (reportedly) reprise his role as Electro in MCU's Spider-Man 3. Certainly, this news was met with both surprise and confusion, notably as it would (possibly) combine two Spider-Man universes into one.
Granted, when this casting update was announced, Disney made no implication that Foxx's Electro return would be a continuation of the one he provided in The Amazing Spider-Man 2. But when it was later announced that Alfred Molina would also return as Doc Ock, the villain he first played in 2004's Spider-Man 2, along with the possibility of Andrew Garfield and Tobey Maguire returning, there was reason to believe that the MCU's Spider-Man 3 would be a multi-universe event — not unlike Spider-Man: Into the Spider-Verse.
With Benedict Cumberbatch also set to play Doctor Strange, there's a very real chance we'll be seeing various stars from other Spider-Man movies joining forces for this movie extravaganza. If all these actors can appear, why not Paul Giamatti's The Rhino?
It Would Help Give The Amazing Spider-Man Franchise Some Closure
It's no secret that Sony had high hopes for the future of The Amazing Spider-Man franchise. In addition to paving the way for a new Spider-Man trilogy, the studio executives were hoping to build up to spin-offs for The Sinister Six and a number of other animated personalities seen throughout Spidey's comic book pages, including Black Cat. It's easy to see how they wanted to compete with the ever-expanding MCU and give the Disney-owned company a run for their money (and their well-oiled money-making machine). Alas, that didn't pan out when Amazing Spider-Man 2 underperformed both critically and commercially, thus dashing Sony's Amazing Spider-Man 3 hopes and later resulting in their MCU arrangement.
The Amazing Spider-Man 2 left audiences dangling as the sequel ends with an abrupt cliffhanger, which was clearly teasing a few more installments. Alas, this woebegone superhero franchise never properly concluded its story, for better or worse. But now the MCU has a chance to give The Amazing Spider-Man 2 and, consequently, The Rhino some closure with this forthcoming sequel.
The Rhino Was Supposed To Play A Bigger Role In The Amazing Spider-Man 3
As we noted above, The Rhino's storyline was left dangling in The Amazing Spider-Man 2 by a cliffhanger that didn't properly resolve his ongoing battle with that pesky Spider-Man. While this hasty ending is ultimately meant to signify Peter Parker's ability to gradually overcome the grief of Gwen Stacy's devastating loss, as he continues fighting baddies inside the web-shooter costume, the 2014 blockbuster's finale viciously teased the snarling feud between The Rhino and Spidey. They were finally set to go toe-to-toe in this climactic sequence... before those bothersome end credits got in the way.
In an interview, Paul Giamatti admitted (via ScreenRant) that he would've reprised the role of The Rhino in The Amazing Spider-Man 3, but that movie never came to pass. While he wasn't supposed to play the main antagonist in this threequel, the actor could've played a more prominent part in this unmade movie, leaving this character arc unfulfilled. If Marvel is already inviting Electro into the MCU mix, why not The Rhino?
Paul Giamatti Loves Playing The Part, It Was (Indirectly) The Actor's Idea To Be Involved In The First Place
Believe it or not, Paul Giamatti was actually the one who came up with the idea of putting The Rhino in The Amazing Spider-Man 2, albeit indirectly. As he admitted during a promotional interview for 2014's ill-fated superhero blockbuster, the actor was asked during a talk show interview which character he'd play if he could appear in one of these movies. Giamatti jokingly retorted, "The Rhino," which "nobody even knew" who that was. But director Marc Webb saw that interview and quickly reached out to the Oscar-nominated thespian to see if he'd actually consider playing The Rhino. It didn't take long for Giamatti to say yes, and he wound up playing the brute bad guy in Webb's Spidey sequel.
As Paul Giamatti noted, he was only meant to be a "colorful bookend," but the prestige actor clearly had a ball letting loose and having fun. One imagines that he'd also be down to return to The Rhino in Spider-Man 3.
As One Of The Highlights Of The Amazing Spider-Man 2, It Would Be A Ton Of Fun To See Paul Giamatti's Rhino In The MCU
The Amazing Spider-Man 2 is, frankly, a mess. Even by bloated superhero movie standards, Marc Webb's super-overloaded sequel is overwhelmed by an influx of characters, plot threads, and a barrage of Sony notes demanding any number of additions to this overworked film. For as much as people give Spider-Man 3 guff, this overburdened blockbuster is even more overloaded with story beats and efforts to build Sony's franchise aspirations. But amid the rumble, there were a few gems found. One such gem is Paul Giamatti's goofy, zestful The Rhino, which allows the Oscar-nominated actor to go wild and unleash some beastly instincts to fun, kooky results.
While some critics also found his performance too over-the-top, Giamatti was one of the few actors who knew exactly what he was doing in this inconsistent flick and charged into it full speed ahead. How delightful it'd be, then, to see him get his proper due in MCU's newest Spider-Man sequel.
It Would Add To The Wackiness Of This Multiverse Premise... Assuming That's What Happening
Granted, as we have already noted above, the multiverse theory for MCU's Spider-Man 3 is presently just that: a theory. We can only assume that's what's happening, based on the actors reportedly signed on to reprise their famous Spider-Man roles, along with Benedict Cumberbatch on-board not long as he establishes The Multiverse of Madness in his own sequel. But if that's what's happening, MCU should fully indulge the wackiness of this premise. Especially if they want to avoid an abundance of comparisons to Into the Spider-Verse, they should make this Spider-Man movie as extravagantly absurd as can (hopefully) be. What better way to do that than to reintroduce Paul Giamatti's undervalued The Rhino into the mix?
Even by Spider-Man standards, The Rhino was a boisterous, outsized personality that proved how weird Spider-Man's world can be. His presence was a high point in The Amazing Spider-Man 2, and he can be a highlight of MCU's Spider-Man 3, too... if given a chance.
Do you want Paul Giamatti's The Rhino to make an appearance in MCU's Spider-Man 3? Or would you rather he stay put in his own universe? Let us know what you think in the comment section below!
Will is an entertainment writer based in Pittsburgh, PA. His writing can also be found in The Playlist, Cut Print Film, We Got This Covered, The Young Folks, Slate and other outlets. He also co-hosts the weekly film/TV podcast Cinemaholics with Jon Negroni and he likes to think he's a professional Garfield enthusiast.