Disney+'s Soul Has A Savage NBA Joke, And The Internet Has Thoughts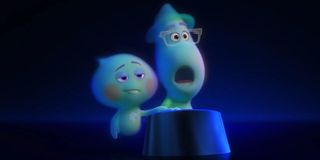 Pixar's Soul has been delighting audiences thus far, with many praising the film for its animation, voice acting, music and heart. Of course, it wouldn't be a true Pixar film if it didn't have a little bit of humor. The film lands a few nice jokes, some that are even laugh-out-loud worthy. However, Soul's best joke may be one that's made at the expense of an iconic NBA team. A number of sports fans are now watching the film and catching the joke. With this, many of them are taking to the internet to share their thoughts on the savage jab.
In Soul, viewers are introduced to "the zone," a place where people go when they become so consumed in their passions that they enter an almost euphoric-like state. The mischievous 22 shows newcomer Joe how souls can affect these people by using a few examples. And in one such instance, 22 points to a basketball player going in for a dunk, and the cheeky character says she's been messing with this team for years before throwing a sandball at the player that causes him to miss the dunk. On Earth, it's revealed that the player is a member of the New York Knicks, which is a playful jab at the team's performance over the last several years.
As a sports fan, you can't help but notice the joke, especially since it's so perfectly placed. And it appears some viewers got a kick out of it:
Such a great joke naturally leads to more jokes. Some users couldn't help but keep the basketball theme going while giving their thoughts on Soul's pun:
Of course, Knicks fans were bound to watch the film or find out about the joke on social media. Needless to say, many of them did not take too kindly to Pixar making a joke at their team's expense:
It's never easy to see your favorite team doing poorly, and it's even harder to see them made fun of in some form of pop culture. With that in mind, some are really feeling the joke on a visceral level:
Despite the joke, Soul (which is set in New York) did honor just how important the team is to the city and its culture. This was done through subtle nods throughout the movie:
Soul had fun playing with a number of real people and public entities, but it was more than clear that it was all in fun. If anything, the joke was a way for the film to connect with New Yorkers who were watching it.
There's a lot to love about Soul, and that Knicks joke is definitely one of them. Most sports fans know that the NBA season is just starting up, so let's hope no one else tries to disrupt the players while they're in "the zone."
Soul is now available to stream on Disney+.
Your Daily Blend of Entertainment News
Covering superheroes, sci-fi, comedy, and almost anything else in film and TV. I eat more pizza than the Teenage Mutant Ninja Turtles.