Kevin Hart Says New Movie 'Kicked' His Butt As Production Wraps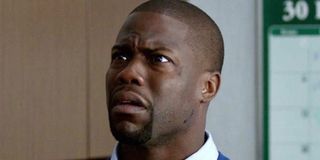 Kevin Hart is one of the hardest-working actors in Hollywood. So when he announced that working on his recently wrapped film, The Man From Toronto, kicked his butt, it may have taken fans by surprise. It turns out the actor had a lot more to say about what life was like on the set of the film -- and it could help explain why the production was a challenge.
The Man From Toronto was originally scheduled to film earlier this year with an intended release date in November 2020. Obviously, that didn't happen, due to the COVID-19 pandemic shutting down film and TV sets all over the world. The cast and crew were eventually able to convene in the film's titular city and quickly make the movie. As production wound down, Kevin Hart took to Instagram to share just how grueling the shoot was:
As he said in his post, the exhaustion Kevin Hart felt came from the intense shooting schedule. With this, it sound like the actor mastered a new skill:
Unfortunately, Kevin Hart didn't share his power napping tips. He did share another post on Instagram, this time a video, that went into more depth about the production. The actor makes it perfectly clear that he's very grateful for the hard work everyone on set put in to make The Man From Toronto happen:
He also name-dropped the film's director, Patrick Hughes, his co-star Woody Harrelson, and listed off the many types of crew members that gave their time and energy, from grips to on-set nurses. You have to love the fact that he took time to show love to his colleagues.
Kevin Hart's sleepy instagram post wasn't the first glimpse he gave us of the realities of filming The Man From Toronto. Earlier this month, he shared an update on set during an outdoor scene shoot where he admitted he was "cold as f*."
If you needed any more proof that being a Hollywood star isn't always glamorous, Kevin Hart probably has some more tidbits from the Man From Toronto set to help convince you. The Man From Toronto is now scheduled to be released on September 17th, 2021.
Your Daily Blend of Entertainment News