The 10 Best Kevin Hart Movies, Ranked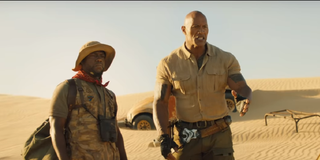 One of the new kings of comedy, Kevin Hart, has gone from stand-up comedian to full-fledged movie star. He often uses his comedic talents to bring bold characters to life on the big screen. Kevin Hart movies keep viewers laughing, returning to see sequels, and flocking to his new projects.
In December, Kevin Hart returns to the world of Jumanji with co-stars Karen Gillan, Dwayne "The Rock" Johnson, Jack Black, and Nick Jonas. Jumanji: The Next Level is sure to be a hit for Kevin Hart. The success of Jumanji and other Kevin Hart movies shows that viewers will repeatedly pay to watch him deliver energetic comedic performances. We selected the Kevin Hart movies on this list based on the criteria that he was either the lead or one of the main supporting characters. We also ranked them based on Hart's performance, and the movie's overall entertainment factor.
10. Get Hard
Kevin Hart and Will Ferrell join forces in Get Hard. This 2015 comedy is all about the over-the-top antics that their characters go through to prepare for prison. The FBI falsely arrests James (Will Ferrell) for fraud and embezzlement, allowing him 30 days to prepare for ten years in prison. He hires Darnell (Kevin Hart) to give him a crash course on how to "get hard" for prison life. Darnell knows nothing about prison life because he's never been there, but he fakes it to ensure that James pays him $30,000 for teaching him how to survive prison.
Kevin Hart and Will Ferrell are two of the funniest actors and comedians working today, so Get Hard should have been a comedy classic, but sadly, the movie relies too much on prison stereotypes for laughs. Get Hard just never quite lives up to its potential, and Ferrell and Hart's talents feel a little underutilized in this movie.
9. Central Intelligence
Central Intelligence teams up Dwayne Johnson and Kevin Hart in the first of their film projects together. In this one, Johnson plays Robbie, a former high school outcast who has now become a CIA agent, while Hart plays Calvin, a former popular high school student who finds himself unfulfilled in his life. The two reunite and work together on a dangerous secret mission.
The two actors have great onscreen chemistry, and clearly enjoy working together, but Central Intelligence falls flat on many of its comedic elements. It's an okay film, but Hart and Johnson excel together better in some of their other projects.
8. Night School
In 2018, Universal Pictures released Night School, starring Tiffany Haddish and Kevin Hart. Hart plays Teddy Walker, a man who returns to school to get his GED so that he can obtain a job at a financial investment firm. Tiffany Haddish plays his night school teacher Carrie. She really cares about her students' success, so she may use a few unusual teaching tactics.
Mainly, Night School is about a bunch of wacky characters coming together to get their GED, and the love story between Teddy and his fiancée, Lisa (Megalyn Echikunwoke). Teddy and Lisa's romance is one of the most interesting parts of Night School -- it's easy to root for them. Tiffany Haddish and Kevin Hart have both had success playing outrageous characters, so Night School might have been a bit funnier seeing them both play unconventional characters, especially to see how they played off each other's comedic energy as those characters.
7. The Upside
Bryan Cranston and Kevin Hart star in The Upside. In The Upside, Hart plays Dell Scott, a man recently released from prison who looks for work to keep his parole officer happy. Cranston plays Philip Lacasse, a quadriplegic looking for an in-home caregiver. Nicole Kidman plays Yvonne Pendleton, Philip's personal assistant. The film is based on the real life of French businessman Philippe Pozzo di Borgo. The Upside is also a remake of the French film The Intouchables.
By design, The Upside is an inspirational movie about overcoming obstacles, and about two men bonding over their misfortunes, while learning and growing from each other. It's not the most innovative idea or concept, and both Bryan Cranston and Kevin Hart have given stronger performances in other roles, but the film delivers enough feel-good inspiration to work. The Upside also seamlessly blends drama and comedy -- with quite a few scenes that deliver funny moments, and other ones that produce intense drama.
6. The Secret Life of Pets
The Secret Life of Pets is like Toy Story but with cute -- but possibly psychotic -- pets. The movie shows viewers what happens when humans leave and pets are left to their own devices. The Secret Life of Pets has an ensemble cast that includes voice-overs by Louis C.K, Eric Stonestreet, Jenny Slate, Kevin Hart, and Dana Carvey. In The Secret Life of Pets, Hart plays Snowball, a white rabbit.
Secret Life of Pets is a PG rated family movie, so it is a lot more family friendly than Kevin Hart's normal films, but it's a very different role for him. Snowball is the antagonist in this animated film, and Hart plays the villain role very well. The Secret Life of Pets is one of the few films where Hart is allowed to use his animated voice and nature in a menace way. Kevin Hart not only plays a great villain in Secret Life of Pets, but the film overall is fun to watch for viewers of all ages.
5. The Wedding Ringer
Kevin Hart plays a professional best man in The Wedding Ringer. Realizing that he has no friends, Doug Harris (Josh Gad) hires Jimmy Callahan (Kevin Hart) to pretend to be his best friend, and to find him some groomsmen for his upcoming wedding.
The Wedding Ringer is part buddy adventure film, part a male version of Bridesmaids. Josh Gad and Kevin Hart's opposite comedic styling works really well in this film, and all the groomsmen, especially Alan Ritchson's Kip, deliver in their supporting roles. The Wedding Ringer isn't a revolutionary bromance-comedy adventure movie, but it is a very fun one. Gad and Hart are very enjoyable to watch together in Wedding Ringer.
4. Think Like A Man
Kevin Hart joins an ensemble cast in this romantic comedy based on the best-selling dating advice book by Steve Harvey. Think Like a Man follows several couples as they try to keep their romance going, despite some complications. The women in these relationships use Steve Harvey's book Act Like a Lady, Think Like a Man for guidance.
In Think Like a Man, Kevin Hart's character Cedric is mainly used as the comic relief throughout the movie. He acts as a narrator and constantly talks about his ex-wife Gail (Wendy Williams), despite pretending that he's happy about being single. The ensemble cast all fit their roles, but Kevin Hart is one of the most standout characters in Think Like a Man: He has some of the most memorable lines and moments in the movie.
3. Ride Along
Ride Along is a buddy cop comedy about a cop in training (Kevin Hart) teaming up with his future brother-in-law (Ice Cube) to prove himself as a cop and as a man. Ride Along also includes supporting roles by John Leguizamo, Tika Sumpter, and Laurence Fishburne.
Buddy cop comedies work best when two polar opposites are paired together, and Kevin Hart and Ice Cube expertly deliver this odd couple duo. Ride Along has been such a box office success because viewers love watching Ice Cube's tough persona paired with Kevin Hart's lively comedic persona. The star power of Hart and Cube has turned Ride Along into a franchise film with at least three movies in the series.
2. About Last Night
Kevin Hart takes on one of his few romantic comedy roles in About Last Night. The film follows two new couples as they deal with the difficulties of falling in and out of love. Michael Ealy and Joy Bryant play one pair, Danny and Debbie, while Kevin Hart and Regina Hall play the other couple, Bernie and Joan.
Regina Hall and Kevin Hart get to play the extreme, loud, and crazy couple compared to Michael Ealy and Joy Bryant's more practical couple. About Last Night works so well because of the dynamic between Hall and Hart. It's almost a shame that these two aren't paired together in more movies, because in this film, they deliver hilarious performances in every scene together. The way Kevin Hart and Regina King play off each other in About Last Night almost feels like it's all improvised. They see what one does and tries to match the other with enthusiasm and comic prowess. It's really a joy to watch these two together in About Last Night.
1. Jumanji: Welcome To The Jungle
Jumanji: Welcome to the Jungle continues the story of 1995's Jumanji starring Robin Williams. In the 2017 Jumanji , four friends are transported inside of an old video game. They must overcome obstacles, and their game weaknesses, to reach the last level, thus freeing them from being in the Jumanji game.
Jumanji : Welcome to the Jungle works so well because it doesn't try to recreate the original movie, but creates a modern concept of the Jumanji world and game. The cast, Kevin Hart, Jack Black, Dwayne Johnson, Nick Jonas, and Karen Gillan, also completely embrace the silliness behind the concept, creating a fun, action blockbuster. Kevin Hart also hits all the right comedic notes in Jumanji: Welcome to the Jungle, as well as showcasing even more why he and Dwayne Johnson are becoming a dynamic duo.
Based on the trailer, the sequel Jumanji: Next Level looks even funnier than Jumanji: Welcome to the Jungle. If the next Jumanji sequel turns out even better than the previous one, then this could be a Kevin Hart movie franchise that continues on for many years to come. Catch Kevin Hart and the rest of the Jumanji: Next Level cast in theaters on December 13.
Your Daily Blend of Entertainment News
Spent most of my life in various parts of Illinois, including attending college in Evanston. I have been a life long lover of pop culture, especially television, turned that passion into writing about all things entertainment related. When I'm not writing about pop culture, I can be found channeling Gordon Ramsay by kicking people out the kitchen.
Your Daily Blend of Entertainment News
Thank you for signing up to CinemaBlend. You will receive a verification email shortly.
There was a problem. Please refresh the page and try again.