Enter For A Chance To Win CinemaBlend's Love and Monsters Kit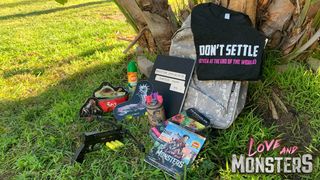 To celebrate the release of Love and Monsters on 4K Ultra HD, Blu-ray, and DVD on January 5th, 2021, we're giving away an awesome Love and Monsters kit to one lucky winner. The kit includes a copy of the film, colored pencils, a custom Monster Apocalypse Survival Guide designed to look like Joel's book from the film and showcasing the director's monster sketches on the first page, a can of bug spray, a custom t-shirt, a target practice game consisting of a toy crossbow and cutouts of monsters from the film, a custom water bowl for dogs, and a can of Minestrone soup with a custom "Joel's Minestrone" label.
The giveaway ends on January 12th, 2021 at 11:59 pm CT. Just fill out the form below to enter.
Official Rules: Just fill out the form above. The sweepstakes ends at 11:59 pm CT on January 12th, 2021. The winner is chosen at random and will be notified via email. Only U.S. residents over the age of 18 may apply. No purchase necessary. Participants can be disqualified for any reason. Failure to comply with the rules will result in disqualification and subsequent mockery. Any shipping issues are not the responsibility of CinemaBlend. Good luck!
Your Daily Blend of Entertainment News
Thank you for signing up to CinemaBlend. You will receive a verification email shortly.
There was a problem. Please refresh the page and try again.