That Time Tim Allen Dropped An F-Bomb In Front Of Kids On The Santa Clause 2 Set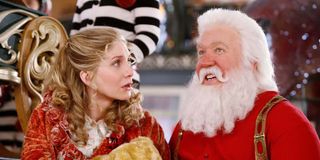 Tim Allen has a knack for taking on movies and TV shows that appeal to kids -- even though his own personal brand of humor can veer into more adult subject matter. If you grew up watching movies like The Santa Clause, the image of him dressed as jolly, old Saint Nick is probably forever ingrained in your mind. That was also the case for a lot of the kid actors who appeared alongside him in that film franchise -- except they also might be a little bit scarred for life, since he dropped an F-bomb in front of many of them while filming The Santa Clause 2.
In The Santa Clause series, Tim Allen played Scott Calvin, a man who has to become the legendary Christmas deliveryman in order to convince his family about the importance of Christmas. In the 2002 sequel, he learns he must marry before Christmas Eve or he'll return to being Scott Calvin forever.
It's a lighthearted story with a message that definitely resonates for the holiday. But Tim Allen recently appeared on The Kelly Clarkson Show and told the host that when he was filming The Santa Clause 2, he got a little bit frustrated with his working conditions -- which led to a not-so family friendly moment on set:
This outburst led the Disney officials to step in to tell the kids and parents that the word Allen said was actually another way of saying "holiday trim," which they couldn't exactly sell Still, it seems Allen quickly learned the error of his ways:
On the one hand, it's not like Tim Allen is the first actor to ever fly off the handle while wearing a Santa Clause costume -- but usually, Santa being deranged is the point of the movie, so it's understandable why that would shake the actors on set up a little bit.
It's a little ironic that Tim Allen struggled a bit with navigating a movie set full of kids, considering how many of his most well-known roles -- like Toy Story and Home Improvement -- are kid-friendly. At least he wasn't dressed up like Buzz Lightyear -- it might be even more traumatizing to hear the famed space ranger cursing.
Your Daily Blend of Entertainment News