Pixar's Lightyear: 7 Questions We Have About The Toy Story Spinoff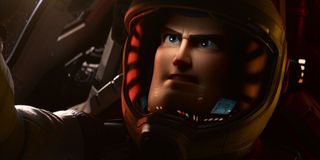 With the current announcements recently about all the new shows and movies that will be coming to Disney in the next couple of years, one stood out to fans the most. And that was the announcement of Lightyear, a movie that will be a spinoff about Buzz Lightyear – but not the toy, the actual human character that the toy is based on.
While this news does seem a bit out of the ordinary – I mean, all we currently know about Buzz if that he's a popular action figure that kids loved to get and probably broke the bank when the toy first came out – it's not strange for an idea of this to come forward. With new series coming out that are also based on popular Disney characters such as Moana and Tiana, it was only a matter of time before Pixar jumped on that boat as well and decided to give other characters the time to shine more.
But what exactly is this movie going to be about? What is going to be happening that will make this worth the watch? It's Pixar, so it's bound to be good and probably make audiences cry but we know Buzz Lightyear – what else do we not know? We explore those possibilities in this article right here.
What Is The Plot of Lightyear?
The movie is slated to release on June 17, 2022, and while we do know that the story will be about the human (or hero, as Pixar stated he would be called) who inspired the toy and his origin story to becoming a Space Ranger, we don't exactly know what else is going to be included. Will there be other popular figures that become toys? If they do, why didn't we see them at all in the Toy Story movies? Are they going to be running into aliens or something like that? Because there were video games in the Toy Story movies that showed Buzz facing off against those kinds of things. Or was all of that purely fictional in their world?
It's definitely going to be interesting to see the different take on Lightyear's life as we know it, but it'll show that Pixar is creative, that is for sure. I just hope Chris Evans can bring some of that awesome Tim Allen voice action that we've been delivered for so long.
Is Zurg The Villain And If So, Who's Voicing Him?
If you don't know who Zurg is, you aren't a true Toy Story fan. He's the main nemesis of Buzz Lightyear, the villain of which he must defeat to save the galaxy. But, knowing that he's a big part of Buzz's backstory, based on the toy Buzz's references to him, is he going to be the primary threat in this movie? This is Buzz's origin story so I'm not entirely sure if Zurg would show up for that, but considering he is Buzz's arch-nemesis, it would be surprising if he didn't. And if Zurg is in this movie, who might voice him? I can already see a plethora of different options out there.
Who Are The Supporting Characters?
From the Toy Story movies, we as fans never really hear about other characters that are related to Buzz Lightyear besides Zurg, and while we don't know if he will be making an appearance in the upcoming film, there are other characters that I'm not sure who will show up as well. Obviously, Buzz is the main character, but who's going to be his second-in-command? Or his spaceship pilot? Or maybe his mentor? Lightyear will be Buzz's origin story but we really don't know much about who he is or what he has done, so there's a lot of questions in the air as to who made Buzz Lightyear the man he is today.
Will Buzz Lightyear Of Star Command Be Factored Into The Plot?
Did you know there was a Buzz Lightyear TV series? Apparently so.
Buzz Lightyear of Star Command was a TV show that premiered in 2000 and ran for 65 episodes, which was preceded by Buzz Lightyear of Star Command: The Adventure Begins that featured the show's first three episodes in a direct-to-video DVD. In that series, there are multiple other characters that are shown, including Princess Mira Nova, an heir to a throne and a rookie ranger, as well as Buzz's second-in-command. There's Booster Sinclair Munchapper, a dinosaur-like janitor from the planet of Jo-ad, who is a superfan of Buzz Lightyear.
And there are plenty of adventures that these folks go on together. Is that going to be included in this film at all? Are we going to get any of their backstories? Or is this series going to be completely disregarded and left to the side as one of those early 2000's movies people don't really talk about? It seems that it was interesting enough to be nominated for a Daytime Emmy Award (albeit for Outstanding Sound Editing, but still), but at the same time, it's fun to think of what could come from these mostly unknown characters.
Will Tim Allen Make An Appearance?
We can't have a Toy Story article without a mention of Tim Allen, the man behind the voice of Buzz Lightyear since the very first Toy Story back in 1995. But there's no news if he will actually be making a cameo in this upcoming film. Chris Evans has been cast as the young Buzz Lightyear and that has been confirmed, so there's no mention if Tim Allen will make a cameo in some form. But it would be nice if he did make a little bit of an appearance considering most fans of the movies know his voice.
One thing is for sure, it will be strange to hear Evans' voice over Allen's.
Will Any Other Toy Story Characters Factor In Or Make An Appearance Somehow?
I honestly can't think of a way they could incorporate other Toy Story characters into Lightyear, considering this is based on the human that the toy comes from, but it's fun to imagine that Buzz might see a cameo of one or more of them at some point, if the opportunity arose to work it in. Maybe there will be a commercial for Woody's Roundup shown on a TV screen in the movie or an ad for a Mr. Potato Head. That would be a nice little easter egg for people who have seen all the movies and might want to see a little bit of a reminder of their favorite cowboy.
Is Pixar Hoping To Make This A New Franchise?
I really don't know how they could turn this into a franchise like Toy Story, and this is me fully theorizing right now. If this is an origin story, that's nice and all, but what exactly are they going to do with the rest of the information that has been told to the viewers through the Toy Story movies and the TV show? I could see them trying to make the fantastical things that Buzz Lightyear encountered into a more human-esque way of doing so, but that might take away the fun of the original toy and the magic that came along with it. While a new sci-fi franchise would be fun to see, it might be too soon to say how Lightyear will translate to people who are used to the toy's version of events. Even so, it'll probably still be a fun movie to watch, regardless. And Toy Story did get four movies, so maybe Lightyear will have a long future at Pixar as well.
Are you excited for Lightyear? Is it going to make viewers cry as every Pixar movie has done thus far?What are your theories?
Big nerd and lover of Game of Thrones/A Song of Ice and Fire. Will forever hate season eight. Superhero and horror geek. And please don't debate me on The Last of Us 2, it was amazing!
Your Daily Blend of Entertainment News
Thank you for signing up to CinemaBlend. You will receive a verification email shortly.
There was a problem. Please refresh the page and try again.