What Tim Allen And The Rest Of The Santa Clause Cast Are Up To Now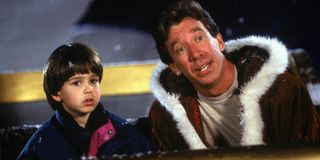 Throughout the past two decades, 1994's The Santa Clause has become a staple of the holiday season. Starring Tim Allen as an ordinary, down-on-his-luck businessman and father who finds himself in an odd series of circumstances when his actions accidentally lead to Santa Claus' death and he assumes Santa's identity. This trilogy starter didn't receive the warmest reviews from critics but it has become an endearing favorite, later resulting in 2002's sequel, The Santa Clause 2, and 2006's follow-up, The Santa Clause 3: The Escape Clause.
As the holidays draw near, movie theaters and drive-in theaters across the country have been hosting screenings of this Disney Christmas movie to welcome in an irregular holiday season. If you've recently rewatched the movie, either through these showings or on Disney+, and you're now curious as to what the cast is doing now, we're here to help. Here's what the cast of Disney's The Santa Clause is up to now.
Tim Allen (Scott Calvin/Santa Claus)
Eventually adopting the red suit and the white beard, Tim Allen plays Scott Calvin, a disgruntled businessman who accidentally kills Santa Claus and assumes his mystical identity, in Disney's holiday franchise-starter, The Santa Clause. Developed as a starting vehicle for the comedian, who gained a wide audience through his popular ABC sitcom, Home Improvement, this 1994 movie would become one of the actor's most well-known roles, outside of voicing Buzz Lightyear in the Toy Story movies. In addition to these titles, Allen is known for Jungle 2 Jungle, Galaxy Quest, Wild Hogs, For Richer or Poorer, and Big Trouble, as well as 2006's The Shaggy Dog, Redbelt, and Christmas with the Kranks, another holiday film. Additionally, since 2011, Tim Allen has front-lined ABC/Fox's family sitcom, Last Man Standing, which will end its run after its upcoming ninth season.
Tim Allen's other film credits include Crazy on the Outside, which he also directed, El Camino Christmas, Zoom, Joe Somebody, 3 Geezers!, and The Six Wives of Henry Lefay. Next, he'll reunite with Richard Karn for Assembly Required.
Eric Lloyd (Charlie Calvin)
Through the role of Charlie Calvin, Scott's wide-eyed son who helps his father remember the reason for the season in the midst of his not-so-holly-jolly transformation, Eric Lloyd made quite an impression in The Santa Clause. The former child actor would reprise this role in 2002's The Santa Clause and 2006's The Santa Clause 3: The Escape Clause. Prior to his involvement in this Disney film franchise, Lloyd starred in Hearts and Souls and Greedy. He was also seen in Laurie Hill.
Additionally, between the first and second installments of The Santa Clause series, Eric Lloyd starred in Dunston Checks In, Batman & Robin, My Giant, and Deconstructing Harry. Lloyd was also heard in The Brave Little Toaster to the Rescue and its follow-up, The Brave Little Toaster Goes to Mars. He also starred in the short-lived NBC series, Jesse, and he did voice work for The Oz Kids.
After the third and final installment in The Santa Clause franchise, Eric Lloyd's acting career has settled down. He briefly starred in 2011's ChromeSkull: Laid to Rest 2. He also appeared in two episodes of About Abby and the miniseries, True Perfection. Most recently, Lloyd starred in the TV short, Weedland, in 2017. Next, the actor stars in the forthcoming drama, The Onyx of Wall Street.
Wendy Crewson (Laura Miller)
In the role of Laura Miller, Scott's ex-wife and Calvin's mother, Wendy Crewson is a prominent player in The Santa Clause. In addition to her work in this holiday trilogy, Crewson is known for movies like Air Force One, Room, Away From Her, Eight Below, and What Lies Beneath. Also, she's known for The Good Son, Bicentennial Man, The 6th Day, Suddenly Naked, and Perfect Pie, as well as Corrina, Corrina, The Covenant, On the Basis of Sex, and Better Than Chocolate. Additionally, on television, Crewson starred in the CTV medical series, Saving Hope, for which she won a Canadian Screen Award, while she also had recurring roles in 24, Revenge, and Frankie Drake Mysteries.
Most recently, Wendy Crewson plays a recurring role in Hallmark Channel's When Hope Calls and she played a main role in Netflix's short-lived October Faction from earlier this year. Additionally, Crewson appeared in The Nest and The Kid Detective.
Judge Reinhold (Dr. Neal Miller)
As Dr. Neal Miller, Laura's second husband and Calvin's step-father, Judge Reinhold isn't on the best terms with our protagonist in The Santa Clause. Outside of this franchise-starter, Reinhold is also known for his appearances in the Beverly Hills Cop trilogy. His other notable film credits include Fast Times at Ridgemont High, Gremlins, Ruthless People, Stripes, and Beethoven's 3rd and 4th. Additionally, on television, Reinhold is Emmy-nominated for his appearances on Seinfeld, and he also made prominent appearances in Arrested Development, Ellen, The Detour, and Magnum, P.I.
Most recently, Judge Reinhold was seen in a trio of 2017 movies: Highly Functional, Bad Grandmas, and Four Christmases and a Wedding.
David Krumholtz (Bernard the Head Elf)
In the role of Bernard the Head Elf, David Krumholtz plays a dutifully informative supporting character in The Santa Clause. Outside of this role, which he reprised in The Santa Clause 2, Krumholtz is best known for CBS's Numb3rs and HBO's The Deuce. He also starred in the Harold & Kumar trilogy. Additionally, Krumholtz appeared in Slums of Beverly Hills, The Ice Storm, 10 Things I Hate About You, The Mexican, Addams Family Values, and Ray. He also starred in Bobby, Superbad, Hail, Caesar!, A Futile and Stupid Gesture, The Judge, and The Ballad of Buster Scruggs.
His other television credits include The Good Wife, Mom, The Newsroom, Partners, Undeclared, Freaks & Geeks, and The Playboy Club, as well as Raising Hope, ER, The Closer, The League, Partners, and Monty. Recently, David Krumholtz starred in Crown Vic and Asking For It, as well as HBO's mini-series, The Plot Against America. Next, he'll star in USA Network's Evel, based on Evel Knievel's life, alongside Milo Ventimiglia in the title role.
Paige Tamada (Judy the Elf)
As Judy the Elf, Paige Tamada played an adorable character in The Santa Clause. This film role is quite easily her most recognizable, though she also appeared in episodes of The Fresh Prince of Bel-Air, Seinfeld, Evening Shade, Hearts Afire, and Full House. Additionally, she appeared in an episode of Tim Allen's own Home Improvement. Tamada's other film credits include Milo and Mad City. She was last seen in a 1999 episode of Ally McBeal.
Larry Brandenburg (Detective Nunzio)
Playing the part of Detective Nunzio, Larry Brandenburg plays a minor role in The Santa Clause. A veteran actor with several credits to his name, Brandenburg's most well-known for The Untouchables, Fargo, and The Shawshank Redemption, as well as Fear and Loathing in Las Vegas, Mighty Joe Young, and Major League: Back to the Minors. Also, he can be seen in episodes of Ally McBeal, The Drew Carey Show, Cheers, and Quantum Leap. He was last seen in The Last Harbor and a 2010 episode of NCIS. He was also heard in an episode of Star Wars: The Clone Wars.
Jayne Eastwood (Judy the Waitress)
As Judy the Waitress, Jayne Eastwood makes a brief appearance in The Santa Clause. Also known as Jane Easton or Jane Eastwood, the Canadian actress has been working in film and television for fifty years with nearly 300 credits to her name. Her most notable film appearances include My Big Fat Greek Wedding 1 and 2, 2004's Dawn of the Dead, Chicago, Hairspray, The Knight Before Christmas, and Welcome to Mooseport. She also starred in Walk Hard: The Dewey Cox Story, No Stranger To Love, The Space Between, How to Deal, Stella, and Videodrome. Additionally, Eastwood is known for her television work in This is Wonderland, Little Mosque on the Praire, and Haven. She is also a prolific voice actress, most notably for her voices in The Care Bears series.
Recently, Jayne Eastwood starred in Netflix's Work It!, Buffaloed, and Heart of the Holidays. She'll soon be seen in Anything for Jackson, Jump, Darling, Santa's Squad, and Inn Love By Christmas, as well as Trigger Point and Disney+'s Home Alone reboot.
Kenny Vadas (E.L.F.S. Leader)
Playing the E.L.F.S. Leader, Kenny Vadas plays an authoritative role in The Santa Clause. This performance is almost certainly his most well-known, at least in the United States, though the Canadian actor can also be seen in an episode of Goosebumps, as well as the TV movie, Captains Courageous. He also appeared in episodes of Wind At My Back, The Adventures of Sinbad, Sirens, Are You Afraid of the Dark? and Urban Angel.
His last professional acting credit was an episode of Our Hero from 2001.
Chris Benson (Fireman O'Hara)
In the role of Fireman O'Hara, Chris Benson plays a brief role in The Santa Clause. His other notable film credits include Detroit Rock City, Fly Away Home, The Cutting Edge, and Strange Brew, as well as Get Over It, Closing the Ring, and Resident Evil: Apocalypse. He can also be seen in episodes of Queer as Folk, Little Men, Goosebumps, and Alfred Hitchcock Presents. His last acting roles were in Anne of Green Gables: A New Beginning and One Week, both of which were from 2008.
Mary Gross (Mrs. Daniels)
As Mrs. Daniels, Mary Gross plays a supporting role in Disney's The Santa Clause. The comedic actress is best known for her time on Saturday Night Live, for which she was Emmy-nominated. Her other film credits include Practical Magic, 40 Days and 40 Nights, Casual Sex?, A Mighty Wind, and Troop Beverly Hills, as well as voice work in Mixed Nuts and The Rugrats Movie. Additionally, Gross had recurring roles in Sabrina, the Teenage Witch, General Hospital, and Boston Legal. Her last professional acting credits include the TV movie, Adopting Terror, an episode of Raising Hope, and voice work in Pound Puppies, all of which were from 2012.
Elizabeth Mitchell (Principal Carol Newman/Mrs. Claus)
While she didn't appear until the second installment in The Santa Clause franchise, Elizabeth Mitchell definitely plays a key character as Principal Carol Newman, who eventually became Mrs. Claus. Prominent on both the big and small screen, Mitchell is best known for her Emmy-nominated role in ABC's Lost, though she can also be seen in shows like V, Revolution, and Boston Legal, and she appears in episodes of Crossing Lines, The Expanse, Dead of Summer, and Once Upon a Time. Outside of these television parts, Mitchell can also be seen in films like The Purge: Anarchy, Running Scared, Frequency, and Nurse Betty, as well as Molly, The Christmas Club, and HBO's Gia.
Next, Elizabeth Mitchell will star in the second season of Netflix's Outer Banks. She also starred in What We Found earlier this year, and she'll soon star in Witch Hunt, When Time Got Louder, and Never Too Late, as well as the short film, Kepley, which she also produced.
Spencer Breslin (Curtis)
Likewise, while Spencer Breslin isn't seen in the original Santa Clause, he plays an important role in the sequels. Most notably, Breslin played the lead role in Disney's The Kid. He's also well-known for The Cat in the Hat, Raising Helen, The Happening, Meet the Parents, Stuck in Love, and The Princess Diaries 2: Royal Engagement, as well as The Shaggy Dog (2006), and Zoom — the latter two, of which, also starred Tim Allen. He also did voice work for Return to Neverland. Additionally, in 2008, he played the titular role in Harold. And on TV, Breslin appeared in episodes of Bones and Wonderfalls.
Spencer Breslin's last feature film was 2015's Sunshine Becomes You. He was last seen in 2018's short film, External Forces, and last year's short film, Wickenburg.
Are The Santa Clause movies annual holiday movie watches in your household? Let us know in the comment section below!
Your Daily Blend of Entertainment News
Will is an entertainment writer based in Pittsburgh, PA. His writing can also be found in The Playlist, Cut Print Film, We Got This Covered, The Young Folks, Slate and other outlets. He also co-hosts the weekly film/TV podcast Cinemaholics with Jon Negroni and he likes to think he's a professional Garfield enthusiast.