10 Movies To Watch On Martin Luther King Jr. Day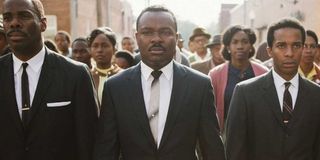 CinemaBlend participates in affiliate programs with various companies. We may earn a commission when you click on or make purchases via links.
Here's an interesting story. When I was growing up, I never understood the importance of Martin Luther King Jr. Now, keep that in mind, because if you scroll to the bottom, you'll see that I'm a black dude. But there's actually a good reason why I never understood the importance of MLK until I was much older: I went to mostly all-white schools. Now, of course, this is even MORE of a reason for why I should have known the importance of Dr. King. Not even that long ago (less than 100 years), I would have had to have gone to a segregated school just because of the color of my skin. But I was ignorant back then, and I didn't know any better. That's why movies like Selma and Remember the Titans are a great reminder of how separate (and not equal) this country once was. Times have changed dramatically since then because of the brave men and women who marched for our freedom, such as Martin Luther King Jr., Rosa Parks, and John Lewis (RIP).
That said, times haven't changed completely. I currently teach at a school that is devoid of any white students. Towns are still deeply segregated and Dr. King's dream of everybody living in harmony is a far cry from where we are today. That's why I often wonder whether Dr. King would he be pleased with this country if he was still alive. I'm really not sure, but I do think there are enough movies out there to remind us of just what people fought and died for in the first place. Some of the films below feature Dr. King, while others don't. But like people in general, all the films are nuanced and have something important to say.
Selma
Ava DuVernay's Selma is lot like The Last Temptation of Christ. I'll explain. In school, Martin Luther King Jr. is lionized beyond measure. He's often shown as being a perfect man who was cut down before his time. This is similar to the Christ who is mostly only seen as the Son of God. Now, I'm not trying to get theological here, nor am I comparing MLK to Christ. What I am saying, though, is that we rarely get to see the actual person when it comes to MLK or Jesus. We only see the legend. In that way, both have become myth.
But Dr. King was a person. And Selma does a great job of showing that. The movie is less a biographical film as it is a story of one specific event—the Selma to Montgomery marches. Selma is such a good movie because we see a Dr. King (played by David Oyelowo) who is not only brave, but also scared. We see an MLK who most likely cheated on his wife and one who was doubtful if what he was doing was even working. Selma is a beautiful movie, and one that you should definitely check out on Martin Luther King Jr. Day or any day for that matter. The struggle is still alive.
Rent it on Amazon
All The Way
I actually saw All The Way, which stars Bryan Cranston as Lyndon B. Johnson, on Broadway, and it blew my mind. The story concerns a pivotal period in American history when Johnson becomes the acting President after JFK's assassination. It's also about how he balances his future as President, while also fighting to pass the Civil Rights Act against his own Democratic Party. Anthony Mackie also stars as Martin Luther King Jr., and Melissa Leo stars as Johnson's wife, Lady Bird.
All The Way presents an interesting counterpoint to Selma. In All The Way, we see an impatient MLK who doesn't think Johnson is doing enough. Inversely, in Selma, we see a tireless MLK and a lax Johnson in Tom Wilkinson. I'm really not sure which portrayal is accurate, but maybe watch both movies and decide for yourself.
Stream it on HBO Max
Rent it on Amazon
Boycott
Clark Johnson directs this HBO Film about a younger Dr. King, played by Jeffrey Wright. If you're going to do an MLK marathon (I mean, I know nobody does that, but why not start today?), then I would start with Boycott, move on to All The Way, and then conclude with Selma. Terrence Howard also stars as Baptist Minister and Civil Rights Activist, Ralph Abernathy.
Like the title suggests, the film concerns the famous bus boycott of 1955-1956 that had Rosa Parks at the center of it. In the film, Dr. King takes up the case and it's basically him against the world. But he doesn't march alone, of course, and this is a story of that fight. It's interesting to see a young Dr. King at work, and Jeffrey Wright plays the role considerably well. And here's a fun fact. A young Carmen Ejogo plays Coretta Scott King in this movie, and also plays an older Coretta Scott King in Selma. That's right, people! This is the real MCU (The Martin Cinematic Universe). Okay, I'll see myself out.
Stream it on HBO Max
Rent it on Amazon
The Rosa Parks Story
I think Boycott is a good enough segue to talk about this TV movie directed by Julie Dash and starring Angela Bassett as the titular Rosa Parks. Likely shown in schools across America, this movie is about Rosa Parks staying seated on a late-night bus, and the events that followed.
The Rosa Parks Story is interesting because it shows Rosa Parks as a more three-dimensional person. We see her joining the NAACP, and the fight she had to go through once the snowball started rolling down the hill. Sure, Rosa Parks could have gotten out of the way, but she didn't, and we're all the better for it. Also, The Rosa Parks Story has the most authentic Dr. King since it stars Dexter Scott King, who is MLK's second son. He has his cadence and everything. It's beautiful.
Stream it on Sling
Buy it on Amazon
Get on the Bus
Speaking of buses (Oh, boy), Spike Lee's Get on the Bus is an interesting choice for MLK Day. Like any Spike Lee joint, it features nuanced black people who are a lot more unvarnished than the historical figures up top.
Still, it's a great movie and one that still works for the holiday. The story features a group of black men who get on a bus to go to the Million Man March. But on the way, they have discussions on everything from race to sexuality to religion. So, if you want to get a more complex view of the black experience, you might do yourself a favor by watching this film.
Buy it on Amazon
Malcolm X
We might as well stick to Spike Lee. X, which stars Denzel Washington as Malcolm X, and Angela Bassett as his wife, Betty Shabazz, is a very different film from all the Martin Luther King Jr. biopics up top. It shows a young Malcolm Little getting imprisoned, only to come out a Muslim and the leader of a movement.
From there, we see his rise, and his ultimate fall (From the Nation of Islam). I'd call this an alternative picture to watch on MLK Day to see another side of the struggle.
Rent it on Amazon
For Us The Living: The Medgar Evers Story
I feel like Medgar Evers never gets enough love during Black History Month. So, why not celebrate his life on MLK Day? In For Us The Living: The Medgar Evers Story, we see the late Howard Rollins playing the insurance agent-turned-civil rights activist who worked to desegregate the University of Mississippi.
Spoiler alert (since so few people seem to know Medgar Evers) but we also get to see his untimely demise, right in front of his own house. For Us The Living is a good reminder that many people engaged in the fight for equality that you may not even know about.
Rent it on Vudu
Harriet
Of course we have to shine a light on Harriet Tubman. Because if there's any one figure we talk about as much as MLK, it's her. But Harriet, which is directed by Kasi Lemmons and stars as Cynthia Erivo as Ms. Tubman, is like no story I ever heard about the famous abolitionist.
For one, I had no idea that Harriet Tubman wasn't even her real name. It was Araminta "Minty" Ross. Also, "Minty" used to have these spells where she would have visions, kind of like Joan of Arc. Some people think the film is rather formulaic, and they're not wrong. But sometimes, a formulaic story is all you need to get the point across, and that's why it's such a good film to watch on MLK Day. It's another look at what helped create the fabric of this nation.
Stream it on HBO Max
Buy it on Amazon
The Butler
And now for something completely different. Lee Daniels' The Butler, which has an all-star cast including Forest Whitaker, Oprah Winfrey, and pretty much everybody under the sun (Robin Williams! Alan "Hans Gruber" Rickman) is a historical drama about a slave who rises to be one of the top butlers in the White House. He also experiences a great deal of joy and pain as he watches his sons in some of the most tumultuous times in American history.
The Butler is a great film to watch on MLK Day because it goes through a great deal of American history but from a unique perspective. It's kind of wonderful to see the importance that blacks have had throughout the years at the highest level, even when many people saw them at the bottom.
Stream it on Netflix
Rent it on Amazon
Remember The Titans
Finally, I want to close off with my personal favorite movie on this list, Remember the Titans. Directed by Boaz Yakin and starring Denzel Washington, Remember the Titans is about a football coach (Washington) who gets black and white players on a football team to not only get along, but to love each other and act like true brothers.
Remember the Titans has a great message for the whole family and is a fantastic football movie overall. And with that final entry, I bid you farewell. Na, na, na, na. Na, na, na, na. Hey-ey-ey. Goodbye. I'm not crying, you're crying.
Stream it on Disney+
Rent it on Amazon
MLK Day is a day of remembrance for an American hero. We still have a long way to go and I probably won't even see Dr. King's dream in my lifetime. But here's to keeping the hope alive. Take care and be safe.
Lover of Avatar (The Last Airbender, not the blue people), video games, and anything 90s, he will talk your ear off about Godzilla, so don't get him started.
Your Daily Blend of Entertainment News
Thank you for signing up to CinemaBlend. You will receive a verification email shortly.
There was a problem. Please refresh the page and try again.