Timeline And 6 Other Michael Crichton Books That Need A New Adaptation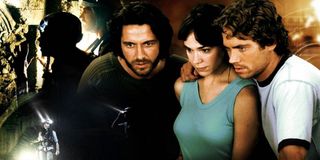 There was once a time when late author Michael Crichton was the king of the best-seller turned film adaptation. Pretty much anything the man wrote was optioned to become a movie, with quite a few of those novels making it to the big screen. Once the landmark success of Jurassic Park became a reality, this process was only faster and more furious in the mid-'90s, with things relatively dying down after the box office failure that was Timeline. Of course, that looks like it's about to change, thanks to some recent developments in the world of all things Crichton.
Last month, the company that oversees Michael Crichton's estate, CrichtonSun, was announced to be in the middle of turning the hype machine back on for some future adaptations of the author's work. There's a focus on both TV and movie projects, with an unpublished manuscript getting special attention as a potential "major screen event adaptation." While we're not totally sure what that work will entail, this renewed focus on Michael Crichton has us thinking about the possibility that some of his already adapted works could get a fresh coat of paint with a modern spin. With that mindset in play, here's seven Crichton classics that should get another turn at bat, starting with one we recently revisited on the site: Richard Donner's Timeline.
Timeline
Revisiting the 2003 film version of Timeline, the movie actually comes off much better than seeing it closer to when I read the book. The nitpicking of dialing down the Crichton-style science into an easy to digest blockbuster, starring a young Paul Walker and Gerard Butler, is less prevalent when enjoying Richard Donner's adaptation as a pure spectacle. But there's a potential for greatness from the novel that helped boost even Michael Crichton's profile, drawing some massive raves when it was published in 1999. A limited series that operates on the same ticking clock of getting home before the window closes would be a fun event to behold. With a Timeline series allowing more of a relaxed schedule to realize the contents of the book, as well as providing the medieval action Game of Thrones fans have been missing.
Congo
Sometimes, a really cool idea like diamond powered lasers and a lost subspecies of gorillas protecting a lost city make for a really cool adventure. And sometimes, they get turned into the 1995 film Congo, which among the silly and meme worthy moments involving sesame cake and martini drinking gorillas, still managed to play as a fun adventure in the jungle. But this is the world of Michael Crichton, and the adventure could be tightened in a brand new movie that takes Congo a bit more seriously. Though, for the sake of Amy the Gorilla, she can keep the martini.
The Great Train Robbery
Who doesn't love a good heist adventure, especially when someone like Michael Crichton is the one writing the fun? The Great Train Robbery was not only a novel of the late author's devising, it was also a film that he personally directed into living breathing life. With Sean Connery, Donald Sutherland, and Lesley Ann Warren all taking part in a Victorian gold heist, this remake isn't being suggested because it was done wrong the first time. Rather, with the advances of technology, and the relative obscurity of Michael Crichton's original novel/film, it's a good time to boost his library's profile by digging into some of the hidden gems. And again, who doesn't want to see charming thieves plying their trade?
The 13th Warrior
The 13th Warrior is a film that, purely in name alone, says all you need to hear about just why it had problems at the theaters. Based off the book Eaters of the Dead, this viking adventure that draws inspiration from Beowulf was a fast, action-packed ride that starred Antonio Banderas, which should have been pure catnip for the '90s. But if Roger Ebert's criticism of the movie is any indication, the action was a little bit too fast. Not to mention, Banderas' protagonist is supposed to be an Arab Muslim, based on the source material. So Eaters of the Dead sounds ripe for a properly cast TV series, which tells a deeper story that includes breathtaking action and adventure. Let's just hope it doesn't go through the same growing pains the original film adaptation did.
Sphere
As luck would have it, a remake of Sphere is already underway over at HBO, as Westworld creators Jonathan Nolan and Lisa Joy have picked another Michael Crichton winner to give the once over. Which is fantastic news, because the Barry Levinson film of 1998 was kind of a confusing mess that probably suffered for the same reasons Timeline did. With the discovery of an underwater spaceship giving way to psychological horror, and some other fantastical sci-fi madness, the series reboot of this particular novel feels like it's happening at the right time, with the right people.
The Terminal Man
Another obscure Michael Crichton novel, The Terminal Man is the story of the titular character, who turns into an increasingly violent man after a medical experiment goes horribly wrong. This is the sort of story that helped Crichton make a big name for himself, and invoking the name of Westworld, paranoia of where the person ends and the machine begins permeates this story that was adapted into a film starring George Segal. Since we've already got a longform series dissecting that concept, a well paced cinematic update feels like the best way to turn The Terminal Man into another tightly wound movie experience.
Disclosure
Michael Crichton wasn't only a master of adventurous thrills and science fiction potboilers, he also had a taste for tackling corporate America and its evolution throughout the '90s. When Disclosure hit, both as a best-selling novel and an eventual Demi Moore/Michael Douglas thriller, the concept of sexual harassment was finding its footing in the public discourse. But as the world has evolved, so should this tale of a man harassed by his boss, as the post Me Too world feels ready to see Disclosure take the stage yet again, only updated for our times in a limited series event that makes sure to approach this controversial thriller in just the right way.
The world of Michael Crichton knows no limits when it comes to asking interesting questions in the world of fiction. Plus, his work has always been just right for the moment, but just ahead of the curve to be novel, which means that the Crichton library of stories is kind of timeless when you think about it. These stories deserve to be readapted, so that way a new generation can be exposed to the excitement of this late author's blockbuster appeal, in a refreshingly modern context. After all, it's not just dinosaurs that made Michael Crichton famous, and it's time the world at large was reminded of that fact.
Your Daily Blend of Entertainment News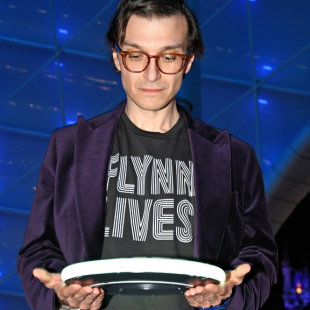 Senior Movies Contributor
CinemaBlend's James Bond (expert). Also versed in Large Scale Aggressors, time travel, and Guillermo del Toro. He fights for The User.