Westworld Creative Team Is Bringing Another Michael Crichton Adaptation To HBO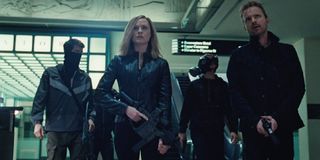 Despite Hollywood-wide production shutdowns in March, studios have been moving several projects along behind the scenes. While viewers wait for more news on Westworld Season 4, the creative team behind HBO's hit series are bringing another Michael Crichton adaptation to the premium cable channel.
Westworld's Denise Thé as well as Lisa Joy and Jonathan Nolan's Kilter Films are developing a new drama called Sphere, partnering with Susan and Robert Downey Jr.'s Team Downey production company and Warner Bros. TV to executive produce the series. Per Deadline, Thé will also write the pilot for the series, which is based on the 1987 novel by Westworld film scribe and director Michael Crichton.
Sphere will follow a team of scientists who are exploring the depths of the ocean only to discover a deadly mystery, while also learning that things (and the people they're closest to) may be "most alien." It's a vague summary to be sure, but it sounds incredibly fascinating nonetheless.
From what we know of the novel, the scientists are actually exploring an unidentified spacecraft that has been found at the bottom of the ocean and the story transforms into a psychological thriller thereafter. It's unclear if the TV series will include the spacecraft, but I'd wager that it will.
The project is currently in the early stages of development, which means that there's still no word on who will be cast to star in the adaptation. However, in addition to executive producing and writing, Denise Thé will also serve as showrunner on the upcoming series. Besides writing for Westworld Season 3, Thé is most notable for her work on Person of Interest and Gotham, which followed Bruce Wayne's years before becoming the vigilante known as Batman. She has also written for Terminator: The Sarah Connor Chronicles among a few other projects.
This isn't the first live-action adaptation of Sphere. The novel was adapted into a film back in 1998 that starred A-listers like Sharon Stone, Dustin Hoffman, Queen Latifah, and Samuel L. Jackson. The movie didn't do all that well at the box office, however, and was negatively received by critics at the time. I'm hoping that the TV adaptation of Sphere will do a better job with the material than the film did.
I think the involvement of Jonathan Nolan and Lisa Joy's Kilter Films is also worth noting, considering that the pair (along with their company) inked an overall deal with Amazon in 2019, leaving Warner Bros. behind to develop TV projects like Fallout with the streaming service. However, it looks like they're back to working alongside each other for Sphere, which is fine by me since we had previously gotten Westworld out of their previous partnership.
Stay tuned to CinemaBlend for updates on the HBO series. In the meantime, be sure to check out our 2020 fall TV premiere schedule for more viewing options.
Your Daily Blend of Entertainment News
Thank you for signing up to CinemaBlend. You will receive a verification email shortly.
There was a problem. Please refresh the page and try again.