5 Ways Chris Evans Could Return To The MCU Following Avengers: Endgame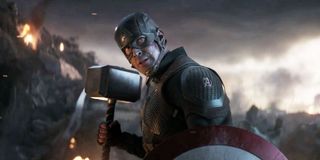 After nearly a decade of character development for Chris Evans' Captain America in the MCU, audiences got an arguably perfect sendoff for the Marvel hero thanks to Avengers: Endgame. The Russo Brothers' film wrapped up the storyline of Steve Rogers with a happy ending that had him going back in time to return the Infinity Stones and returning to his beloved Peggy for a lifetime of dances. Until we heard a report that Evans may be in talks to already return to the MCU.
Deadline claimed that Chris Evans is in "talks" to reprise his role within the Marvel Universe "in some form," which the actor disputed with a tweet that just read "news to me." So it's a slippery slope to say Captain America's return is concrete, especially when there is a lot more evidence pointing to Evans officially moving away from the iconic character and the MCU set to introduce a slew of brand new characters into the franchise. But speculation is always fun, so let's talk about the confirmed Marvel projects that might make sense to include Cap if the reports do turn out to have merit. We can do this all day!
The Falcon And The Winter Soldier
The most straightforward approach Marvel could take to bringing back Chris Evans is by continuing where Endgame left off and including more Old Man Cap to Falcon and the Winter Soldier. At the end of the movie, Steve gave over his shield to Anthony Mackie's Falcon, therefore passing off the torch to Sam Wilson and Sebastian Stan's Bucky. This story will pick up with the upcoming Disney+ series named after the pair as they fight off Zemo.
The Falcon and the Winter Soldier align the most closely with Captain America and if there's one place where a return may be merited, this series could be the right place. It could either be through a guest appearance where Sam and Bucky pay their elderly friend a visit to tie the knots or a flashback that fills in some gaps of the storyline. Old Man Cap seemed quite content to be on his way by the end of the 2019 Avengers film and since the first season has already wrapped and is coming this March. This could be possibly be something being discussed should the show continue.
Doctor Strange In the Multiverse of Madness
Another possibility in the mix concerns one of the most highly-anticipated and widely-theorized movies of Marvel's Phase Four. Doctor Strange in the Multiverse of Madness, which will apparently feature Stephen Strange opening the multiverse somehow. The movie will directly follow the events of Marvel's first TV series currently unfolding on Disney+, WandaVision and involve Strange "unleashing unspeakable evil" whilst continuing research on the Time Stone.
The multiverse allows for a wild card of events that could be taking place, including alternate versions of characters we already know. While the conversation has steered into the Spider-Verse more often than not since Doctor Strange is part of the untitled third Spider-Man film, Multiverse of Madness could technically bring Chris Evans' Captain America back via the multiverse. Though in that case, he wouldn't necessarily be himself and could even be a villain.
Ant-Man And The Wasp: Quantamania
Chris Evans' Captain America could also squeeze his way back into the Marvel Universe by way of Ant-Man and the Wasp: Quantumania, the recently announced third installment of the Ant-Man films starring Paul Rudd, Evangeline Lily, Michael Douglas, Michelle Pfieffer and Kathryn Newton as Cassie Lang. The movie is confirmed to feature Lovecraft Country star, Jonathan Majors as Kang the Conqueror, who is often defined by his abilities to time travel.
Traveling through time was obviously a huge part of Endgame and something that Quantamania is sure to explore again through its massively powerful villain. Depending on where the timelines move in the upcoming film, Captain America could most definitely play a part if things end up intersecting with points when he is alive and wielding his shield. We still don't know a ton about what's in store with the next Ant-Man film, but that'd be a solid place for Cap to return.
Secret Invasion
Another newly announced project that could include Captain America should the studio decide to have him return is Disney+ series Secret Invasion set to star Samuel L. Jackson's Fury and Ben Mendelsohn's Talos from Captain Marvel. Here's another project that we don't have a ton of details about, but fans of Marvel Comics will know the Secret Invasion storyline well as one that involves shapeshifting Skrulls taking over the identities of well-known heroes in order to infiltrate the Avengers.
One Reddit fan theorized that the appearance of Old Man Cap in Avengers: Endgame was actually a Skrull rather than Steve Rogers himself. And while I'd refute the MCU's ability to play us that hard, Chris Evans being somehow involved in Secret Invasion's plot line could be really interesting and basically a great way for the actor and Skrulls to punk us somehow. I'm too emo about the Endgame ending to suspect it isn't true, ok?
A Steve And Peggy Spinoff?
And finally, perhaps Chris Evans comes back but not in the form of any of these already established projects. What if he gets his own spinoff? This seems to be the least likely of the list, but fans have certainly been talking about all the plot holes involved in Cap going back and returning all the Infinity Stones at the conclusion of Endgame. Some of you would like to see Cap actually finish the job and that could be a good way to bring back Evans and still keep the legacy of the character in play.
The shot of seeing Steve and Hayley Atwell's Peggy dancing together was enough for me to know it all ended well for Cap, but there is some room there for the MCU to explore in terms of how he found Peggy again and spent his alternate timeline.
Ok, so what do you think? I keep leaning toward leaving Evans alone as he moves to other projects and the MCU explores new characters within the universe, but some of these could serve as cool ways to bring Captain America back! Vote in the poll below and check out the full lineup of the MCU as we begin Phase Four.
This poll is no longer available.
YA genre tribute. Horror May Queen. Word webslinger. All her writing should be read in Sarah Connor's Terminator 2 voice over.
Your Daily Blend of Entertainment News
Thank you for signing up to CinemaBlend. You will receive a verification email shortly.
There was a problem. Please refresh the page and try again.