See The Amber Alerts Texas Just Accidentally Sent Out For Chucky From Child's Play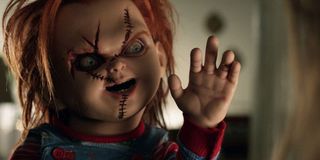 Every once in a while, reality is stranger than fiction. More often than not, you can trust reports of supernatural entities, such as possessed dolls, to be rooted in the latter. However, that wasn't the case for some residents of Texas who recently received an Amber alert that featured a pair of demented dolls from the Child's Play franchise.
On Friday, January 29, the Texas Department of Public Safety accidentally sent out an Amber Alert for Chucky of Child's Play fame, as well as Glen Ray, Chucky's son in the franchise. Check out the full alert, which describes both in more detail:
First reported by Click 2 Houston, the full alert describes Chucky as the suspect, who's 28 years old with "red or auburn hair," a height of 3'1 and "wielding a huge kitchen knife." His son, Glen Ray, is listed as the abducted child who's five years old, sporting his father's "red or auburn hair" and clocking in at 2'3.
Now, if this was some internet prank, it'd be one thing. But to have a system wide alert featuring two characters from an iconic horror franchise be blasted out via the Amber Alert system, it's no surprise there were more than a few raised eyebrows.
Shortly after the alert went out, Click 2 Houston reached out to the Department of Public Safety, which later issued a statement apologizing for the error and ensuring that the alert was indeed not real. In the department's words:
Thank goodness that this entire situation ended up just being a technical error. I don't know about you, but I don't think I could handle possessed dolls becoming a reality after the year we've had.
Amber Alerts were originally created in Texas as a way to rapidly identify missing or abducted children. AMBER is an acronym that stands for America's Missing: Broadcast Emergency Response, and it's been in place since the abduction of Amber Hagerman in 1996.
The use of Chucky and Glen Ray seems to be a bit of morbid humor that would be right at home in the franchise known for comedic take on the slasher genre. There must be some old school horror fans working on the dev team at the Texas DPS.
Star Wars' Mark Hamill took over as the voice of Chucky in the 2019 reboot Child's Play. The creepy doll has been an icon of the horror genre since 1988, when the original Child's Play by Tom Holland (not to be confused with the web-slinging Tom Holland) released in theaters.
While the Chucky-themed Amber alerts were just a technical error, fans of the series can catch up with the murderous doll on Hulu (opens in new tab) or Showtime, the latter of which has the entirety of the original Child's Play film series. For more recent film fare, be sure to check out CinemaBlend's 2021 Release Schedule for the latest on this year's movies headed to the big (and small) screens near you.
Into tracksuits by Paulie Walnuts, the Criterion Channel and Robert Eggers.
Your Daily Blend of Entertainment News
Thank you for signing up to CinemaBlend. You will receive a verification email shortly.
There was a problem. Please refresh the page and try again.