Jar Jar Binks Is A Sith Lord In Crazy Star Wars Fan Art, And I Can't Unsee It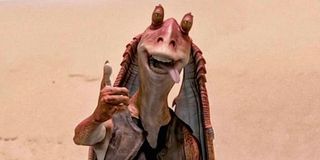 I'm not sure if there is a more controversial figure in the Star Wars franchise than Jar Jar Binks of Naboo. The Gungan, played by Ahmed Best, was introduced in Star Wars: Episode I – The Phantom Menace after being rescued by Qui-Gon Jinn and Obi-Wan Kenobi. The character's unique way of speaking and comedic relief was loved by some and reviled by other fans of the franchise. There's even some crazy theories floating around that he was a Sith Lord all along.
Well, artist Kevin Cassidy recently took that theory and ran with it, drawing up a Sith Lord version of Jar Jar Binks for Instagram that I haven't stopped thinking about:
As Chris Tucker and Ice Cube once so eloquently said, daaaaammmmn. Jar Jar Binks looks kind of badass here, no? I'd even venture to say "meesa likes." Kevin Cassidy's work is definitely a bit grittier than the goofy Gungan fans may remember from the Prequel Trilogy.
I'm sold on the look; just give him a Darth Maul double-bladed lightsaber and he's good to go. The only question I have now is what does this version of Jar Jar sound like? Because there's no way he can be dropping quotes like "Yipee! How wude!" and expect to be taken seriously by any self-respecting Sith.
It's fun to imagine what would have happened if the backlash to Jar Jar Binks wasn't so huge. Actor Ahmed Best had a really hard time dealing with the widespread criticism of the character, which unfortunately isn't uncommon for the Star Wars franchise.
Ahmed Best has already expressed his willingness to reprise his role despite the criticism. While there's no word on him appearing as Jar Jar Binks again, the actor has returned for some Star-Wars themed fun in Star Wars: Jedi Temple Challenge at Disney+.
Disney+ has seen quite a bit of success over the last couple of years with the Star Wars spinoff show The Mandalorian. The streaming service is already planning a number of other shows set in a galaxy far, far away, including a series focused on Obi-Wan Kenobi. It's no surprise that the platform is exploring the stories outside of the Skywalker Saga, as there's an extremely wide selection of characters to choose from.
As for our clumsy friend Jar Jar Binks, there hasn't been any confirmed appearances for the character in these upcoming shows. I wouldn't be surprised if we saw a cameo at some point though. After all, he is still one of the most recognizable characters of the franchise, whether you are a fan of him or not.
What do you all think? Does this new Sith Lord look work for you, or would you rather leave Jar Jar Binks and the prequels behind? Let us know in the poll below.
This poll is no longer available.
Into tracksuits by Paulie Walnuts, the Criterion Channel and Robert Eggers.
Your Daily Blend of Entertainment News
Thank you for signing up to CinemaBlend. You will receive a verification email shortly.
There was a problem. Please refresh the page and try again.