Would Star Wars' Jar Jar Binks Actor Return? Here's What He Said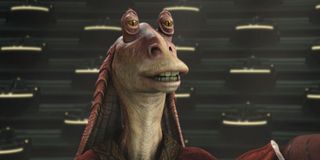 The past few years have brought us a wealth of new Star Wars content. Even though Disney seems to be attempting to (sort of) slow its roll with its franchise expansion, there's always some kind of discussion happening about what they could, or should, do next. That's true of both new stories and of how Disney could reincorporate old characters into the fray -- and when a fan asked if Jar Jar Binks actor Ahmed Best if he'd be willing to make another appearance, he had a surprising answer.
The revelation came as a result of an ongoing conversation on Twitter about diversity and representation in Hollywood. Ahmed Best shared his own experience -- that several years ago, he pitched the idea of a Black sci-fi comedy called The Nebula to "every network." He said he was turned down because "black people don't like Sci-Fi." When a fan responded that he'd totally watch that show, Ahmed Best shared a link to his original pitch, which he's had on his YouTube channel for years.
Another fan then encouraged him to revive the pitch and submit it to Disney+, before asking whether he'd ever consider returning to the Star Wars franchise to play Jar Jar Binks. Ahmed Best retweeted the fan to offer his response:
So it's not completely off the table then! It's important to remember, however, that earlier this year, when asked about Disney+'s upcoming Obi-Wan Kenobi series, Ahmed Best said he hadn't heard anything from the studio about the possibility of including Jar Jar Binks. Besides, he's already working with Disney+ on another Star Wars series -- albeit one that doesn't include the character that propelled him to fame.
Given everything Ahmed Best went through after the world first met Jar Jar Binks in The Phantom Menace, it may seem a little surprising that he'd consider reviving the role for a future Star Wars project. He has admitted that the criticism that Jar Jar Binks -- and he, by extension -- faced took a toll on his mental health. In 2017, he called Andy Serkis out for failing to acknowledge his work within the Star Wars franchise. Basically, it's fair to say he hasn't had the best experience of all the series' alumni.
However, the disdain toward Jar Jar Binks has definitely lessened over the years, as the franchise as a whole has moved toward utilizing motion capture technology. We've already seen how series like The Clone Wars can show us some of the most memorable Star Wars characters from exciting new perspectives, so who's to say that Jar Jar doesn't deserve the same treatment?
What do you think? Would you be into a Jar Jar Binks-assaince? Which Star Wars series do you think he'd fit into best! Let us know in the comments!
Your Daily Blend of Entertainment News
Thank you for signing up to CinemaBlend. You will receive a verification email shortly.
There was a problem. Please refresh the page and try again.