Borat 2's Maria Bakalova Responds To Groundbreaking Golden Globe Nomination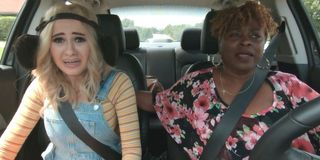 Movie fans, rejoice! Awards season is upon us! While this past year has certainly been far from typical, especially in the entertainment industry, there have been a number of impressive films released. One of the more notable movies of 2020 was the long awaited sequel to Sacha Baron Cohen's Borat. The follow up, titled Borat Subsequent Moviefilm, had viewers returning to Borat's shenanigans. However, a new addition to the cast, Maria Bakalova, impressed audiences and critics alike with her performance as Borat's daughter, Tutar Sagdiyev. Earlier this week, Bakalova was nominated in the Best Actress category at the Golden Globes, and has shared her response to the ground-breaking nomination.
In a recent interview, Maria Bakalova shared her excitement and shock at being nominated for her performance in Borat Subsequent Moviefilm, saying:
In her interview with The Wrap, Maria Bakalova explained the nomination as a dream come true, and that sometimes, you have to take a big risk for a big payoff. Her performance was certainly a leap, but it looks like it was one that the Golden Globe voters appreciated.
Since Borat Subsequent Moviefilm was released, Maria Bakalova has been considered a stand-out in this year's awards competition. The Golden Globe nomination is an impressive feat for the 24-year-old actress, who is the first Bulgarian to ever be nominated for the ceremony.
It's no easy task to keep up with Sacha Baron Cohen, especially when he's playing Borat, but Maria Bakalova proved she could hang, even if she was freaked out sometimes. Her character, Tutar Sagdiyev, was the star in a number of bonkers scenes, but she made headlines for her work with babysitter Jeanise Jones. Unbeknownst to Jones, she found her way into Borat Subsequent Moviefilm and caught the attention of fans with her heart of gold and compassion.
The mockmentary also drew national attention with scenes involving high power political figure Rudy Giuliani. Fans of Borat will recognize the kind of heavy political satire that last film was known for, and the sequel upped the ante for Sacha Baron Cohen, who drew the attention of President Donald Trump.
Despite the heavily politicized content and shocking scenes in Borat Subsequent Moviefilm, it has looked to be a promising year for the sequel. So far, it has received three nominations at this year's Golden Globes, including a spot in the Best Motion Picture - Musical or Comedy category.
While we won't know who will take home the coveted Golden Globe until the ceremony happens later this month, Borat fans will be happy to hear that Maria Bakalova earned another nomination at the SAG awards for Female Actor in a Supporting Role. With two serious nominations under her belt, it wouldn't be a surprise to see her in contention for the Academy Awards later this year. Some might even say that her situation is looking "very nice" right now.
Your Daily Blend of Entertainment News
Into tracksuits by Paulie Walnuts, the Criterion Channel and Robert Eggers.