Borat 2's Maria Bakalova Reveals The Scene That Had Her 'Freaking Out', And It Isn't Rudy Giuliani's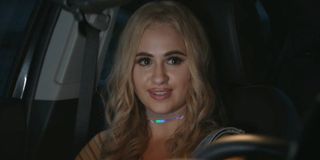 Borat Subsequent Moviefilm (or Borat 2) was the perfect return for Sacha Baron Cohen's famous Kazakhstani journalist, but the true breakout of the movie was the character's daughter, Tutar. Played perfectly by newcomer Maria Bakalova, the character begins as a naïve and poorly treated child to a confident and courageous young woman. Of course, during her journey she has more than a few raunchy and hilarious moments, which did create some challenges for Bakalova. One of these came before one of the film's funniest scenes, which had the young actress "freaking out," and believe it or not, it wasn't the controversial Rudy Giuliani scene.
In the film, Tutar has been convinced by the teachings of her home county that she should fear her own body but, when she wanders into a hotel bathroom, she discovers the self-pleasure. This revelation excites her so much that she goes as far as to crash a meeting of Women Republicans and give a speech about her experience.
Although the scene turned out perfectly, Bakalova admitted that she was a bit anxious about it. This was due to the fact that it was a lengthy monologue and she didn't know much English at the time.:
One can only imagine what it would have been like to be in Maria Bakalova's shoes in that moment. Not only did she still have to learn the words, but the monologue itself had to be performed in front of a group of real people. Nevertheless, Bakalova also told IndieWire that co-star Sacha Baron Cohen was able to ease her concerns:
From what we've heard, Baron Cohen really took Bakalova under his wing while they made Borat 2. The actress revealed that he gave her key performance advice, like how to keep herself from breaking during scenes. He also showed great concern for her while she was filming her scene with Rudy Giuliani, though Baron Cohen made sure he wasn't too far away from her while it was being produced.
To say that Bakalova gave a bold performance would be an understatement. She fully committed to the role on screen but even showed dedication while prepping for the role. She previously confirmed that she actually let her body hair grow out, which she described as a pretty "gross" situation. If that's not commitment, then I don't know what is. Hopefully, Maria Bakalova will receive some awards recognition for her role in the movie.
Borat 2 is currently available to stream on Amazon Prime Video.
Covering superheroes, sci-fi, comedy, and almost anything else in film and TV. I eat more pizza than the Teenage Mutant Ninja Turtles.
Your Daily Blend of Entertainment News
Thank you for signing up to CinemaBlend. You will receive a verification email shortly.
There was a problem. Please refresh the page and try again.