Rapper Lil Yachty Is Making An Action Heist Movie Based On... The Game Uno?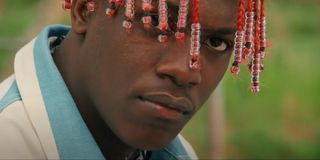 There's no shortage of musicians crossing over into the world of movies. After all, what are movies without music? Even most silent films had an accompanying score or musical component in some capacity. Today musicians often collaborate with the movie industry to create songs that reflect the tone, plot and personality of characters. Famous rapper Lil Yachty recently announced that he's about to take his talents to the big screen for a collaboration with… Uno?
Lil Yachty just shed some light on the upcoming project that will take place in Atlanta and focus on the Mattel owned card game. As he shared to the public,
The popular card game is reportedly getting its own movie, with Lil Yachty being considered for the leading role. As he mentioned in the interview with Variety, the film will take place in Atlanta and focus on the city's hip hop scene. Plus presumably some games of cards.
Lil Yachy is best known for his music, but the actor has collaborated with major brands in the past, including a commercial with Sprite alongside Lebron James. The card-game based movie will be his first foray onto the big screen.
The 23 year-old Georgia native is the latest rapper to transition into major motion pictures. Hip-hop has had an impressive past few years with chart topping soundtracks for both Black Panther and Spider-Man: Into The Spider-verse. The Black Panther soundtrack won an Academy Award for Best Original Score and featured heavy hitters in the hip-hop community, including Kendrick Lamar, Schoolboy Q, Travis Scott and The Weeknd.
Even though Lil Yachty is in talks to lead in the Uno adaptation, I wouldn't be surprised to hear him featured on the soundtrack. After all, it is based on the longstanding Atlanta hip-hop scene. It would only make sense for him to get involved with the music. Hopefully we will continue to see more collaboration between popular artists and filmmakers, because there is no shortage of talent in either community. Personally, I'm pumped. There's nothing cooler than seeing your favorite artist pop-up on the big screen, even if it's just for a cameo.
While there's no set release date for the Uno movie, Mattel already has another project on the horizon with their upcoming Barbie adaptation, which will star Margot Robbie. While that project doesn't have a release date either, there are still plenty of films to keep viewers busy, especially after all the delays the entertainment industry has seen this year.
Into tracksuits by Paulie Walnuts, the Criterion Channel and Robert Eggers.
Your Daily Blend of Entertainment News
Thank you for signing up to CinemaBlend. You will receive a verification email shortly.
There was a problem. Please refresh the page and try again.