Star Wars' Daisy Ridley Shares Sweet Personal Connection With Rey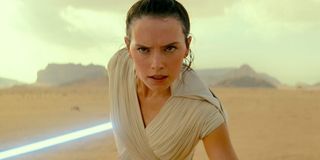 To say the Star Wars franchise has changed over the last few years would be an understatement. Since the first entry in the sequel trilogy, Star Wars: The Force Awakens, released in 2015, there have been a number of new characters introduced including the heroine, Rey Skywalker. Recently, Daisy Ridley, who plays Rey in the intergalactic franchise, shared a sweet personal connection to the character.
In some instances, when an actor plays a character, they're bound fo find a similarity between themselves and the role. And Daisy Ridley likened her own time on the set of Star Wars to Rey's journey throughout the franchise:
In an excerpt for the upcoming book Star Wars: The Age Of Resistance – The Official Collector's Edition Book (via Digital Spy), she mentioned the family experience she had while filming was quite similar to that of Rey, who also found a family of her own by the end of Star Wars: The Rise of Skywalker. Daisy Ridley also explained that she was finding herself throughout the process and had a number of people around her for support. That may sound similar to Star Wars fans, as Rey has a similar experience with members of the Resistance over the course of the final three entries into the Skywalker Saga.
Since the release of Star Wars: The Rise of Skywalker, Disney has pressed pause on theatrical films set in the galaxy far, far away. The monumental final installment proved to be a controversial one as fans, and critics, of the nearly 45-year-old franchise shared divisive opinions on the film.
Fans will have to wait a while before they can see a new entry into the Star Wars universe on the big screen, as Patty Jenkins' Rogue Squadron isn't scheduled until 2023. However, Disney has been keeping fans busy with their massively successful show The Mandalorian.
The Disney + exclusive has been a launching pad for reintroducing favorite characters from the Star Wars of yore in addition to taking over the internet with fan favorite Baby Yoda. While The Mandalorian just wrapped its second season with a bombshell cameo, fans can look forward to both Star Wars: The Bad Batch and The Book of Boba Fett as they are scheduled to release later this year.
While the Skywalker Saga has come to an end, I wouldn't be surprised if we saw Rey in one of the numerous upcoming spin-offs. Disney has a pretty massive amount of lore to work with, so anything is possible. Plus, I know I'm not the only one who needs to see that yellow lightsaber in action.
Your Daily Blend of Entertainment News
Into tracksuits by Paulie Walnuts, the Criterion Channel and Robert Eggers.