6 Star Wars TV Questions After Ahsoka Tano's Mandalorian Debut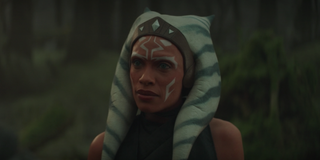 The Mandalorian upped the ante with "The Jedi" in Season 2 with the long-awaited reveal of Rosario Dawson as Ahsoka Tano. The fan-favorite Clone Wars and Star Wars Rebels character had never before appeared in live-action, and she has some of the richest lore of any character in the franchise. With the callbacks to Clone Wars and Rebels on top of the twists that will change the course of The Mandalorian, there's a lot to ponder.
So, as the second season of The Mandalorian continues as the latest installment in the Star Wars saga, the time is right to ponder some big Star Wars TV questions that fans may be asking in the aftermath of Ahsoka's live-action debut.
How Are Bo-Katan And Ahsoka Connected?
Katee Sackhoff brought Bo-Katan to live-action in The Mandalorian Season 2 as well, although not in the same episode as Rosario Dawson's debut as Ahsoka. That said, they're clearly at least somewhat connected, as Bo-Katan was able to point Mando and Baby Yoda (who fans now know is actually named Grogu) toward Ahsoka's location on Corvus. Ahsoka clearly wasn't permanently based on Corvus like Obi-Wan was during his long years on Tatooine, so she and Bo-Katan must have been in contact recently. How are they still connected?
Ahsoka and Bo-Katan worked together in the final arc of Star Wars: The Clone Wars during the final season that released earlier in 2020 on Disney+, and their efforts in the Siege of Mandalore resulted in a big victory, even if Mandalore was ultimately devastated. It's not exactly random that Bo-Katan is in contact with Ahsoka, but considering viewers haven't seen them together since the prequel trilogy era, there is a big question about how they're connected enough for Bo-Katan to have such recent information on Ahsoka.
Did Ahsoka Complete Her Last Mission To Find Ezra?
Prior to her appearance in "The Jedi," the last time that Ahsoka was chronologically seen in the Star Wars timeline was the series finale of Star Wars Rebels. She returned at the very end of the epilogue, dressed in white robes. Her mission was to locate Ezra Bridger, who had been missing since shortly before the events of the original trilogy. Teamed up with Sabine Wren, this mission was obviously important enough that Ahsoka was determined to keep her promise to locate him, even years after making it.
Notably, Ahsoka was alone when she made her Mandalorian debut, and she didn't mention anything about her mission to locate Ezra, and Ezra certainly wasn't present. She wasn't even wearing the same white robes, although those wouldn't exactly have been practical for fighting her way through henchmen to get to Imperial Magistrate Morgan Elsbeth. So, did Ahsoka complete her mission to find Ezra, and was Ezra still alive if so?
What Happened To Sabine?
Ezra wasn't the only major Rebels character who was part of Ahsoka's mission at the end of the epilogue. Sabine Wren was by Ahsoka's side, after spending the years of the original Star Wars trilogy era on Ezra's home planet of Lothal rather than Mandalore or the Rebel Alliance. She surely wouldn't have given up on that mission with Ahsoka unless they had either completed it or something happened that forced them to separate. So what happened to Sabine?
The best case scenario is that Sabine and Ahsoka found Ezra, and Sabine parted ways with Ahsoka alive and well, reunited with Ezra. The worst case scenario is that the mission hasn't succeeded yet and Sabine was killed as part of the effort to find him. There are possibilities that don't have to mean that Sabine died, but Sabine didn't appear in "The Jedi," and Ahsoka didn't mention a companion on her quest.
Where Is Thrawn?
One of the biggest questions after the events of "The Jedi" (and possibly the key to several others) is of the location of Grand Admiral Thrawn, who made his reintroduction into Star Wars canon on Rebels. The Imperial villain was sent through hyperspace to unknown regions of space in the finale against his will thanks to Ezra Bridger and some Purrgil (a.k.a. space whales). Like Ezra, he hasn't been seen since. That doesn't mean nobody is looking for him.
Ahsoka referred to him as Imperial Magistrate Morgan Elsbeth's "master" and used his Imperial title of Grand Admiral, but the episode didn't show how Elsbeth answered. Thrawn has clearly been active and doing some bad things if he's Elsbeth's master, but he's not so prominent that Ahsoka knows where to find him. Where is he, and what happened between the end of Star Wars Rebels and when The Mandalorian introduced Ahsoka? And is he the key to Ezra and Sabine's fates?
Who Will Train Baby Yoda?
The whole point of Mando seeking out Ahsoka in the first place was to ask her to train Baby Yoda. While Ahsoka was able to use the Force to fill in some blanks about the little guy's history and even reveal his name, she refused to take on the task of training him, citing what happened to the previous Jedi who formed too close of attachments to the people around him. She did give Mando instructions to head to Tython to try and reach out to other Jedi to potentially help.
But who? Star Wars has a limited number of known living Force-users who aren't accounted for elsewhere in the timeline at this point. Cal Kestis of the video game Star Wars Jedi: Fallen Order is a candidate, though perhaps not the most likely. Ezra Bridger is a possibility if he's still alive. Luke is presumably busy starting his doomed Jedi academy. Perhaps it's more likely that an original Jedi who hasn't appeared in current canon yet will take on the task, or nobody will at all and Baby Yoda will just stay with Mando indefinitely.
Will Ahsoka Get A Spinoff?
"The Jedi" almost felt more like a backdoor pilot for an Ahsoka spinoff than a wholly necessary chapter in Mando and Grogu's mission, but there is no word at this point about whether the character will get her own show after making the jump to live-action. The rumored Mandalorian spinoff at the moment centers on Boba Fett, who briefly appeared on Tatooine at the end of the Season 2 premiere, and Bo-Katan's debut episode also felt like a backdoor pilot, so we shouldn't assume that an Ahsoka spinoff is happening.
But we probably also shouldn't rule it out. Rosario Dawson has had good things to say about her experience playing Ahsoka, and an Ahsoka spinoff wouldn't necessarily have to be an ongoing series like The Mandalorian. The upcoming Obi-Wan Kenobi show is going to be a limited series starring Ewan McGregor; why not another limited series starring Rosario Dawson? Disney boss Bob Iger said earlier in 2020 that there was the possibility of taking characters (plural) in "their own direction" with series.
Find out if The Mandalorian answers these question with new episodes releasing on Fridays at 12:01 a.m. PT on Disney+. The Disney streamer is packed with plenty of content from the galaxy far, far away, but if you're in the market for some viewing options set out of the Star Wars saga, be sure to check out our 2021 winter and spring premiere schedule.
Your Daily Blend of Entertainment News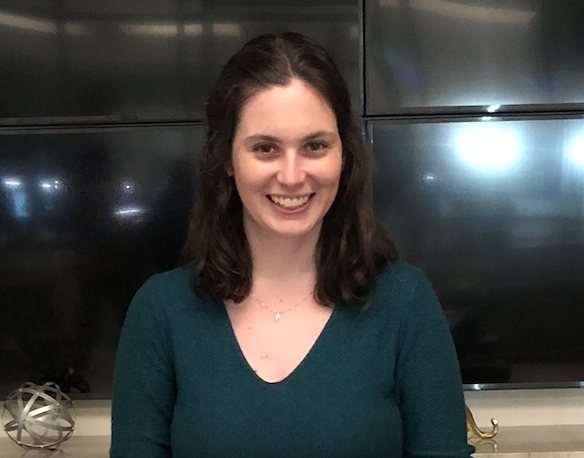 Laura turned a lifelong love of television into a valid reason to write and think about TV on a daily basis. She's not a doctor, lawyer, or detective, but watches a lot of them in primetime. Resident of One Chicago, the galaxy far, far away, and Northeast Ohio. Will not time travel and can cite multiple TV shows to explain why. She does, however, want to believe that she can sneak references to The X-Files into daily conversation (and author bios).