See What LOTR's Frodo, The Matrix's Neo And More Film Icons Look Like Masked Up For New PSA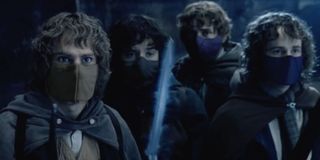 2020 was one of those years that completely changed every part of our lives. The COVID-19 pandemic has devastated a number of industries across the globe. Hollywood was hit especially hard as lockdown and updated safety guidelines have prevented most folks from getting back in theaters. On top of that, there have been a completely bonkers amount of movie delays since the pandemic started, including some of last year's biggest titles being pushed back more than a year. Recently, The CDC, Ad Council and Warner Media partnered up for a PSA that features Frodo, Neo and more famous movie icons wearing masks as part of the #MaskUpAmerica campaign.
The PSA encourages everyone to do their part in preventing the spread of COVID-19, with famous characters such as The Flash, Pennywise and Mad Max: Fury Road's Furiousa rocking masks in support. Check out the 30 second video below:
Throughout the short public service announcement fans can see some of their favorite characters sporting protective masks. Because of Warner Media's involvement there are numerous famous properties involved, including clips from Gal Gadot's Wonder Woman and Joaquin Phoenix's Joker.
How cool is that? The pairing makes complete sense as Warner no doubt wants folks to be able to safely get back into theaters while the CDC is doing everything in its power to curb the ongoing pandemic. The ad comes after the recent industry bombshell from Warner, who announced last December that it would be premiering all of its upcoming 2021 films in theaters simultaneously with the HBO Max streaming service.
Due to the ongoing pandemic the 2020 box office was one of the worst performing in years. Major titles such as Christopher Nolan's Tenet struggled to earn even a modest amount at the theater, no doubt forcing the decision from Warner. Many studios opted to hold onto their biggest films in hopes that theaters would be able to return to normal after the vaccine rolls out.
Even though the US has been rolling out it's vaccine over the past few months, there are still numerous safety protocols required to check out the latest films on the big screen. Major theater chains seem to be fighting a battle on both fronts, with the pandemic decimating ticket sales and studios' decisions to take their films straight to streaming.
While moviegoers can expect beefed up safety protocols in the theater for the foreseeable future, there is still hope that one day fans will be able to return to the movie-going experience they know and love. After all, movies are still being filmed in light of the pandemic and there are still people out there who want to see them on the big screen. Perhaps if we can all do our part and #MaskUpAmerica, we may be able to catch major blockbusters such as Dune on the big screen by the end of the year.
Your Daily Blend of Entertainment News
Into tracksuits by Paulie Walnuts, the Criterion Channel and Robert Eggers.