That Time Leonardo DiCaprio Had A Titanic-Themed House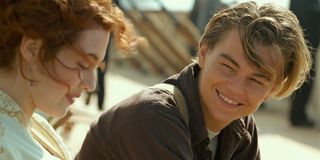 When one thinks of a being rich and famous there are certain perks that may come to mind. Red carpets, fast cars and huge houses are just a few of the benefits that stars of Hollywood enjoy. While it's no surprise that a super-star of Leonardo DiCaprio's caliber has owned a few homes in his day, Megan Weaver of Flipping Out fame recently revealed the not-so-surprising decor of the Titanic actor's Malibu beach house.
In an interview the Flipping Out star casually mentioned that she stayed at Leonardo DiCaprio's Malibu home back in the '90s and the decor was filled with Titanic themed furnishings:
On the Behind the Velvet Rope (opens in new tab) podcast Megan Weaver went on to clarify that her visit to the Titanic themed pad was shortly after the release of the film, and suspects that Dicaprio's mom, Irmelin, was in charge of the decor. She went on,
Isn't that sweet? It's like the movie star version of your mom hanging up an A+ spelling test on the refrigerator. I think it's safe to say that DiCaprio's work on Titanic was just slightly more impressive than the papers I brought home from school, considering the movie was nominated for a record tying 14 Academy Awards, winning 11.
Titanic was a cultural phenomenon and helped change the careers of both Leonardo DiCaprio and Kate Winslet, the latter of whom won an Academy award for Best Actress for her performance. The James Cameron directed film was the highest grossing movie of all time until 2009's Avatar, which was also directed by Cameron.
Since his performance as the lovable Jack, Leonardo DiCaprio has had an impressive career. The Oscar-winning actor has worked with the best in the industry over the years, but many consider the Titanic role to be his most iconic.
While there is no telling what Leonardo DiCaprio's current home decor of choice looks like, I like to imagine that he's gone with a Rick Dalton-esque old Hollywood look with posters of himself hanging around a cool, '60s themed pad. I just hope he leaves the flamethrower in the garage when guests visit.
Into tracksuits by Paulie Walnuts, the Criterion Channel and Robert Eggers.
Your Daily Blend of Entertainment News
Thank you for signing up to CinemaBlend. You will receive a verification email shortly.
There was a problem. Please refresh the page and try again.